Tehrik-e-Taliban Pakistan Evolves Under Pressure
Publication: Terrorism Monitor Volume: 13 Issue: 20
By: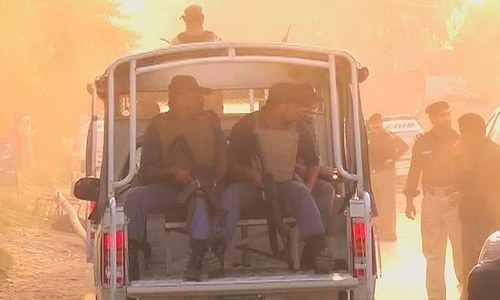 The recent attack by Tehrik-e-Taliban Pakistan (TTP) on a Pakistan Air Force (PAF) camp at Badaber, located 10 miles from Peshawar, fully displayed the jihadist group's professional, yet highly violent, nature. Dressed in uniforms of the Frontier Constabulary (a paramilitary force), 14 militants breached the security parameter of the PAF camp and then entered from two different points in the early hours of September 18. The resulting battle went on for two hours and left at least 28 military personnel and all 14 attackers dead (News International, September 18). Later, five of the dead militants were identified; two of whom were from the Swat district of Khyber-Pakhtunkhwa province while three came from the tribal areas where the camp was located (Dawn, September 19).
The attack is the first time an air force camp (as opposed to an airbase) has been targeted by militants. However, PAF airbases have long been repeatedly targeted by TTP and associated groups, and long before the government launched its Operation Zarb-e-Azb anti-militant campaign in June 2014. For instance, PAF Base Kamra, in Punjab province, was targeted by Islamist militants in 2007 (Dawn, December 11, 2007). A likely reason for the TTP's attacks on PAF facilities is the air force's role in military campaigns against the TTP in the country's tribal areas. The rugged terrain of the tribal areas, the epicenter of the Islamist insurgency, provides formidable cover for TTP militants, and as a result, PAF bombardments are often the only way for the military to progress in its operations, often causing considerable collateral damage in the process. Of the 11 active flying bases of Pakistan Air Force, five have been attacked in last ten years, whereas another three airports (Karachi, Peshawar and Quetta) have also been targeted.
Militant attacks on the air force, although not seriously disrupting government operations, have nonetheless imposed a considerable toll on air force personnel and finances. For instance, an attack on PAF Base Mushaf in Sarghoda district killed 11 officers in 2007 (Dawn, November 2, 2007). A Pakistan Navy airbase (PNS Mehran) in Karachi was also targeted by TTP in 2011, resulting in the destruction of three PC-3 Orion maritime reconnaissance aircraft and the killing of 18 Pakistan Navy personnel (Express Tribune, May 23, 2011). In another spectacular attack by TTP militants, at PAF Base Kamra in 2012, the attackers destroyed one Saab 2000 Erieye aircraft fitted with an Airborne Early Warning & Control System (AEW&C) and severely damaged the other one (News International, February 9, 2013). In addition, the TTP launched its most well-coordinated attack to date in 2014, simultaneously attacking two PAF bases (PAF Base Khalid and PAF Base Samungli), killing 12 people (Dawn, August 15, 2014).
TTP Bounces Back
Due to the government's on-going Operation Zarb-e-Azb military operation in North Waziristan, the TTP recently appeared to have lost its momentum due to scores of Islamist militants being killed or arrested by the government. [1] The spectacular nature of the attack on Badaber PAF Camp, however, showed that the TTP remains capable and has caused the public to question the success of the ongoing military operation. Indeed, it can be argued that, in some senses, the government's military operations have strengthened the region's fractious jihadist organizations by forcing them to put aside their differences and work together.
The TTP has never been monolithic. It comprises more than 42 Islamist-tribal groups and some groups from mainland Pakistan, such as the Punjabi Taliban. [2] The broadness of the TTP's coalition also presents challenges, however, and has threatened the group's cohesion. For instance, after the death of its former amir Hakimullah Mehsud in a U.S. drone strike in November 2013, the jihadist leaders of several key TTP factions failed to reach a consensus over who should head the group. The resulting decision to eventually select Fazlullah (a.k.a. Fazal Hayat) as the new amir of TTP annoyed many as he was not from the tribal areas, hailing instead from the Buner district of Khyber-Pakhtunkhwa province. Despite having led an Islamist insurgency in Swat and adjoining districts in Khyber-Pakhtunkhwa province in 2008-2009, he was not unanimously accepted as new amir, leading to further fragmentation of the TTP. However, ironically, the government's commencement of the Zarb-e-Azb operation in North Waziristan district, and supplementary operations in other districts of tribal areas, served to soften the TTP's differences over the leadership and to bind these groups together against a common enemy.
In addition, Fazlullah carrying out the December 16, 2014 attack on the Army Public School in Peshawar, in which 141 people (a large number of them children) were killed, outclassed all other competing jihadist groups, and Fazlullah thereby proved his mettle to rule TTP. Other groups, most importantly the Jamaat ul-Ahrar group, led by Omar Khalid Khorasani, led then sued for reconciliation, leading to Khorasani pledging allegiance to Fazlullah. As a result, in March 2015, Ehsanullah Ehsan, the spokesperson of Jamaat ul-Ahrar, issued a statement confirming the merging of TTP factions:
We congratulate the Ummat-e-Muslima [the Muslim community] in common and especially the mujahideen of Pakistan for the coalition of strong jihadist groups, Tehrik-e-Taliban Pakistan Jamaat ul-Ahrar, Tehrik-e-Lashkar-e-Islam and Tehrik-e-Taliban on one name Tehrik-e-Taliban Pakistan against the taghooti [satanic], ​​infidel, democratic, unIslamic system and the Na-Pak Murtad [a Muslim who rejects Islam] Army. [3]
In addition, Lashkar-e-Islam's amir, Mangal Bagh Afridi, merged his organization with the TTP in March, and pledged allegiance to Fazlullah. This was partly in the response to the government's Operation Khyber I, which was directed against his strongholds of Tirah Valley and Bara in Khyber District. The TTP's spokesperson, Ehsanullah Ehsan, endorsed the alliance as creating what he termed the "mujahideen of Pakistan" (Dawn, March 13).
Conclusion
While the military operations Khyber I (concluded) and Zarb-e-Azb (on-going) have achieved many successes, such as killing a large number of militants and putting such groups on the back foot, there have also been unexpected disadvantages of the operations. For instance, in response to the government's military pressure, Islamist militants are now resolving their differences and forming alliances, and are also committing attacks on high-profile targets, such as the school in Peshawar and on Badaber PAF camp, in an effort to prove their continued abilities. In particular, the merger of Lashkar-e-Islam into the TTP and the reconciliation between two major factions of TTP are two major recent developments that threaten to empower the group further. In addition, the government's various operations have only been able to restrict the space for Islamist militants to operation in rather than deny it complete; there is also the fact that no senior militant leaders have yet been killed or arrested, making it is easier for these groups to bounce back once government pressure is removed. The latest attack on a highly secured PAF camp displays the militants' reinvigorated abilities and their continuing resolve to target the state, sending a clear message that the TTP is a still a force to be reckoned with.
Farhan Zahid writes on counter-terrorism, al-Qaeda, Pakistani al-Qaeda-linked groups, Islamist violent non-state actors in Pakistan, militant landscapes in Pakistan and the Afghan Taliban.
Notes
1. According to official figures released by the Pakistani military's press and media department, Inter-Services Public Relations, between June 2014 and June 2015, 2,763 terrorists have been killed, 837 hideouts of terrorists destroyed, 253 tons of explosives captured and 18,087 weapons recovered. 347 officers and soldiers of Pakistan Army were also killed during the operation. For details please see, "2,763 terrorists killed in Operation Zarb-e-Azb", The Express Tribune, June 14, 2015, https://tribune.com.pk/story/903282/2763-terrorists-killed-in-operation-zarb-e-azb/.
2. Other notable groups in the TTP include Lashkar-e-Jhangvi (LeJ), Harkat-ul Mujahideen (HuM), Harkat ul Jihad ul Islami (HuJI) and Jaysh-e-Mohammad (JeM).
3. "A Profile of Omar Khalid Khurasani: Emir of Jamaatal Ahrar," FATA Research Centre, July 2015, https://frc.com.pk/wp-content/uploads/2015/07/Omar-Khalid1-2.pdf.