Tensions Heighten Between Chechnya's Leader and Influential Dagestani Figure
Publication: Eurasia Daily Monitor Volume: 11 Issue: 81
By: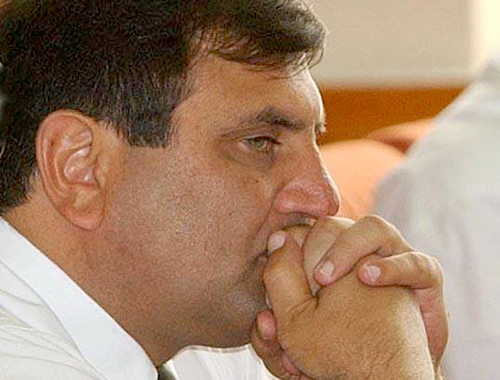 Few signs existed that there would be any change in the brotherly and neighborly relations between Ramzan Kadyrov and Saigidpasha Umakhanov—the mayor of Khasavyurt, a city on Dagestan's administrative border with Chechnya. Umakhanov has long been considered one of the main figures in Dagestan's political establishment. According to the editor-in-chief of the Avar-language newspaper Millat, Magomed Bisavaliev, "the stability in Khasavyurt area in the past years has been contingent on Umakhanov's leadership, and Abdulatipov [Ramazan Abdulatipov, the head of Dagestan] did not take risks by looking for an alternative leader for the city" (https://www.regnum.ru/news/1707643.html).
Abdulatipov's decision to leave Umakhanov in his position signaled that the mayor of Khasavyurt has more influence than had been assumed. Having survived multiple attempts on his life, Umakhanov is serving a fifth term as the city's mayor. Khasavyurt has been plagued with tensions between its three main ethnic groups—the Chechens, Avars and Kumyks, each of which comprise almost 30 percent of the city's total population. Given the fact that Khasavyurt, with a population of 133,000, is the second largest city in Dagestan (https://its-my-site.ru/ripavleoklivl18/%D0%A5%D0%B0%D1%81%D0%B0%D0%B2%D1%8E%D1%80%D1%82) and is home to an estimated two-thirds of all illegal business activities in the republic (https://kavkazpress.ru/archives/27758), its significance is certainly quite high. The Dagestani prosecutor's office recognizes that some money laundering schemes are used to finance the rebels. The markets of Khasavyurt and the banks of Dagestan are ideally suited to such activities (https://www.riadagestan.ru/news/kriminal/obnalichennye_dengi_v_dagestane_idut_na_finansirovanie_bandpodpolya_genprokuratura/).
The conflict between the two neighboring republics became public immediately after a meeting between Umakhanov and Abdulatipov on April 16. The mayor tried to explain his inability to attract investment to Khasavyurt by noting that the city is located next to Chechnya, which has experienced two wars (https://www.youtube.com/watch?v=W8Ejn3hOCtk).
Umakhanov must have been completely unaware that such a self-justification before the head of Dagestan would provoke an angry reaction from Ramzan Kadyrov. The head of Chechnya invariably tries to present the Chechen Republic as an oasis of peace and prosperity in the region and reacts sharply to those who attempt to play on its past wars. A video report filmed during a meeting of the Chechen Interior Ministry on April 22 gives the full picture of Kadyrov's diatribe against Umakhanov's statements. "Everybody knows for sure that Saigidpasha is a bandit," he said, "That his brother finances him. That he financed Rappani [Rappani Khalilov, better known as Emir Rabbani was the emir of the Dagestani jamaat from 2001 to 2007—see, https://lenta.ru/lib/14170687/]. His nephew is an emir now. When we were following Abu Khafs, we should have killed Abu Khafs along with Rappani [Abu Khafs, the deputy to the military emir of the unrecognized Chechen Republic of Ichkeria, was killed in Khasavyurt in November 2006—see https://www.kavkaz-uzel.ru/articles/104258/], plus there should have been the nephew of the city's mayor. We have all the recordings. Everybody knows about that. We carried out a search in his home, confiscated illegal arms." The nephew of Khasavyurt's mayor that Kadyrov referred to was extradited from Germany through Interpol on November 13, 2012. He ran to Germany after he was accused of assassinating the head of Khasavyurt district, Alimsoltan Alkhamatov, in September 2009, and illegally possessing arms (https://www.kavkaz-uzel.ru/articles/215716/).
Further elaborating on his views, Ramzan Kadyrov explained that the threat from Chechen citizens came not from internal enemies, but from the neighboring region. "Regretfully, there is an external factor that has a negative impact on the youth," the head of Chechnya wrote on his Instagram account. "This is the well-known bazaar city of Khasavyurt. Narcotics, illicit drugs and arms come from there" (https://instagram.com/p/nLUYczCRkL/).
Khasavyurt Mayor Umakhanov brushed aside all the accusations and referred to his close relationship with Kadyrov's late father, Ahmad-haji Kadyrov, offering to stop the feud in the name of that friendship (https://xacavurt.ru/news/285-zayavlenie-glavy-municipalnogo-obrazovaniya-gorodskoy-okrug-gorod-hasavyurt.html). Umakhanov shifted Ramzan Kadyrov's charges from himself onto all the inhabitants of Khasavyurt and Dagestan and acted like he was speaking in the name of all Dagestanis. The mayor did this in order to obtain support from among his fellow Avars, expecting them to forget their old scores with the government and defend their kin against Kadyrov.
The life of the Khasavyurt mayor has never been a quiet one: indeed, there have been several attempts on his life (https://www.kavkaz-uzel.ru/articles/239383/). Only a month ago, the Russian security services announced that they had foiled yet another attempt on Umakhanov's life. This time, two Chechen killers from Chechnya's Nozhai-Yurt district, which borders Khasavyurt district, were accused of the attack (https://www.regnum.ru/news/accidents/1777209.html).
Most experts on the North Caucasus say economic factors are not behind the conflict between the two North Caucasian politicians (https://www.kavkaz-uzel.ru/articles/241606/). Websites that reflect the views of the North Caucasian insurgency, however, assert that the conflict had economic underpinnings– in particular, the battle to control Khasavyurt's markets (https://kavkazcenter.com/russ/content/2014/04/24/104225). If there are no economic causes for this conflict, we can be sure that the conflict is a by-product of a conflict involving an alliance of Chechens and Kumyks who are trying to prevent dominance by Avars coming from the Dagestani highlands. In addition, there is also infighting among the Avar clans themselves.
This conflict is interesting from the point of view of how conflicts between the governors of Russian regions are resolved. Every governor behaves as if he was an independent duke and regards his region as his domain. Such a setup more closely resembles a confederative relationship than a federative one.
The North Caucasus has multi-dimensional problems that make Moscow's objectives there even more difficult to attain. The fact that Moscow cannot prevent conflicts in the region indicates that the Kremlin has lost a significant part of its influence in the North Caucasus. This in turn will make the region unstable and dangerous for Moscow for years to come.