Tensions Simmer in Belarus: Delusions, Sanctions and Actual Decision-Makers
Publication: Eurasia Daily Monitor Volume: 20 Issue: 7
By: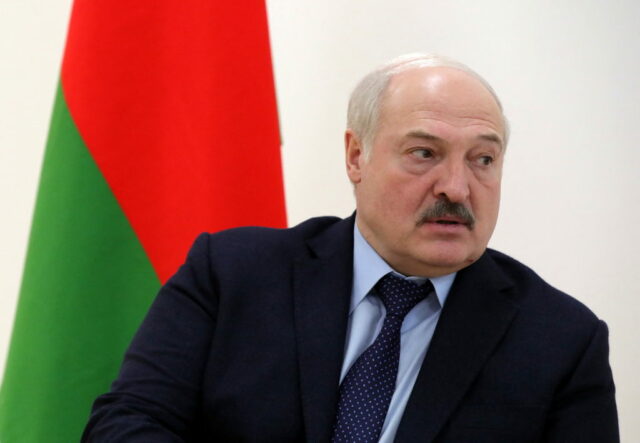 If there is any leitmotif to the current developments in Belarus, it would be mostly rooted in attempts at socioeconomic survival while avoiding immediate participation in Russia's war effort against Ukraine. It could be that the leitmotif for developments within the exiled opposition is lingering misapprehension of the country's character. When a leading analyst from among the Belarusian "Westernizers" claims that 90 percent of Belarusian emigres "are indifferent to actual Belarusian national life," meaning that the diaspora is a spitting image of the country itself, the hypothesis that "national life" may be misconstrued to fit the taste of a minor group with an indefensible self-esteem comes up easily (Svaboda, December 24, 2022). In truth, Belarusian President Alyaksandr Lukashenka's suggestion to "make a step toward" those who have fled the country but are willing to return may find popular support (T.me/pul_1, January 7).
Lukashenka broached the idea of forgiveness for the sake of avoiding "points of tension" in society during his visit on January 7 to one of Minsk's Orthodox temples. So far, however, this initiative has been at odds with some returnees being trapped by the Belarusian State Security Committee (see EDM, January 3) and with an image of a "paving machine" (katok) of repressions unabashedly advertised by zealous servants of the regime as an emblem of 2023 (Facebook.com/YuryTerekh, January 5)
In contrast to delusions on one side and unproven magnanimity on the other, the problems that Belarus is facing are all too real. Not only is the economy at large shrinking, but the recently successful information technology (IT) sector has also sustained grave damage. Russia's war against Ukraine has affected Belarusian IT specialists in many ways. Those who by February 24 had already left for Kyiv became refugees with blocked debit cards unable to receive their pay. Many others have been urgently rushed abroad by their employers, including residents of Minsk's Hi-Tech Park (HTP). For example, EPAM, one of the HTP's founders, moved several hundred Belarusian IT personnel to Tashkent, Uzbekistan (Kun.uz, August 19, 2022). Others found themselves in Georgia and Armenia. A flagship company of Belarusian high-tech outside the HTP, Wargaming, split. The owner of the brand left Belarus with a portion of the Belarus-based associates; the other part now works for Russian company Lesta Studio occupying a half-empty office in the southeastern part of Minsk. EPAM itself resorted to a less radical solution, having closed all its Russia-based divisions but leaving an office open in Minsk.
Overall, from 16,000 to 23,000 IT specialists have left Belarus. To keep the outflow in check, the authorities in Minsk prohibited companies of "unfriendly" countries from withdrawing their shares from those businesses registered in Belarus. Those who stayed and those who left turned out to be vulnerable to Western sanctions. Even Belarusian start-ups that fled the country were terminated elsewhere because of shares owned by Belarusian and Russian companies (subject to sanctions), as happened to some Belarus-born IT start-ups in Denmark and Poland (Zerkalo, December 26, 2022).
The same sanctions explain why Belarusian authorities have legalized so-called "parallel imports." According to Law 241-3, enacted on January 3, it is allowable to import into Belarus, sell and use therein objects of intellectual property without the consent of copyright holders from foreign countries (Reform.by, January 5).
Consequences of sanctions are also countered by messages of a therapeutic nature. In that regard, the style and delivery of Lukashenka's New Year's greeting to Belarusians (YouTube, December 31, 2022) was worlds apart from those of President Vladimir Putin's greeting to Russians (YouTube, December 31, 2022). Putin's message was solemnly gloomy, delivered against the backdrop of men and women in military uniform and underscored Russia's alleged fight for complete independence from the perfidious West. In contrast, Lukashenka emphasized the peace-loving nature of Belarus and its initiatives. Even prior to New Year's Eve, Lukashenka assured his fellow citizens that 2023 would bring them success (Vzglyad, December 26, 2022).
There are, of course, various metrics to gauge success, and some are at least partially controlled by the West. Recently, two opposition-minded analysts, Artyom Shraibman and Pavel Matsukevich, debated whether it is expedient for the West to open up a dialogue with Lukashenka and loosen sanctions in exchange for the release of political prisoners. Shraibman denies that it would make sense, whereas Matsukevich thinks otherwise. What both debaters came to a consensus about is no less meaningful. Specifically, they agreed on the fact that the West has always applied a double standard to human rights, whereby "what it forgives Turkey, Azerbaijan, Egypt and Saudi Arabia, it does not forgive Lukashenka's Belarus." They additionally emphasize that a consistent focus on principles at the expense of interests would have never resulted in Churchill and Roosevelt becoming allies with Stalin in World War II (Svaboda, January 2).
For his part, Yury Drakakhrust of Radio Free Europe/Radio Liberty is "convinced" that some negotiations between the West and the Belarusian authorities have never come to a halt. Of that, several factors indicate, including the opinion of Apostolic Nuncio Ante Jozic, that Belarus can once again become a negotiating platform for resolving the conflict in Ukraine (Belarus.by, December 26, 2022). That means that the categorical stand of Belarusian democrats-in-exile—that is, no negotiations with Lukashenka—is not exactly the standpoint of the West, which usually takes guidance from its own interests. This was the case back in 2008 and 2015 when political prisoners were in fact released by Minsk in exchange for the removal of Western sanctions (Gazetaby, December 26, 2022).
However indirectly, Drakakhrust's observations have been bolstered by 21 opposition-minded political analysts and journalists, of which 17 believe that, in 2023, Lukashenka will retain his post and 12 believe that some Western leaders will phone him. Overall, most believe that no country will recognize opposition leader Svetlana Tikhanovskaya as the head of state, though, should Belarus enter the war, this may change (Svaboda, January 4).
It seems that, as time goes by, the interests of the true decision-makers and those vociferous purveyors of delusions increasingly diverge, and it is the true stakeholders that one ought to take guidance from in the first place.