To Ensnare or Repress? Russia and Belarus Debate How to Handle Expatriates
Publication: Eurasia Daily Monitor Volume: 20 Issue: 1
By: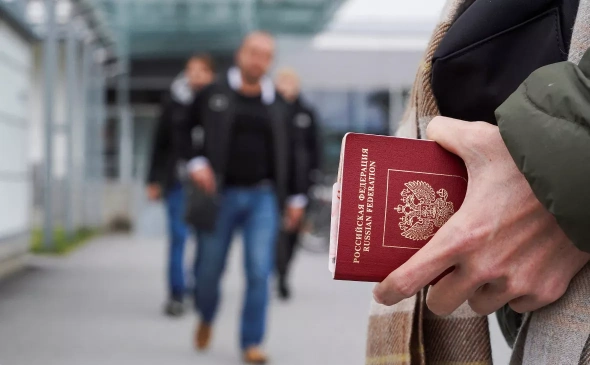 On December 28, in Belarus, a closed tribunal began against Tatyana Kurilina, the former administrator of web-based chats for Belarusian oppositionists. Kurilina has been charged under 12 articles of Belarus's criminal code, including allegations of slander and insults against Belarusian President Alyaksandr Lukashenka. If found guilty on all counts, she faces up to 15 years in prison (Nashaniva.com, December 19).
Kurilina's story is notable because she actively cooperated with the Belarusian State Security Committee (KGB). According to the "Rabochy Rukh" movement, which organize strikes at industrial enterprises, the KGB, using Kurilina's help, penetrated the movement with an individual using an alias. As a result of the provocateur's activities, 14 people were arrested. Earlier, in January 2022, Belarusian security forces hacked opposition chats administered by Kurilina, which also led to a wave of arrests (Nashaniva.com, July 29).
Activists suspect that Kurilina provided the KGB with access to the sites, as during that period she had been in contact with a representative of the Belarusian security services who invited her to return home with "promises to resolve all her problems." In the end, the oppositionist listened to her virtual acquaintance and returned to Belarus from Poland, where she had fled to escape repression. In February 2022, she appeared on the Belarusian state television program of propagandist Kseniya Lebedeva. During the program, Kurilina proclaimed that protest chats are meaningless and that Belarusian opposition groups abroad are controlled by Western intelligence (YouTube, February 22).
However, judging from her trial, neither the betrayal of her comrades nor her participation in Belarusian propaganda has helped Kurilina. According to opposition media, contrary to the promises of the Chekist who lured her back, she has been in a pre-trial detention center since her return to the country. Journalists also note that Kurilina is far from the only oppositionist who received "tempting" offers to return home after leaving Belarus. Moreover, her story is but one episode of the "Road Home" program, which was launched by the Belarusian government at the beginning of 2022 (Mediazona.by, November 30).
The project's authors invite disillusioned political émigrés to write to a special email address, with promises that their "active remorse" for "crimes" can contribute to the significant mitigation of punishment in the homeland. All those who apply are promised a personalized safe return to the country (Dw.com/ru, January 28). Several Belarusian oppositionists confirm that they, too, have received such proposals (Mediazona.by, November 30). However, Kurilina's case eloquently demonstrates that the promises of Chekists are not to be trusted.
It is assumed that criminal charges await especially well-known oppositionists. On this, it cannot be excluded that ordinary protest participants will find it easier to receive "forgiveness" from the KGB if they agree to work for the Lukashenka regime. For example, the Belarusian media have repeatedly expressed concern about how many information technology (IT) specialists have left the country since the presidential elections of August 2020 and following the onset of Russia's re-invasion of Ukraine in February 2022 (Thinktanks.by, June 20). According to data from the portal Dev.by, 15.8 percent of the first wave of emigration in 2020–2021 included IT workers, while the proportion of IT specialists for the second wave (after February 24, 2022) reached 22.7 percent (Devby.io, June 20). It is entirely possible that the Belarusian authorities are using this program to lure back not only opposition leaders, but also sought-after professionals who have left the country.
For its part, Russia is also confronting a significant loss of specialists. Despite an abundance of propaganda statements on "getting rid of traitors," even among the pro-government Telegram channels, panicked messages are proliferating that "Russia is left without brains" (Life.ru, November 22). These pages administrators admit that, after the beginning of the war, "the shortage of IT specialists [in Russia] rose sharply," and all the most valuable professionals in this field have gone abroad or are sitting in prison. The situation was further exacerbated following President Vladimir Putin's announcement of the "partial mobilization" (Tgstat.ru, November 21).
Moscow was finally forced to recognize the seriousness of the problem, and the Russian Ministry of Digital Development even announced the development of a special program for the return of departed IT specialists to Russia (RBC, November 11). In parallel, Russian media reports have become more frequent regarding the return of Russians who had fled the partial mobilization announcement (V1.ru, November 12). Separate articles were devoted exclusively to the return of IT specialists (Gazeta.ru, August 8).
However, instead of tempting offers, benefits and guarantees for those returning, the Russian parliamentarians proposed a completely different initiative. In December 2022, Andrei Klishas, head of the Russian Federation Council Committee on Constitutional Legislation, announced a bill that would soon be submitted to the State Duma to limit remote work for Russians abroad. According to media reports, the bill will affect people who left the country against the backdrop of the "special military operation" and partial mobilization (Gazeta.ru, December 14). Soon after, State Duma Speaker Vyacheslav Volodin announced that the parliament was developing a bill to increase the tax rate for Russians who left the country (Vz.ru, December 25).
Some experts loyal to the Kremlin were critical of the proposed bill. Head of the Political Expert Group Konstantin Kalachev explained that Moscow's goal in this case is "to return those who left whose professional competencies are needed to solve the problems of technological sovereignty." However, Kalachev stipulated that "people are leaving due to a special military operation," and the authorities have nothing to offer them except nostalgia and intimidation. Petr Bychkov, assistant professor of political psychology at St. Petersburg University, also believes that "tightening the rules will only lead to another massive wave of emigration," which is especially harmful now that some are already starting to return (Tlgrm.ru/@russica2, December 16).
Seemingly, the Russian authorities are considering these possible restrictions in trying to solve two problems simultaneously. On the one hand, they hope for the return of those who are critical for economic development and who agree to compromise with the authorities to avoid losing their earnings. On the other hand, such restrictions could provoke dissidents into a final break with Russia, which might reduce the potential for future protests domestically. In truth, pro-government political scientists do not hide the fact that the latter task is a priority for Moscow.
For example, as the head of the Center for the Settlement of Social Conflicts, Oleg Ivanov, bluntly writes, those who left were a "fifth column" in Russia, and their departure "only adds stability to the regime, since the remaining opposition has lost its assets." The pro-Kremlin "political scientist" postulates that the actual number of emigrants is not that high and that the "patriots" remaining in Russia will be able to cover the economy's needs (T.me/russica2, December 19). Recall that earlier the same author suggested killing oppositionists abroad according to the precepts of Chekist Pavel Sudoplatov (see EDM, November 14). Furthermore, focus groups conducted by pro-Kremlin sociologists also show that, even supporters of Russia's war against Ukraine with negative attitudes toward those who have left the country suggest that people have the right to make such a decision and that the borders should remain open (Tlgrm.ru/@russica2, December 14).
All this shows that the task of forcing dissatisfied Russians into emigration is, apparently, more important in the near future for the Russian authorities than repairing a severely damaged economy. However, it should not be ruled out that attempts to entice émigrés to return or to close the borders may begin if the positions of Russian forces at the front become critical and a new wave of mobilization fails.