Terrorism's Trojan Horse: Vehicle-Borne Suicide Attacks Give Taliban Upper Hand in Pakistan
Publication: Terrorism Monitor Volume: 7 Issue: 33
By: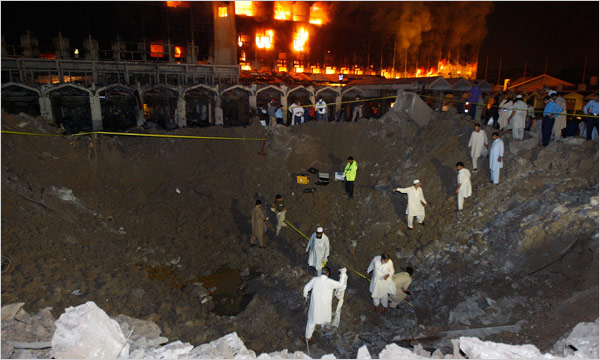 Suicide terrorism has taken a lethal turn in Pakistan recently with the widespread use of vehicle bombs, known to security services as Vehicle Borne Improvised Explosive Devices (VBIED). These suicide VBIED attacks have targeted both civilian and military establishments and the frequency of these attacks fully demonstrates a tactical advance on past terrorist strikes in Pakistan.
In Iraq and Afghanistan, car, truck or even bicycle bombs have been used indiscriminately against civilian and Coalition targets. For the Taliban and their affiliates (e.g. Jaish-e- Muhammad, Lashkar-e-Jhangvi, Fidayeen-e-Islam), they have lately proven a very effective weapon in Pakistan. After numerous mass casualty VBIED attacks across the country in October, Taliban terrorists again struck in the garrison city of Rawalpindi in early November (Daily Times [Lahore], November 3). In their latest strike, a bike-borne suicide bomber triggered a blast near a bank where people gathered to collect their salaries, located close to Rawalpindi's four-star Shalimar Hotel, killing 35 people and damaging many buildings and vehicles nearby (Geo TV, November 2; The Nation [Islamabad], November 3).
VBIED – The Taliban's Tactical Advantage
Suicidal VBIED attacks have become a weapon of choice for Taliban terrorists in Pakistan due to the availability of dedicated and relatively young would-be martyrs and large numbers of easily hijacked vehicles such as SUVs, cars, trucks and bikes. The advantage provided by this tactic is the guided movement of a large amount of explosives by the bomber himself. Typically wearing a loaded suicide vest, the bomber can swiftly reach the intended target. Larger vehicles can carry a large quantity of explosives, which makes VBIEDs an effective terrorist weapon in causing maximum fatalities and structural damage.
The Taliban have tested the effectiveness of these VBIEDs on soft targets such as crowded gatherings, taking inspiration from al-Qaeda's 1998 attack on the U.S. embassy in Nairobi and numerous attacks in Iraq since 2003. In Pakistan, the Taliban initiated mass-casualty suicide car bombings two years ago when a suicide car bomb hit Benazir Bhutto's cavalcade in the port city of Karachi in October 2007.  This was followed by a series of major VBIED attacks:
• A dump truck filled with explosives and driven by a suicide bomber wreaked havoc on the Marriott Hotel in the capital Islamabad in September 2008, killing 54 people. The Marriott truck bomb carried a deadly cocktail of nearly 600 kg of RDX and TNT and the blast was so huge it left a swimming pool-like crater outside the hotel (Geo TV, September 21, 2008).
• On May 27, a suicide bomber exploded a vehicle loaded with approximately 100 kilograms of explosives near the offices of the Inter-Services Intelligence (ISI) and Capital City Police office in Lahore (Geo TV, May 27). The blast killed 26 people and injured over three hundred while completely destroying the adjacent building of the Rescue 15 police service. The explosion left a 15 feet deep and 17 feet wide crater at the site of the blast (The News [Islamabad], May 28).
• On June 9, Taliban terrorists struck at the Pearl Continental Hotel in Peshawar with an explosives-laden truck, killing 11 people and injuring more than 60 others. At least 500 kilograms of explosives were used in the attack, according to bomb disposal officials (Daily Times, June 10). The hotel, a hub for foreigners and UN officials, was badly damaged and as many as 40 vehicles parked in the compound were destroyed.
• Reports surfaced in early July that at least 25 vehicles fitted with explosives had entered major cities to target sensitive government installations and other important buildings. The Interior Ministry also indicated that suicide bombers and vehicles had entered Peshawar, Lahore, Rawalpindi, Islamabad, Quetta and Karachi. The explosives-laden vehicles included a Hyundai Shehzore van, an ambulance, a Mitshubishi Pajero and seven Toyota Corollas (Daily Times, July 7).
Bloody October
VBIED attacks following the launch of Pakistani military operations in South Waziristan made October one of the bloodiest months in recent memory, with at least four mass casualty VBIED attacks in Pakistan creating more than 200 fatalities. Tehrik-e-Taliban Pakistan (TTP) has taken the responsibility for this recent string of bloody attacks across the country.
The Taliban's renewed suicide campaign started on October 9 with an attack at the crowded Soekarno Square in Peshawar's Khyber Market, where over 49 people including seven children were killed and a hundred others injured (The News, October 10). Many of those killed in the attacks were patients and their visiting relatives at the Lady Reading Hospital, the biggest government run hospital in the North-West Frontier Province (NWFP). Three days later, a similar VBIED attack targeted a military convoy passing through the bustling Alpuri market in Shangla district, a Taliban stronghold near the restive Swat valley. At least 41 persons including six soldiers were killed and over 40 others injured (Dawn [Karachi], October 12).
On October 15 another vehicle-borne suicide assault took place in Kohat in the NWFP. A suicide bomber smashed his explosives-laden car into the Saddar Police Station located in the fortified area of Kohat, killing three policemen and eight civilians. Another 22 people sustained injuries in the blast, which destroyed the northern portion of the Police Station building, smashed many vehicles parked in the vicinity and damaged the wall of the Pakistan Air Force's Officers Mess (The News, October 15). It was estimated that 100 kilograms of explosives were used in the bombing.  Kohat district experienced a similar bloody attack in mid-September when a suicide bomber rammed a Jeep loaded with explosives into a crowded market in Ustarzai (on the Kohat-Hangu road), killing 33 people, mostly from the minority Shi'a community (Dawn, September 18). The previously unknown Lashkar-e-Jhangvi al-Almi (perhaps a splinter of the deadly anti-Shi'a Lashkar- e- Jhangvi) took responsibility for the attack.
More than 15 people were killed including three security personnel on October 16, when a suicide bomber rammed his vehicle into the Special Investigations Unit of the Criminal Investigation Agency in Peshawar (Daily Times, October 18).  Bomb disposal squad chief Shafqat Malik indicated that around 60 to 70 kilograms of explosives had been used in the attack. There was little time to recover before Peshawar was struck again by a VBIED attack on October 28, when the most powerful car bomb explosion yet seen in Pakistan took place at Peshawar's famous Meena Bazaar. The blast killed over 120 people – including many women and children (Frontier Post [Peshawar] October 31; The News, November 2). The bomb disposal squad estimated that around 150 kilograms of explosives were used in the blast. The explosion brought down many buildings in the vicinity, including a three-story structure and a mosque. The consequent conflagration destroyed almost everything in the area, including houses and garment shops.
Not all attempts at vehicle-borne suicide attacks have been successfully executed by terrorists in Pakistan, partly because of enhanced security measures.  Alerted to potential attacks by prior intelligence inputs, threefold security cordons are put in place in sensitive areas that prevent terrorists from getting near the intended targets. Many attempts have been foiled by security forces beforehand; for example, on October 25 two explosives-laden vehicles were destroyed by security forces at Fort Salop in the Khyber Agency before they could be used in attacks.
The Islamabad administration has blamed the Taliban and al-Qaeda elements for the spurt in suicide VBIED attacks and linked the surge to the ongoing military operation in South Waziristan and search and sweep operations in Swat and Malakand. Surprisingly, Taliban and al-Qaeda have denied any responsibility for the October 28 market blast in Peshawar, instead blaming disgruntled refugees and elements who want to "defame jihad" (PakTribune, October 29).
Conclusion
Pakistani armed forces are readying their guns to eliminate a regrouped Taliban in Waziristan before the coming winter season, perhaps by the end of this year. Buoyed by the death of former TTP leader Baitullah Mahsud in a U.S. missile strike, Islamabad announced on November 2 that it would make rewards worth millions of dollars available for information leading to the apprehension, dead or alive, of current TTP leader Hakimullah Mahsud and 18 of his associates, including members of splinter factions such as Waliur Rehman Mahsud and Qari Hussain Mahsud. The latter is known as "Ustad-e-Fidayeen" (trainer of suicide bombers) and is notorious for brainwashing and training youths and children as suicide bombers.
However, the surge in suicide VBIED attacks as part of Taliban's violent campaign in Pakistan's cities might hamper the time-sensitive military planning in the tribal areas. Unlike Iraq, where security officials were able to crack down on the suicide VBIED networks operating in the northern and central regions of the country (such as the Ramadi cell), Pakistani officials have been largely unsuccessful in either unearthing or dismantling the suicide cells behind this countrywide campaign of violence. They are also struggling to intercept incoming VBIEDs due to lack of technical knowledge and equipment like perimeter surveillance instruments and explosives scanners. Even though Home Affairs officials claim to have prior information about the explosives-laden vehicles and their movements into cities, only a few have been intercepted by the security forces to date. Now dubbed the "Trojan Horse" of terrorism, suicide VBIEDs are proving deadly for Pakistan's internal security and future stability in the context of an enormous Taliban threat and a scared and bruised civil society.