The Battle for Baga Halts Return to Normalcy in Nigeria's Borno Province
Publication: Terrorism Monitor Volume: 18 Issue: 18
By: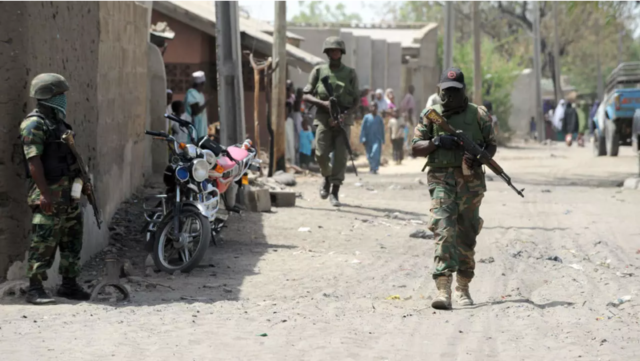 The town of Baga, Nigeria on Lake Chad's shorelines is where Boko Haram originally made its mark as one of the world's most lethal jihadist movements. In January 2015, when Boko Haram was conquering territory throughout northeastern Nigeria's Borno State, the group finally captured Baga and killed an estimated amount of 200 to even 2,000 civilians (Vanguard, January 17, 2015). Although Baga was soon retaken by the Nigerian army, the vast civilian casualties became a stumbling block in intra-Boko Haram relations.
In the weeks before Boko Haram leader Abubakar Shekau pledged loyalty to Islamic State (IS) in March 2015, Boko Haram's "official spokesman," Abu Musab al-Barnawi, issued a video on the IS-supported Twitter account for Boko Haram (Al-Urwha Al-Wutqha, January 27, 2015). He claimed civilians were spared in Baga and only pro-government militiamen who did not repent were killed. This represented a disconnect between al-Barnawi and Shekau, because the latter gloated in a video about the mass killings in Baga. The episode exemplified al-Barnawi's relative moderation compared to the more extreme Shekau (YouTube, January 20, 2015).
Eventually, in August 2016, al-Barnawi petitioned IS to remove Shekau from the leadership of Boko Haram's post-March 2015 successor group, Islamic State in West Africa Province (ISWAP), because of Shekau's megalomania and killing of Muslim civilians (Al-Haqaiq, June 2018). Islamic State consented and al-Barnawi became the new ISWAP leader. Shekau, based in Sambisa Forest, southern Borno, revived Boko Haram in August 2016, which had been inactive since March 2015 (YouTube, August 8, 2016). Al-Barnawi, in contrast, made his base around Lake Chad, including near Baga.
After August 2016, ISWAP clashed with Boko Haram and became the stronger faction. ISWAP not only harassed the Nigerian army's military posts throughout Borno, but also incurred into Niger, Chad, and Cameroon. The culmination of ISWAP's raids was its sacking of the multinational military base in Baga in December 2018. An ISWAP video later showed the group executing Nigerian soldiers, burning naval boats along Lake Chad, and roaming free in municipal areas of villages surrounding Baga (Telegram, January 15, 2019).
ISWAP's Documentation of Baga Battles
While Nigeria's military eventually regained control of its base outside Baga, uncertainty about who actually controls the town itself has long been prevalent. In May 2020, ISWAP convincingly demonstrated that its fighters were in Baga by releasing staged combat photos of its fighters in the town, including around one of its main mosques (Telegram, May 18). At the same time, Baga's center appeared as a ghost town where ISWAP could roam free. Many Baga civilians, however, were able to escape ISWAP's authority by fleeing to displaced persons' camps away from the town.
ISWAP also released 'exclusive' reports that were featured in Islamic State's al-Naba weekly newsletter. On March 14, for example, al-Naba #225 discussed Lake Chad's strategic importance, including for the fish trade and because of nearby roads linking Maiduguri, Borno's capital, to Niger, Chad, and Cameroon (Al-Naba #225, March 14). Furthermore, the newsletter mentioned that ISWAP repelled the Nigerian army's attempts to retake the town and acknowledged that five "heroic Caliphate soldiers" and one "brave [ISWAP] commander" were killed. The clashes with ISWAP resulted in Nigeria's army being prevented from "regaining its grip" on Baga.
In addition, the April 3 al-Naba #228 newsletter eulogized ISWAP commander Abu Mukhtar al-Ansari from Mallam Fatori near Nigeria's "artificial border" with Niger (Al-Naba #228, April 3). He was seemingly an original follower of Abu Musab al-Barnawi's father, Muhammed Yusuf, who was the main Boko Haram leader from 2004-2009. Al-Naba, for example, noted al-Ansari studied Islam under a "well-known scholar who preached for monotheism and jihad" and then waged jihad to conquer Mallam Fatori and Garunda, Borno, Damatru, Yobe, and Bosso, Niger in Boko Haram's name once fighting broke out after Yusuf's death.
Ultimately, al-Ansari joined ISWAP's amniyat (internal security) and "Preaching Office" and fought around the group's farms on Lake Chad, including in Baga, until his death during the October 2019 global Islamic State campaign to avenge Abubakar al-Baghdadi and his spokesman's deaths in Syria. ISWAP was the most active Islamic State 'province' during that campaign (aymennjawad.org, December 31, 2019). According to al-Naba, the group has since named an Islamic center the "Modu Wali Center," referring to al-Ansari's birthname.
Finally, the April 10 al-Naba #229 edition featured ISWAP's reports to Islamic State about its "military engagements in Lake Chad," including in Baga (Al-Naba #229, April 10). Besides these al-Naba media releases, ISWAP also released a March 2020 video through Islamic State's Amaq media agency depicting its Baga-based fighters killing one Nigerian soldier and capturing two others, who presumably were soon executed (Telegram, March 10). This video came as Nigeria's military was reporting attacks on ISWAP around Baga and exemplified how ISWAP and the military were engaging in intense combat.
Revelations from Babagana Zulum's Missions  
The big test for control of Baga occurred in July when Borno's governor, Babagana Zulum, attempted to visit the town to plan the resettlement of Baga civilians who had been living in displaced persons' camps. Although the military assured Zulum he could enter the town, shots were fired on his convoy once it reached the town's outskirts (Premium Times, July 31). This was enough to force Zulum to take cover and head back to Baga's military base with his convoy.
Although ISWAP presumably fired those shots, suspicion that the military itself may have sabotaged Zulum's Baga visit existed (Vanguard, August 9). Some military officials are suspected of running black market fishing trade businesses around Lake Chad, while ISWAP has its own fishing businesses in similar parts of the lake near Baga. Any military operation to decisively clear the town of Baga and its Lake Chad shorelines of ISWAP strongholds would not only meet significant ISWAP resistance, but also apparently undermine military officials' (and ISWAP's) black market businesses.
In September, Zulum again attempted to visit Baga to assess displaced persons' resettlement prospects. While Zulum flew by air, one of his ground convoys was ambushed by ISWAP just two kilometers outside Baga's military base. ISWAP subsequently released photos of more than 20 slain soldiers, police, and anti-ISWAP militiamen (Telegram, September 27). Zulum's own ground convoy was also reportedly attacked by a bomb attached to a donkey upon returning to Maiduguri (noblengr.com, September 28). Although there was no loss of life, sabotage was again suspected. Moreover, considering ISWAP and Boko Haram both operate around Maiduguri's outskirts either group could have been responsible for this attack.
These July and September attacks on Zulum's convoys, in addition to the previous months' newsletters, photosets, and videos depicting combat in Baga, demonstrate that the situation on the ground precludes any return of displaced civilians to their homes. Zulum nevertheless believes that until they return home, normalcy cannot return to Borno. He, therefore, is committed to securing Baga and other parts of Borno to facilitate their return.
The dilemma Zulum faces is that many of his programs involve non-military interventions, including rebuilding schools and developing medical, transportation, and other infrastructure in towns once lost to Boko Haram and ISWAP, but are now in tenuous government control. At the same time, he ultimately depends on the military to secure Baga and others towns so life can return to normal for civilians and rebuilding can continue. This is, however, yet to be accomplished not only in Baga, but in various other towns as well.
If Zulum waits patiently until towns are absolutely secure before returning civilians to their homes, it could easily be years, if not more than a decade, until this is accomplished. Therefore, Zulum is opting for a more expeditious approach to resettlement. As evidenced by ISWAP's attacks in Baga, the group knows what Zulum wants, and will do all it can to disrupt his plans.