The Belt and Road Initiative: A Road to China's World Cup Dreams?
Publication: China Brief Volume: 18 Issue: 13
By: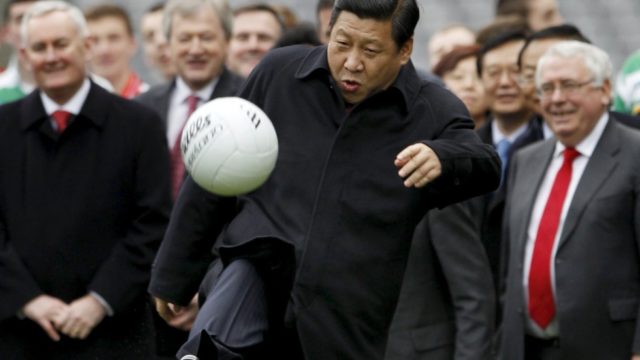 Since its inception at a 2013 speech in Kazakhstan, CCP General Secretary Xi Jinping has touted his Belt and Road Initiative (BRI) as a platform for "peace and cooperation, openness and inclusiveness, mutual learning and mutual benefit," through economic and cultural exchange. (State Council Information Office, May 4, 2016). Sports tourism, especially that surrounding soccer, has been an important albeit lesser-known component of BRI. Chinese media have argued that the sports industry is growing into one of China's most dynamic sectors, as Chinese entities have begun to invest heavily in international teams, arenas, and events (Xinhua, April 2, 2016).
A number of paramount Chinese leaders have shown interest in soccer; however, none have expressed it to the same degree as Xi Jinping. Since Xi's ascension to power, China has seen a soccer reawakening. In 2014, Xi announced his three World Cup dreams: "qualifying for the World Cup," "hosting the World Cup," and "winning a World Cup title" (China Soccer Observatory, April 5, 2018). Since this announcement, Xi has been working to utilize soccer as a tool for relationship building and diplomacy with other soccer-fanatic countries (People's Daily, June 19, 2014).
Throughout the 2018 FIFA World Cup in Russia, China has worked to ensure it remains in the international spotlight, despite its national team having not made the cut for this year's competition. US companies such as Castrol and Johnson & Johnson backed out of FIFA sponsorships for this year's cup, citing concerns surrounding not only a 2015 FIFA corruption scandal, but also increased tension between the US and Russia. However, where the US saw potential conflict, China saw opportunity, and has treated the World Cup as one of the most significant marketing opportunities for Chinese brands this year, with a diversity of Chinese firms supporting this year's Cup (Lanxiong Sports, March 6, 2018). While commercial rationales are undoubtedly at work, Chinese firms' eagerness to demonstrate their support also underscores their support for Xi Jinping's World Cup and BRI aspirations, thus demonstrating China's understanding that soccer—in addition to cultural exchanges, loans and infrastructure projects—may be another way to win hearts and minds in other countries.
FIFA's PRC Bailout
The 2018 World Cup has been a difficult one for FIFA sponsorship. A number of well-known Western companies chose to part ways with the organization following the arrest of several high-level FIFA officials in the midst of a corruption scandal in 2015 (BBC News Chinese, June 14, 2018). FIFA sponsors continued to drop left and right as tensions between Russia and the United States worsened in 2016; as a result, the organization's advertising revenue dropped by $170 million from 2015-2018 compared with the three-year period prior (Nielsen, June 11, 2018).
Salford University Professor Simon Chadwick noted that the lack of demand from potential Western sponsors left FIFA desperate for cash (Xinhua, June 14, 2018). The organization found itself with a $369 million net loss for 2016 and a shortage of corporate sponsors for the 2018 World Cup (Deutsche Welle, July 4, 2017). This dearth, however, presented Chinese entities with an opportunity for a cost-effective way to promote their brands globally.
The 2018 FIFA World Cup has arguably presented China with its largest branding platform since the 2008 Summer Olympics, as it provides Chinese companies with the opportunity to share airtime with Western powerhouses like Coca-Cola and Adidas. The new crop of PRC-based World Cup sponsors invested $835 million in advertising for this summer's World Cup, accounting for 35 percent of total sponsorship deals. Both Wanda Group (万达集团), a large real estate developer, and Mengniu (蒙牛), one of China's largest dairy brands, are among the biggest sponsors of this year's Cup. In the absence of a Chinese soccer team, official Chinese media outlets have referred to these sponsors such as Mengniu, Hisense and Wanda Group as "China's National Team" in this year's World Cup (CCTV, December 25, 2017).
FIFA sponsors benefit from a number of exclusive advantages, including product category exclusivity, the use of official FIFA logos in conjunction with their own brand logos, and brand exposure at World Cup matches and events, as well as FIFA publications and the official FIFA website (Journal of Contingencies and Crisis Management, September 2016). In 2016, Wanda spent $150 million on Tier 1 sponsorship; Mengniu and two other companies opted for Tier 2 sponsorship, accounting for 60 percent of the total Tier 2 investments (新芽 New Seed, June 9, 2018). More specifically, the Chinese dairy product manufacturer and distributor, Mengniu, has made significant moves to position itself at the forefront of World Cup advertising. In addition to becoming the "official drinkable yogurt" of the 2018 World Cup (Outlook News [前瞻网], June 8, 2018), the company announced in February 2018 that it had signed Argentinian soccer superstar Lionel Messi as its new brand ambassador (Yutang Sports, February 25, 2018).
Unlike Mengniu, Wanda Group has already established a worldwide presence. Instead of using the World Cup for purely business tactics, Wanda Group is looking to export elements of soft power such as "public interest and cultural self-confidence". Wanda Group's leadership has also discussed playing the "public welfare card" in order to create a positive global image of Chinese enterprises and highlight social responsibility (People's Daily, June 20, 2018). The Chinese government over the past decade has pushed for stronger and more transparent corporate social responsibility (CSR), especially in cases involving Chinese enterprises operating abroad (Berkeley Journal of International Law, 2010). Since Wanda Group has come under recent scrutiny for financial misdoings in both overseas and domestic projects (South China Morning Post, August 2017), the company may be using the World Cup in part as a face-saving measure, and to demonstrate its ongoing support for Xi Jinping's soccer ambitions on the largest stage imaginable.
BRI and Sports Tourism
In July 2017, the State General Administration of Sports (国家体育总局), in conjunction with China's State Administration of Tourism (国家旅游局), released the 'Belt and Road' Sports Tourism Development Action Plan ('一带一路'体育旅游发展行动方案) aimed at incorporating the central themes of China's BRI initiative into the country's nascent sports tourism industry (State General Administration of Sports, July 7, 2017). More specifically, China hopes to use sports tourism as a way to localize its BRI ambitions. The Action Plan states that Chinese entities should encourage countries along the Belt and Road region to develop distinctive sports tourism models based on their individual resources and market conditions. Once those models have been sufficiently established, the Plan advocates integration of international and domestic (Chinese) forces, forming "an open and mutual-beneficial sports tourism development model." (State General Administration of Sports, July 7, 2017).
China's intent to integrate sports tourism and BRI has been on display at a number of soccer exhibitions held in China over the past year. For instance, on April 6, 2018, the China Football Association (中国足球协会) hosted its Second Annual "Belt and Road" Cup ("一带一路" 杯) in Hainan, inviting teams from China, Azerbaijan, the Czech Republic and Hungary to compete in friendly matches. The Cup was founded on the eve of the 2017 "Belt and Road" International Cooperation Forum and is designed to use soccer to establish people-to-people exchanges between China and other BRI countries. At the tournament's opening ceremony, Deputy Mayor of Haikou Ren Qinghua spoke of the strategic significance of Haikou, one of China's most popular tourism destinations, to China's BRI strategy, and said Hainan Province has and will continue to use tourism to drive cultural cooperation and exchange. Mayor Ren also emphasized the importance of soccer in providing a platform for shared common interests across international borders, demonstrating its applicability to "One Belt One Road" (People's Daily, April 6, 2018).
In other instances, China has paired soccer with traditional educational exchange platforms in its BRI toolbox. From January to February 2018, China hosted the first "Belt and Road" Culture and Soccer Winter Camp in Shanghai. The event, hosted by Shanghai Sports National University and other local sponsors, sought to promote China through cross-cultural interaction among children from BRI countries, including Serbia, Sri Lanka, Kenya, and Panama. In addition to providing soccer training and activities, the program also included an BRI cultural exchange tour throughout key historical landmarks across China. At the closing ceremony, top players from one of Shanghai's professional soccer teams were invited to speak to the children.
The biggest Chinese sponsors in this year's world cup have also made significant contributions to China's BRI and have been working to actively promote the Chinese government's message. Mengniu in September 2017 was awarded the "BRI Constructive Case Award ("一带一路" 建设案列奖) at the People's Daily BRI Media Cooperation Forum, where it was commended for its dedication to promoting China's BRI. During the event, Mengniu Party Secretary Wu Wenting gave the keynote speech, noting that over the past few years, the spirit of BRI has provided Mengniu with a "rich foundation for development and has helped to company develop an internationally renowned brand" (Xinhua, September 20, 2017).
China World Cup 2030?
Just as China utilized "ping pong diplomacy" (乒乓外交) [1]  in the early 1970s to begin to ease tensions between a slowly-opening China and the rest of the world, Beijing is now exploiting the world's love of soccer as a means to win over hearts and minds in other countries. BRI and the World Cup are both global stages from which China can communicate what it views as its humanitarian and inclusive values. It was thus a natural that, after Chinese entities stepped in to bail out FIFA prior to the 2018 World Cup, they chose to portray themselves as the "saviors" of this summer's tournament; Wanda Group Chairman Wang Jianlin told reporters that Wanda Group "gladly extended their hand to FIFA during a difficult time" (China Venture, June 16, 2018). The support provided by PRC entities to FIFA's most important event could make a Chinese World Cup—a long-standing dream of President Xi—a reality, potentially as early as 2030.
Emily Weinstein is a research analyst at Pointe Bello and an M.A. Candidate in Security Studies at Georgetown University. Her research focuses on Chinese foreign policy, among other subjects. She can be found on Twitter @emily_sw1.
Notes
[1] For more information on "ping pong diplomacy," see the following excerpt from a 1971 Global Times article: https://www.people.com.cn/GB/historic/0410/1145.html