The Belt and Road Initiative Still Afloat in South Asia
Publication: China Brief Volume: 19 Issue: 1
By: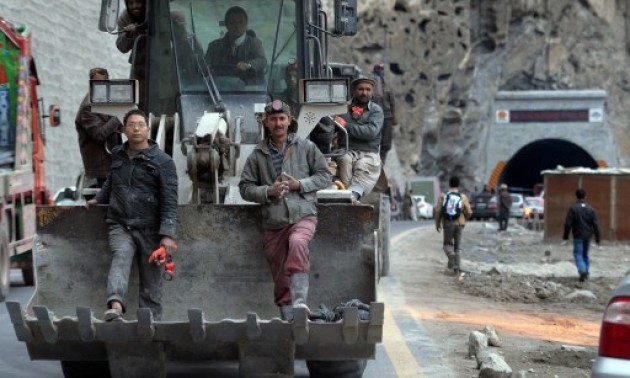 On November 23, three militants of the Balochistan Liberation Army attacked the PRC consulate in Karachi, the latest in a series of assaults by Baloch militants on PRC projects and personnel in Pakistan (Global Times, November 24). Baloch opposition to the China-Pakistan Economic Corridor (CPEC) is a primary motivating factor for these attacks, with many Balochis alleging that CPEC, a flagship component of China's Belt and Road Initiative (BRI), exploits Baloch resources while only benefiting the Chinese and non-Baloch Pakistanis (Express Tribune, December 17, 2015).
South Asian governments are becoming increasingly discontent with BRI projects. In August, Pakistan's new government expressed interest in reviewing the CPEC contracts that they perceive to be over-priced, unnecessary, or excessively in the favor of PRC companies (Dawn, September 11). Similar sentiments have been expressed by the new Maldivian government, which is reviewing BRI contracts signed during the rule of former President Abdulla Yameen (Economic Times, November 26).  Such actions raise questions as to whether South Asian states might scale down or even cancel BRI projects.
A Game-Changer for Pakistan
When PRC President Xi Jinping unveiled plans for BRI in 2013, it evoked great interest in many South Asian countries. As former Ambassador in the Sri Lanka Ministry of Foreign Affairs Dr. John Gooneratne stated in an interview with the author, BRI "holds out the prospect of helping to bridge the significant infrastructure financing gap, increase connectivity, link local markets to regional and global value chains, and thereby increase trade and investment in the participating countries" [1]. Moreover, unlike Western governments and financial institutions, whose loans require developing countries to meet conditions for good governance, democracy and human rights, Beijing was willing to extend significant loans for infrastructure development without these conditions (The Island, August 11, 2017). Attracted by the potential benefits of BRI, Pakistan, Bangladesh, Sri Lanka, the Maldives and Nepal joined the ambitious PRC-led initiative.
During Xi's visit to Islamabad in April 2015, the PRC and Pakistan signed agreements to establish CPEC. The deal was especially appealing to Pakistan, as its poor security situation made attracting foreign investment difficult. Beijing pledged funds to CPEC to the tune of $46 billion—which was subsequently increased to $62 billion—over a 15-year-period, dwarfing the $7.5 billion in aid the United States had extended over a five-year period to Pakistan in 2009 (Dawn, April 22, 2015).
CPEC envisioned linking the Gwadar port in Pakistan's Balochistan province with Kashgar in China's Xinjiang Province through a network of highways, railways, oil and gas pipelines, and fiber optic cables, with special economic zones and energy projects to be established along the way. The projects were expected to create jobs and business opportunities for locals, attract foreign investment, enhance energy production and boost the Pakistani economy (Pakistan Observer, August 16, 2017). It was widely hailed in Pakistan as a 'game-changer' (Daily Times, August 30, 2016).
Loans for Infrastructure in Bangladesh, Sri Lanka and Maldives
Much like CPEC, Bangladesh, Sri Lanka and Maldives also sought financial support for their respective infrastructure projects. In the case of Bangladesh, the PRC was willing to finance infrastructure projects that appealed to the priorities of the Bangladeshi government, thereby filling a void left by reluctant Western financiers. BNP Paribas and the Norwegian government's sovereign wealth fund, for instance, had refused to finance the Rampal coal-fired power plant at Khulna for environmental reasons (Daily Star, June 26, 2015). The World Bank cancelled a $1.2 billion credit for the Padma Multipurpose Bridge project, citing high-level corruption (World Bank, June 29, 2012).  In contrast, according to Humayun Kabir, former Ambassador and Secretary in Bangladesh's Ministry of Foreign Affairs, "China's focus on and assistance to infrastructure development in Bangladesh aligned well" with the latter's "needs and priorities."  This attracted Bangladesh to join BRI in order to "benefit from its economic potential" [2].
Similarly, post-war Sri Lanka required significant funding for infrastructure building. However, as Dr. Gooneratne explains, Sri Lanka's "usual Western donors were reluctant to extend support," given the Mahinda Rajapaksa government's "reluctance to carry out an examination into how the war was fought, and possible human rights violations" [3]. This was not the case with the PRC, which not only shielded the Rajapaksa regime from scrutiny at international human rights forums but also extended loans without conditions. Under BRI, the PRC provided loans and built a deep-sea port at Hambantota, an international airport at Mattala, and a 900-megawatt coal-fired power plant at Norocholai, the Colombo Port City project, among others.
As with Sri Lanka, former Maldives president Abdulla Yameen also turned to Beijing for financial support. Beijing's support of Yameen's authoritarian rule in the face of strong criticism from India and the West encouraged Yameen to embrace BRI. Prior to 2011, Sino-Maldivian relations were negligible; Beijing did not even have an embassy in Male. However, during Yameen's presidency, Maldives joined BRI and entered into a Free Trade Agreement that was overwhelmingly in Beijing's favor. Under BRI, the PRC extended loans and expertise to Maldives for several infrastructure projects, including the Sinamale Bridge linking Male to Hulhule Island, and a massive housing project on Hulhumale.
Counter-Balancing India
For landlocked Nepal, BRI was an opportunity to improve infrastructure and connectivity with world markets — and more importantly, reduce its dependence on India. Nepal's need to become less dependent on India was underscored in 2015-16, when it was believed that India gave tacit consent to impose an economic blockade that paralyzed Nepal, causing enormous hardship to its people. This became one of the driving motivations for Nepal to reach out to the PRC and sign on to BRI in May 2017. Under BRI, the PRC is building energy and transport infrastructure; foremost among these is a railway line linking Kerung in the Tibet Autonomous Region with Kathmandu and the tourist towns of Pokhara and Lumbini in Nepal. This is expected to boost Nepal's trade and tourism industries (The Wire, November 22).
The Outliers
Three South Asian countries—India, Bhutan and Afghanistan—are not participants in BRI. India's opposition to BRI stems primarily from the fact that CPEC runs through Gilgit-Baltistan—disputed territory that is under Pakistan's control, but to which India lays claim. India says that it cannot be involved in an initiative that violates India's sovereignty and territorial integrity (Ministry of External Affairs, India, April 5). Additionally, India is concerned that BRI has dramatically expanded the PRC's presence in the region. It maintains that BRI has strategic motivations and that the PRC is driving South Asian countries into deep debt to increase its own leverage (Indian Express, May 15, 2017). India has had limited success in persuading its neighbors to avoid involvement in BRI; only Bhutan and Afghanistan have maintained their distance from the initiative.
Geopolitical rivalries have kept Bhutan and Afghanistan out of BRI. Under pressure from India, Bhutan does not have official diplomatic or economic relations with the PRC and has yet to get involved with BRI. However, the PRC is assiduously wooing Bhutan, and businessmen and youth in Bhutan are increasingly supportive of establishing official ties with Beijing and joining BRI. Connectivity with global markets that BRI promises makes it an attractive initiative for remote and landlocked Bhutan (China Brief, April 20, 2017).
Like Bhutan, land-locked Afghanistan could benefit from BRI's connectivity with distant markets. Indeed, Pakistan and the PRC are keen to include Afghanistan in CPEC, as this would contribute to the corridor's profitability. However, Kabul has repeatedly declared that as long as Pakistan denies it overland access to India, it will not allow Pakistan similar access to Central Asian countries. Although Afghanistan has signed a memorandum of understanding on BRI with China, it has yet to become a full participant in the initiative (Outlook Afghanistan, August 16).
Increasing Caution about BRI Involvement
South Asian countries are becoming increasingly cautious about involvement in BRI and its implications for the region. Many governments are calling for renegotiation of BRI contracts. Sri Lanka's experience with debt has become the primary cautionary example in this regard. By 2015, Sri Lanka reportedly owed $8 billion to the PRC. With the Hambantota Port failing to attract business and Colombo unable to repay its loans, Sri Lanka ended up handing over this port and 15,000 acres of land around it to the PRC on a 99-year lease. In addition to over-commitment of governments to BRI, a lack of transparency in the deals has deepened public skepticism of the benefits of involvement in BRI for South Asian countries. In the case of Sri Lanka, it was "the secretive manner" in which deals were negotiated that drew public ire. There were stories of "underhand money dealings" that "dampened the enthusiasm of the public" [4].
Even Pakistan, the PRC's closest ally and South Asia's biggest proponent of BRI, is pushing back on the initiative. In 2017, when the PRC introduced more restrictive conditions for funding of the $14 billion Diamer-Bhasha dam, Pakistan pulled the project from CPEC's ambit as it felt that the conditions "were not doable" and against Pakistan's interests (Express Tribune, November 15, 2017). More recently, Pakistan's new government announced that it is cutting down on loans from the PRC under CPEC and has reduced $2 billion in loans for rail projects (Dawn, October 2).
In contrast to other BRI participants, Bangladesh has been cautious from the start. "Always a conservative borrower," Bangladesh's "loans have remained within its capacity" to pay back. It has drawn lessons from Sri Lanka's experience and has been "more conscious about the risks that could emerge from over-commitment to BRI projects"  [5]. Moreover, Dhaka is not overly dependent on the PRC for support as it has managed to attract investment from India, Japan and others. As demonstrated by the Payra port project, this has enabled Bangladesh to deal with the PRC from a position of relative strength. In 2016, Dhaka turned down China's offer to develop a deep-sea port at Sonadia in favor of Japan's proposal for a deep-sea port just 25 km away at Matarbari, which was considered to be more beneficial to Bangladesh (China Brief, June 21, 2016).
Looking Ahead
Sri Lanka, Pakistan and Maldives may not be as overburdened by debt as they are today had they followed Bangladesh's example of cautious borrowing, selective involvement in projects, and rejection of economically or strategically unviable initiatives. Unfortunately, they accepted the PRC's vision as their own and embraced BRI without questioning whether it was in their own long-term interests.
The defeat of BRI-friendly South Asian leaders in elections has been widely described as setback for the PRC. Such interpretations gained momentum when their successors in Sri Lanka, Pakistan and the Maldives promised to review contracts with the PRC.
However, subsequent events indicate that while concern over debt burdens is rising in the region, the future of BRI projects in South Asia has not dimmed. In Sri Lanka, contracts on Hambantota Port and Colombo Port City that were renegotiated and signed by the pro-West Ranil Wickremesinghe government ended up being more favorable to the PRC than the contracts originally signed by the pro-PRC Rajapaksa (The Citizen, November 25).  In fact, the government went on to sign even more agreements for BRI projects. Pakistan's Prime Minister Imran Khan said he would request that Beijing realign CPEC's goals to his government's agenda, but PRC authorities reportedly brushed aside his proposals to re-negotiate CPEC deals (IPP Review, November 29).
Burdened by crippling debt, BRI's South Asian member-states are too weak to re-negotiate or cancel project terms; there are high costs for withdrawing from these projects. In addition, although the governments of India and some Western nations are highly critical of BRI, they lack the deep pockets that the PRC has to fund these projects. Moreover, the PRC's BRI partners in South Asia are aware that economic development could suffer without the infrastructure improvements promised by BRI.
However, while South Asian countries are less optimistic about BRI than they were a few years ago and continue to raise concerns over the debt burden and contract terms, this cannot be interpreted yet as a major setback for the PRC's ambitions. So far, we have seen little concrete change come from pushback on BRI initiatives. In South Asia, at least, the PRC seems on course to realize its global ambitions through BRI.
Dr. Sudha Ramachandran is an independent researcher and journalist based in Bangalore, India. She has written extensively on South Asian peace and conflict, political and security issues for The Diplomat, Asia Times and Geopolitics.
Notes
[1] Author's Interview, Dr John Gooneratne, former Ambassador in the Sri Lanka Ministry of Foreign Affairs, Colombo, November 29.
[2] Author's Interview, Humayun Kabir, former Ambassador and Secretary in Bangladesh's Ministry of Foreign Affairs. Dhaka, December 1.
[3] Gooneratne, n.1.
[4] Ibid.
[5] Kabir, n.2.