THE CHECHEN EXECUTION SQUAD COMES TO MOSCOW
Publication: Eurasia Daily Monitor Volume: 3 Issue: 217
By: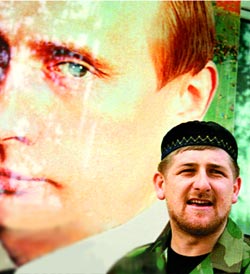 On Saturday evening, November 18, machine-gun fire erupted on Leninsky Prospect in downtown Moscow. Special police forces and a bomb squad quickly arrived at the scene and discovered one fatality. They had no problem identifying the victim, despite his multiple head wounds: Movladi Baisarov, the former commander of the "Gorets" (Highlander) special detachment.
According to official information immediately released after the attack, Baisarov was ambushed in a joint operation by the Moscow and Chechen police, resisted arrest, and was killed on the spot (Newsru.com, November 19; Rossiiskaya gazeta, November 20). Nobody appeared to be particularly bothered that this "special operation" had been carried out in a crowded public place, but other details have provided rich fodder for journalists eager to spin a crime story that perfectly illustrates the current stage of "normalization" in Chechnya.
Baisarov had organized his detachment during the chaotic "peace" that followed the end of the first Chechen war in September 1996. At the time it was called the "oil regiment," because it controlled a few oil wells and the smuggling business. With the start of the second war in autumn 1999, the "regiment" shifted allegiance to Moscow and became a part of the "guard" of Akhmad Kadyrov, the new Chechen leader appointed by Vladimir Putin. Baisarov was wounded in a clash with rebels who targeted collaborators and then sidelined by Kadyrov's ambitious son, Ramzan, who took charge of protecting his father but failed to prevent the spectacular assassination of his father in the Grozny stadium on May 9, 2004. Offended, Baisarov refused to join the kadyrovtsy forces under Ramzan's command and made his group available to the Federal Security Service (FSB), which designated it as a special anti-terrorist detachment — Gorets (RIA-Novosti, November 20).
It remains unclear why the FSB decided earlier this year that it no longer needed this detachment for operations too "special" to put its own forces in harm's way. Kadyrovtsy surrounded Gorets members in the village of Pobedinskoe, near Grozny, but Baisarov refused to surrender and escaped to Moscow.
Besides giving interviews to every interested journalist and meeting with curious parliamentarians, he tried to restore his ties to the FSB, seeking to exploit the growing irritation against the maverick Ramzan Kadyrov. Baisarov was indeed granted protection and moved around Moscow in an armed convoy until November 15, when Baisarov's troops unexpectedly surrendered their arms. Three days later he arrived at an arranged meeting in a private Zhiguli taxi without any bodyguards. After exchanging only a few words with the group of men waiting for him, Baisarov was killed by 11 shots at a close range, and the shooters fled before the police cordoned off the crime scene (Kommersant, Moskovsky komsomolets, November 20).
An official investigation has been launched, which makes it possible for the authorities to refuse to provide any explanations for the peculiar character of the operation. Otherwise, it would have been rather problematic to justify the ambush when the authorities could have easily arrested the suspect at his well-known place of residence. It would have been even more difficult to explain the involvement of the Chechen "police," which obviously had no intention of letting Baisarov testify to the Russian authorities. According to well-known Chechen rebel-turned-politician Bislan Gantemirov, several groups of kadyrovtsy recently arrived in Moscow with orders to assassinate Ramzan's enemies. Journalist Anna Politkovskaya, assassinated on October 7, was reportedly on their hit list, as was Baisarov and Gantemirov himself (Novaya gazeta, November 20). It is impossible to verify this information, but the two Chechen "policemen" arrested by Moscow police ten days after Politkovskaya's murder for keeping an arsenal of small arms in their car were released after direct FSB intervention.
Explosions and shootouts in Chechnya normally do not make news in Moscow, unless there are multiple victims among the Russian forces, as when seven OMON troops from Mordovia were ambushed on November 7 (Chechnya Weekly, November 9). Contract killings in Moscow itself are usually minor news, unless there is a high-profile victim, such as banker Konstantin Mesheryakov, who was shot dead near his house on November 20, or a high level official like Andrei Kozlov, murdered on September 14 (Newsru.com, November 21). The combination of these two habitual patterns of violence, however, still comes as a shock, even if it quickly subsides. The momentary impression, soon washed away by the flood of "big news" about celebrity weddings or divorces, is that murderous looting is not a thing of the past, of the Russian "wild capitalism" of the 1990s, but a growing feature of autumn in Putin's Russia.
The pervasive corruption has acquired such grotesque proportions that the president's reminder that state service and business interests are two different things is nothing but a sad joke (Vremya novostei, November 22). The situation in Chechnya, where Ramzan Kadyrov has amassed so much armed power that his demands for more funding cannot be refused by Moscow, is clearly developing toward a new confrontation. In fact, the federal forces in Chechnya now have to guard themselves against kadyrovtsy more than against rebels, while the FSB is forced to give up on its attempts to organize alternative "loyalist" groups or battalions that could counterbalance the uncontrollable "ally" (Ezhednevny zhurnal, November 20).
It is only natural that the power-hungry Ramzan Kadyrov seeks to deploy his forces to Moscow, where political power and money are fused in spectacular fashion. It is quite understandable that the thoroughly corrupt law enforcement agencies in Moscow cannot deter this "invasion" and choose to cooperate with Chechen vendettas. Putin may prefer to complete his second term on the note of "peace and prosperity," but the tempo of violent self-destruction is visibly quickening.