The China-India-Pakistan Triangle: China Strengthens Ties with Pakistan Amid Border Standoff with India
Publication: China Brief Volume: 22 Issue: 1
By: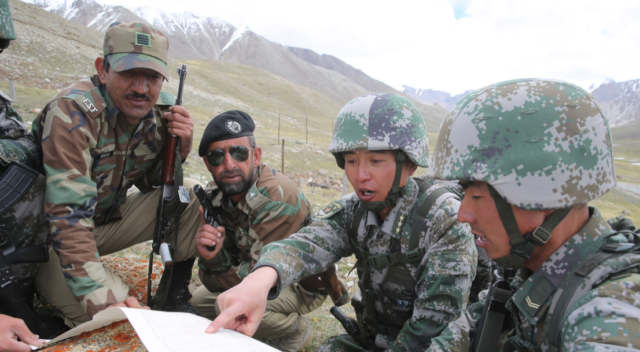 Introduction
The failure of military talks in the fall to ease a one-and-half year border standoff between India and China could lead to further militarization of the Line of Actual Control (LAC), the de facto China-India boundary. The commanders from both armies held talks on October 10 after the Indian army chief expressed his frustration over the massive deployment of troops and weaponry by China along the border. Both sides have already deployed tens of thousands of soldiers with artillery, tanks and fighter jets along the LAC, which separates Chinese and Indian-held territories and runs from Ladakh in the west to India's eastern state of Arunachal Pradesh (Dawn, October 11). China claims both Ladakh and the entire Arunachal Pradesh. Adding fuel to Sino-India border tensions is a new land boundary law approved by Chinese lawmakers in the standing committee meeting of the National People's Congress (NPC, October 23, 2021)
Under the new law, which went into effect on January 1, China's territorial integrity is deemed sacred and inviolable, and China is bound to take all measures to safeguard its sovereignty and land boundaries. India has already raised concerns that the new land boundary law could impact the two countries' long-running border dispute. After all, it was the boundary dispute that drove the two countries to full-fledged war in 1962 (Dawn , October 27). Presently, the China-India-Pakistan triangle of conflict has intensified as China and Pakistan continue to view India as a threat to their respective strategic interests, and India perceives its interests as increasingly challenged by China-Pakistan cooperation.
China-India Reset Remains a Distant Prospect
In 2018, Chinese President Xi Jinping and Indian Prime Minister Narendra Modi met in Wuhan, China in an effort to improve ties and manage bilateral differences following the military standoff between the two nuclear powers at Doklam in 2017 (Xinhua, April 29, 2018). The Wuhan summit was the first informal top-level bilateral contact between Xi and Modi following the Doklam clash. From a geopolitical angle, Beijing made a serious effort to prevent New Delhi from aligning more closely with the U.S., which sees India as a counterweight to rising China. The two countries reached an understanding at Wuhan to improve bilateral ties under the mantra of the "Wuhan Spirit" (South Asian Voices, September 26, 2019).
A year later, in October 2019 Modi and Xi met again in Chennai, India to follow up on their talks at the Wuhan summit. During the meeting, Modi said, "We had decided to prudently manage differences and not to allow them to become disputes. We had decided that we will be sensitive towards each other's concerns" ( India Today, October 12, 2019). Beijing and New Delhi pledged at Wuhan and Chennai that they would not allow their differences to become disputes. Unfortunately, months after the Chennai Summit, differences not only deteriorated into disputes but devolved into bloody clashes, and in June 2020, at least 20 Indian soldiers were killed in a fight with the Chinese troops on the disputed Himalayan border (Dawn, June 16, 2020).
Beijing sees India's membership in the Quadrilateral Security Dialogue or "Quad" along with the  U.S., Australia, and Japan—as a pawn on the U.S. strategic chessboard; part of a bloc formed to counter the rising influence of China in Asia (Global Times, June 26, 2017). Some in India have echoed concerns about the utility of participation in the quad in making headway to resolve the border dispute with China. For example, in October,  an Indian scholar tweeted: "Where is [the] Quad when China doesn't vacate the areas that it has captured? Where is [the] Quad when China is amassing troops at the border and turns LAC to LoC?" (Twitter, October 11).
The CPEC Factor in the China-India Border Standoff 
India has been a bitter critic of the $62 billion China-Pakistan Economic Corridor (CPEC), which is the centerpiece of China's Belt and Road Initiative (BRI). In particular, India has vehemently opposed the execution of CPEC projects, which traverse the disputed territory of Kashmir (India Today, December 1, 2020). Weeks after the bloody clash between the Chinese and Indian soldiers on the Himalayan border in 2020, Beijing and Islamabad signed deals for construction of the Kohala hydropower generation project and the Azad Pattan hydropower project in Pakistan-administered Kashmir at an estimated total cost of $3.9 billion (China Brief, July 29, 2020).
A key reason for China's military buildup and confrontation on the border with India is the perceived threat to CPEC from some infrastructure projects led by India near the LAC. For  example, consider the 225-km Daulat Beg Oldie (DBO) road project. The Modi administration expedited the DBO road project in eastern Ladakh, where India's highest airstrip is located, allowing the project to provide greater access to this area around the LAC. The road gives India a strategic advantage in rapid military mobilization and an opening to the Karakoram Pass, which divides Ladakh from Xinjiang. This is proximate to CPEC, which enters China from Pakistan's Gilgit-Baltistan region that borders Xinjiang. Gilgit-Baltistanis in the western region of the DBO, which connects Leh, the capital of Ladakh, to the Karakoram Pass (The Print, September 15, 2020).
Beijing and Islamabad are on the same page in their efforts to curtail India's presence and influence in border areas adjacent to China, India and Pakistan. CPEC is not only a game-changer for both China and Pakistan, but it also reflects the convergence of interests of the two strategic partners. Hence, any threat to CPEC is perceived as a common threat by China and Pakistan. Both countries ultimately want to ward off the Indian challenge to CPEC once and for all by changing the status quo in the border areas.
Pakistan backs China in the China-India-Pakistan Triangle of Conflict
Since the Indo-China border standoff and clashes in spring 2020, Pakistan has thrown its weight behind China, as Islamabad's strategic interests increasingly converge with those of Beijing. During the 2020 Sino-Indian crisis, Pakistan deployed 20,000 troops along the Line of Control (LOC), the de facto India-Pakistan border in Kashmir and Gilgit-Baltistan, which adjoins Ladakh in the north conflict (Economic Times, July 2, 2020). Pakistan's deployment of troops occurred as China deployed thousands of troops along the LAC in eastern Ladakh amidst skyrocketing border tensions with India. This illustrates that Pakistan could open a second front against India from the Kashmir border in the event of an India-China conflict.
In 2019, India's BJP government led by Modi further embraced Hindu nationalism unilaterally abolished the special autonomous status of India-controlled Kashmir dividing it into two union territories, Jammu and Kashmir, and Ladakh (Dawn, August 5, 2019). For both China and Pakistan, India's unilateral decision to  alter the status of Kashmir was unacceptable. China reacted angrily as the change also affected the status of Ladakh, which is claimed by Beijing. Chinese Foreign Ministry Spokesperson Hua Chunying  asserted that "China is always opposed to India's inclusion of the Chinese territory in the western sector of the China-India boundary into its administrative jurisdiction. This firm and consistent position remains unchanged" (CGTN, August 7, 2019).
The China-India border dispute has also provided Pakistan with an opportunity to settle scores with its archrival, India. For Islamabad, China's massive troop deployment backed by heavy weaponry in Ladakh strengthens Pakistan's position vis-à-vis India.  In May 2021, China and Pakistan conducted a joint military exercise in Tibet along LAC in the backdrop of a one-year military standoff between India and China in eastern Ladakh. The joint drill includes air- defense skills targeting warships, aircrafts, missiles and drones (The Tribune , June 1, 2021). India's unilateral change to Kashmir's status in August 2019 opened a door to China's entry into the Kashmir dispute. "India 'opened up new territory on the map,' incorporated part of the areas under the local jurisdiction of Xinjiang and Tibet into its Ladakh union territory and placed Pakistani-administered Kashmir within its so-called union territories of Jammu and Kashmir," argued Chinese scholar Wang Shida days before the violent Indo-China standoff in June 2020. "This forced China into the Kashmir dispute, stimulated China and Pakistan to take counter-actions, and dramatically increased the difficulty in resolving the border issue between China and India" (Express Tribune, June 28, 2020).
Conclusion 
In the triangle of conflict, any reset of ties by China with India are unlikely to come at the expense of growing and deepening ties between China and Pakistan. Strategically located Pakistan is vital to China's grand geopolitical and economic agenda, particularly in South Asia. Even Islamabad's post-9/11 frontline role in the U.S.-led war on terror did not affect the growth of Sino-Pakistan relations, which are termed an "all-weather friendship" by both sides. Moreover, China's plan to extend CPEC into Afghanistan is not possible without a friendly Islamabad. The China-India conflict in the Himalayas is the real test of the China-Pakistan strategic alliance and all-weather friendship, which the two countries claim is higher than the Himalayas.
Modi's Kashmir gambit in 2019 backfired, which provided China with an opportunity to emerge as a third party to the Kashmir dispute between India and Pakistan. The move also triggered a race to capture disputed territory in the mountain region at the confluence of the borders of India, China and Pakistan. Nestled in the Himalayas and divided among India, Pakistan and China, the Kashmir conflict has reemerged as the region's nuclear flashpoint.
The failure of CPEC would doom China's whole multi-trillion dollar infrastructure development initiative undertaken through BRI. Locked in a border standoff with India, China wants to convey to the anti-BRI forces that it will go to any extent to secure its mega infrastructure development program, and is likely to value continued strong ties with Pakistan as a means to achieve this goal.
Syed Fazl-e-Haider is a contributing analyst at the South Asia desk of Wikistrat. He is a freelance columnist and the author of several books including the Economic Development of Balochistan (2004). He has contributed articles and analysis to a range of publications including Dawn, The Express Tribune, Asia Times, The National  (UAE), Foreign Affairs, Daily Beast, New York Times, Gulf News, South China Morning Post, and The Independent.