The Controversies and Security Concerns Surrounding TikTok
Publication: China Brief Volume: 20 Issue: 15
By: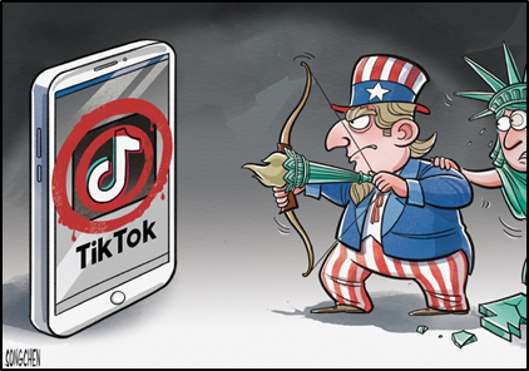 Introduction
In July, the music and lip-syncing short-video app TikTok (蒂克托克, DikeTuoke)—popularly used by dancers, singers, magicians and fashion bloggers—became another point of tension in the growing conflict between the United States and the People's Republic of China (PRC). On July 31, U.S. President Donald Trump told reporters that he planned to ban TikTok in the United States. Microsoft immediately suspended talks to buy TikTok's U.S. operations, but resumed talks days later, after Microsoft CEO Satya Nadella reportedly spoke to the U.S. President and agreed to close a deal by September 15 (Microsoft, August 2).
The PRC Ministry of Foreign Affairs has accused the United States of threatening TikTok without evidence, and the Chinese government will no doubt retaliate. Beijing's general response to such actions has been quid pro quo: for example, it closed the U.S. Consulate in Chengdu following the closure of the PRC Consulate in Houston, and it revoked press passes for journalists representing several U.S.-based news outlets after the U.S. State Department designated five Chinese state-run media outlets as units of the Chinese government (U.S. State Department, February 18; PRC Foreign Ministry, March 18; PRC Foreign Ministry, July 30).
On August 3, Hu Xijin (胡锡进), the editor-in-chief of the PRC state-run Global Times, called the potential purchase "open robbery" (Twitter, August 3). On the same day, the English-language press outlet China Daily, which is owned by the Chinese Communist Party's Central Propaganda Department (中宣部, Zhongxuanbu), stated in an editorial that efforts to pressure TikTok into a purchase by Microsoft "were tantamount to inviting potential U.S. purchasers to participate in an officially sanctioned 'steal' of Chinese technology," and vowed that "China will by no means accept the 'theft' of a Chinese technology company, and it has plenty of ways to respond if the administration carries out its planned smash and grab" (China Daily, August 3).
Security Concerns Surrounding TikTok
TikTok, which is banned in China, was launched in September 2017—one year after the unveiling of its Chinese counterpart Douyin (抖音)—by the Beijing-based internet company ByteDance (字节跳动, Zijie Tiaodong). The following November, ByteDance acquired Musical.ly for $1 billion and merged it with TikTok, expanding its user base (Wall Street Journal, November 9, 2017). TikTok is now valued at about $50 billion and has over 1.8 billion downloads worldwide (not including Douyin downloads), with about 34% in India and 9% in the United States. In the United States, the app boasts roughly 80 million monthly active users (Smart Tower, April 29; Wallaroo, August 4). By comparison, Twitter has a market capitalization of just over $23 billion and about 48 million monthly active users in the United States (Omnicore, September 9).
Despite its potential artistic or educational value, critics of TikTok say that the app's large user base carries with it the potential for propaganda or election interference—as well as privacy and national security concerns related to personal data. The privacy risk concerns surrounding TikTok stem primarily from three factors:
TikTok uses unencrypted HTTP instead of HTTPS, making data transfers vulnerable to attack.
The company has been accused of illegally storing user data. The Federal Trade Commission (FTC) and the U.S. Justice Department are reportedly now investigating whether the company broke a deal it made with the FTC in February 2019. Under the negotiated deal, TikTok paid $5.7 million to settle claims that it violated the Children's Online Privacy Protection Act (COPPA) by storing children's biometric data without parental consent, marking the largest civil penalty the FTC has ever obtained in a children's privacy case (FTC, February 27, 2019).
TikTok allegedly sends user data to China. In November, a California college student filed a class-action lawsuit claiming that she downloaded the app, but never created an account; but that it created one for her. and transferred her data to servers in China (U.S. District Court of Northern California, November 27, 2019).
The company's lack of independence from Beijing has also raised national security concerns involving censorship, misinformation, and the potential for election interference. According to Article 7 of China's National Intelligence Law (国家情报法, Guojia Qingbao Fa), all companies are required to cooperate with the government, meaning that TikTok cannot withhold data from state intelligence agencies (PRC National People's Congress, May 12, 2018).
The company has also been accused of censoring content in accordance with Beijing policies: for example, in November 2019 a 17 year-old woman in New Jersey named Feroza Aziz posted a TikTok video, disguised as a makeup tutorial, in which she discussed human rights abuses in Xinjiang (YouTube, November 26, 2019). The video received over half a million "likes," and TikTok subsequently blocked Aziz from posting content. Furthermore, TikTok's parent company ByteDance has itself been accused of involvement with the state security infrastructure in Xinjiang (Hong Kong Free Press/Youtube, December 2, 2019).
Posts related to the Hong Kong protests have also reportedly been censored; and in early July, TikTok announced that it was suspending business operations in Hong Kong as a result of the PRC's newly-imposed National Security Law affecting in the territory (Hong Kong Free Press, July 7; China Brief, July 29).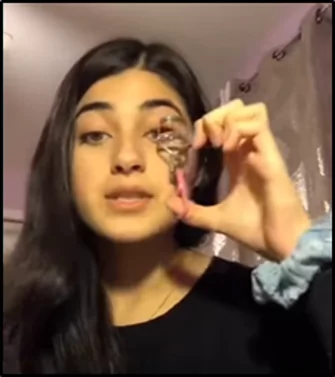 Restrictions Placed Upon TikTok in the United States and Other Countries
In December 2019, the U.S. Navy and U.S. Army both banned TikTok from use on government-issued mobile devices, citing a U.S. Defence Department cybersecurity awareness message issued on December 16 that reportedly identified the TikTok app "as having potential security risks associated with its use" (Stars and Stripes, December 31, 2019). Last month, U.S. Secretary of State Mike Pompeo stated that the U.S. government was considering a ban and that Americans should be careful using the app unless they wanted their data "in the hands of the Chinese Communist Party" (The Verge, July 7).
The United States is not the only country concerned about TikTok. On June 29, India—TikTok's primary market—banned the app (along with 58 other Chinese apps) after skirmishes along the Sino-Indian border left 20 Indian soldiers dead. This measure derailed ByteDance's $1 billion expansion plan in the country (Times of India, June 30). In South Korea, TikTok was fined $155,000 for collecting data on users under the age of 14 without parental consent, and transferring the data to servers in Singapore and the United States (Yonhap News Agency, July 15). In Australia, Prime Minister Scott Morrison has asked citizens to practice caution using the app, while National Party parliamentarian George Christensen has called for it to be banned entirely (ABC (Australia), July 7).
In the United States, other major tech companies are already seeking to take advantage of the controversies surrounding TikTok. In early August, Facebook debuted its TikTok-like Instagram feature titled "Reels" (Facebook, August 5). TikTok CEO Kevin Mayer has called Reels a "copycat" product "disguised as patriotism," while Facebook CEO Mark Zuckerberg has warned that Beijing is creating "its own version of the internet" based on its own political principles, and exporting its vision of techno-nationalism to the world (TikTok, July 29; The Hill, July 28).
TikTok's Response
TikTok has responded in several ways. First, it has simply denied the charges: in November, former co-CEO Alex Zhu said the company does not censor videos that displease Beijing, nor does it share user data with the Chinese government or with its parent company ByteDance. Zhu even said he would refuse CCP General Secretary Xi Jinping himself if asked to censor content or hand over data (SCMP, December 12, 2019). TikTok CEO Kevin Mayer has echoed this sentiment, saying that Chinese authorities have never asked for data on Indian users—and that even if they had, the company would not comply (Wall Street Journal, July 3).
TikTok has also responded by noting that its user data is stored on servers in Virginia and Singapore, and that its leadership involves non-Chinese executives. CEO Mayer is a former Disney chairman, and Chief Information Security Officer Roland Cloutier is a former U.S. Air Force and Department of Defence security specialist. TikTok also hired Adobe executive Sandie Hawkins as head of advertising in the United States, and Microsoft chief intellectual property counsel Erich Andersen as its global general counsel. Finally, TikTok has hired a team of lobbyists; announced plans to create 10,000 jobs in the United States in the next three years; formed a $200 million fund to support U.S. content creators; promised to stop using China-based moderators to monitor overseas content; and pledged to donate $250 million to coronavirus relief efforts in the United States (TikTok, April 9; Axios, July 21; TikTok, July 22). In late August, TikTok also announced its intention to sue the Trump administration over two executive orders that banned the app and gave ByteDance 90 days to sell TikTok to a U.S. buyer (TikTok, August 24).
Conclusion
Despite the efforts of TikTok executives to allay concerns about the app, it continues to face opposition in many of its major markets. Using servers located in Virginia does not prevent TikTok from sending user data to China, nor do foreign executive appointments guarantee independence from Beijing. Statements by company officials regarding their nominal independence from the Chinese government fail to address the pressure that Beijing could levy on the company, either through commercial pressure or Article 7 of the National Intelligence Law.
In fact, the company's talks with Microsoft were reportedly spearheaded not by Mayer, but rather by Zhang Yiming (张一鸣), the founder of TikTok's parent company ByteDance. ByteDance is partly governed by an internal Communist Party committee that gathers to study President Xi's speeches, and which in 2018 shut down the company's first app Neihan Duanzi (内涵段子), citing its failure to respect "socialist core values" (Sohu, April 11, 2018; Haiding Qiaolian, August 7, 2019).
The growing tech war between the United States and China centers not only on two different models of how to handle user data; but also on two different models of the role and independence (or lack thereof) of a technology company. While the PRC exploits a fundamental vulnerability in liberal democracy—namely its openness—liberal democracies themselves are still struggling to contend with the outsized power of their own tech companies. Like Huawei, TikTok's very structural model makes it subject to suspicion: it is a tech company subject to the dictates of an authoritarian state, either directly, or indirectly via pressures upon its parent company ByteDance. As a result, TikTok's increasing popularity is almost certain to carry with it increasing public concern and government scrutiny.
David Volodzko is an editor at the technology and information company Brightwire. He is the former national editor for the Korea JoongAng Daily (the New York Times affiliate in South Korea), and a former Korea correspondent for the South China Morning Post. His writing on China and Korea has been published in Foreign Policy, The Wall Street Journal, Bloomberg, The Interpreter and The Diplomat, among others. He is also a former university lecturer of rhetoric and logic and has spent over 15 years in Asia.