The Cyprus Financial Meltdown Disrupts Close Relations with Berlin and Europe
Publication: Eurasia Daily Monitor Volume: 10 Issue: 58
By: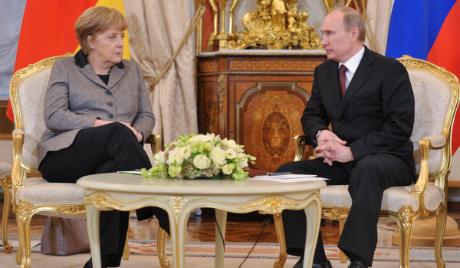 The European Union is Russia's number one trading partner, and for many years Moscow was seeking to establish a privileged political and economic relationship with select Western European "friends" like France and Germany. Moscow's most important foreign policy objective since the Cold War was to undermine the transatlantic tie between the United States and its European allies, effectively neutralizing the North Atlantic Treaty Organization (NATO). The Russian concept of a "multipolar world" envisaged Moscow as the center of Eurasia, connecting an emerging China with a Russia-friendly, neutral Europe, opposed to an isolated US. Just over a year ago, during the last days of a reelection campaign for a third six year term in the Kremlin, President Vladimir Putin rejected the idea that "the US and Europe are the same unfriendly entities" and that Russian needed to "ally against them with China." Speaking on February 24, 2012 in Sarov (Arzamas-16)—Russia's main center of design and production of nuclear weapons since the Cold War—Putin declared that public opinion in Europe is changing in Moscow's favor, that NATO is disintegrating and major European nations may soon turn against the US and ally with Russia. Putin recalled that in 2003, France and Germany joined Russia in opposing a US-led invasion of Iraq and that this is a sign "of indicative internal processes, happening within NATO." According to Putin, "The world is changing and Russia is actively building separate special relations with Europe" (see EDM, March 1, 2012; https://government.ru/special/docs/18248/).
The Cypriot financial meltdown seems to have significantly altered Russia's basic foreign policy strategy of building special relationships with Europe and in particularly with Germany, while maintaining frosty relations with Washington. Cyprus has been used as an offshore financial haven by Russian companies and wealthy Russians to avoid high corporate taxes at home as well as to legalize billions obtained in kickbacks and other illegal or shady activities. According to Moscow real estate experts, some 80 percent of Russian commercial real estate is registered as belonging to Cyprus-based companies. Now the Cypriot banking system is paralyzed, while incoming and outgoing payments and dividends from real estate deals, export and import payments—including oil and natural gas contracts that traditionally go through Cyprus—are frozen and may be partially lost in ongoing bankruptcy proceedings (www.rbcdaily.ru, March 27). While Russian businesses will be trying to extricate funds frozen in accounts on Cyprus and will be seeking alternative foreign clearing houses and financial havens (Latvia, Malta and Lichtenstein have been mentioned), the magnitude of the total losses to the Russian economy is unclear. Former first deputy Central Bank chairman Sergei Aleksashenko believes Russia may lose up to two-percent of GDP growth in 2013 as a result of a dramatic decline in investment (previously channeled through Cyprus), leading to zero-GDP growth or national economic stagnation (Nezavisimaya Gazeta, March 27).
Moscow believes its business interests and capital, which have been described in the West as "dirty," were unfairly targeted by the EU and, in particular, by Germany in the Cypriot financial meltdown. Prime Minister Dmitry Medvedev has called the situation in Cyprus: "Robbery of loot" ("grab nagrablenoye") (RIA Novosti, March 25). Earlier, Medvedev proposed creating offshore jurisdictions inside Russia "on some of our own islands" in the Far East, on the Kurils or Sakhalin "since they [Europeans] are chasing us out" (Kommersant, March 22).
To show its anger, Moscow has gone further than rhetoric. Russian and international human rights organizations including such prominent ones as Memorial, Amnesty International, Human Rights Watch, Transparency International and others, have been massively harassed by Russian law enforcement and tax authorities, their premises searched all over Russia, and their documents and computers were taken (Kommersant, March 26). Last month, while speaking at the Federal Security Service (FSB—"Federalnaya Sluzba Bezopasnosti"—the successor organization of the Soviet KGB) "extended collegium," Putin denounced as "unacceptable" any pressure on Russia, or "any meddling in our internal affairs" demanding the FSB strictly implement recently approved legislation "regulating the activities of non-governmental organizations receiving foreign funding" (see EDM, February 14). This week, two Russian departments of prominent German political party foundations: the Konrad Adenauer Stiftung, closely connected to the ruling Christian Democrats, and the Friedrich Ebert Stiftung, connected to the main opposition Social Democratic party, were raided by the Russian authorities, sparking a serious diplomatic crisis with Berlin. The work of the two state-funded foundations in Russia has been "paralyzed" (Kommersant, March 28).
The local departments of the German Stiftungs had a privileged position in Russia, being seen as proxies for the parties that are in this or that combination permanently in power in Berlin. The Stiftungs were never involved in any internal Russian opposition activity or the financing of any actions critical of the Putin regime. Apparently, Moscow used the sudden attack on the Stiftungs to demonstrate its anger with Germany, seen as a leading force behind the campaign to flush Russia "dirty money" out of Cyprus. German diplomats, as well as their French and US counterparts, have protested the harassment of human rights organizations in Russia. Russian ambassadors in Paris and Berlin were called to hear verbal protest notes (RIA Novosti, March 28).
In a likely further demonstration of growing anger, while aboard his presidential aircraft returning from a BRICS summit in South Africa this week, Putin is reported to have "suddenly" ordered the defense ministry to immediately begin massive military exercises in the Black Sea region, involving over 7,000 servicemen, 34 warships, some 20 aircraft and 250 armored vehicles. According to the Kremlin press service, "the ships have already left Sevastopol and marines will perform several landings on the Russian cost." The exercises must test the battle readiness of the Russian military (RIA Novosti, March 28). Sevastopol is the major Russian military base in Crimea, Ukraine, closest to the conflict in Syria and to Cyprus. The official announcement directly connecting the sudden military exercises with the BRICS summit and coming just after a highly publicized state visit to Moscow last week by China's new leader, Xi Jinping, together with an increasingly acute confrontation with the West over Cyprus, Syria and human rights may signal a watershed point in Putin's foreign policy. Russia seems to be attempting to ally itself with China and other anti-Western forces, while sending a broadside against the West at sea and allegedly pro-Western human rights activists at home.