The Deradicalization and Parole of Indonesia's Umar Patek – the Bombmaker of Bali
Publication: Terrorism Monitor Volume: 21 Issue: 6
By: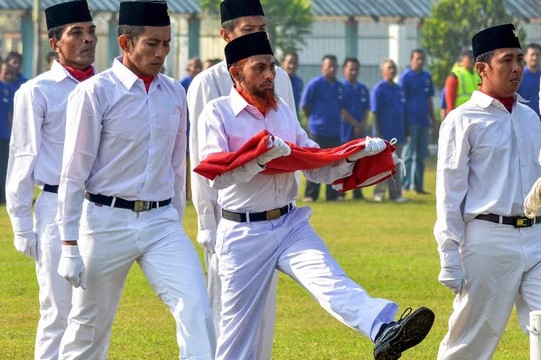 On December 14, 2022, Umar Patek sat next to his friend and mentor in Indonesia's deradicalization program, Ali Fauzi, and expressed remorse for his role in the 2002 Bali bombing. Patek further apologized to the families of 88 Australian terror victims in particular, who still deemed his attacks unforgivable (Kompas, December 14, 2022). The news that Patek would be eligible for parole on Indonesia's Independence Day several months earlier on August 17, 2022, however, already infuriated families of the Bali bombing victims and spurred Australia to launch a diplomatic protest (Detik, August 19, 2022; Detik, August 22, 2022).
The families' anger did not prevent the Indonesian government from releasing its own citizens from prison, to include Patek—prisoners become eligible for reduced incarceration time and parole after serving two-thirds of their sentences (Era,  August 23, 2022). Over the course of eight years in prison, Patek had earned one year and 11 months of a reduced sentence, or "remission," under the Indonesian deradicalization program. This allowed him to be released on parole on December 7, 2022. This release date had been postponed from August 2022, and allowed Patek to continue the National Agency for Combating Terrorism's (BNPT) deradicalization program outside of prison (Medcom, August 19, 2022; Detik, December 7, 2022). The BNPT's utilization of remission as both a reward and punishment to de-radicalize Patek can be employed as a tool to evaluate the success of Indonesia's counterterrorism policy.
Patek's Road to Radicalization and Deradicalization
Patek was captured by Pakistani security forces during a shootout in Abbottabad in January 2011 (Pakistantoday August 8, 2011). Later, in August 2011, the injured Patek and his Filipina wife, Rukayah, were extradited and detained in Indonesian police custody pending their trial (Kompas, August 11, 2011; Antaranews, August 11, 2011). Rukayah was sentenced to 27 months in prison in January 2012 for providing false information on her passport (Detik, January 4, 2012).
In June 2012, Patek—who was affiliated with al-Qaeda and the Jemaah Islamiyah (JI) network in Indonesia and Mindanao, the Philippines—was sentenced to 20 years of prison for the 2002 Bali bombing and the 2000 Jakarta church bombings. This was still less than the prosecutor's request, which had been for a life sentence (UN, July 19, 2011; BBC, June 12, 2022). In 2013, the Indonesian Minister of Law and Human Rights issued a new regulation regarding a series of procedures, including those granting remission, assimilation, leave for visiting family, parole, leave before release, and conditional leave (BPHN, June 12, 2013). This allowed those convicted for terrorism to continue serving their sentences and participate in the deradicalization program at the Minister of Law and Human Rights' own correctional facility. In accordance with this regulation, Patek was transferred with 21 others charged with terrorism from the police detention center to the Surabaya Class 1 Penitentiary in Porong, East Java (TRIBUNnews, March 13, 2012; Detik, March 13 2012).
However, there are several additional requirements for terrorist convicts to be qualified to receive the benefits of the regulation, in addition to having good behavior and already completing six months of a prison sentence (BPHN, June 23, 2012). For remission, terrorism convicts must also cooperate with law enforcement to dismantle terrorist activities, complete the deradicalization programs offered by the correctional institutions and the BNPT, and, most importantly, pledge their loyalty to the Republic of Indonesia (BPHN, June 23, 2012). In order to show his commitment to said pledge, since 2015, Patek has volunteered to be one of the flag-raising officers for the Indonesian flag ceremony, wherein he salutes the national flag (TRIBUNnews, May 23, 2015). Even though Patek's first experience as a flag-raising officer was not at the 72nd Indonesian Independence Day in 2017, this event was considered particularly symbolic of his demonstration of allegiance to the Indonesian state (Viva, August 17, 2017).
In 2018, on the 73rd Indonesian Independence Day, Patek received a two-month sentence reduction for his first Indonesia Independence anniversary remission (which is standard), in addition to receiving a special Eid al-Fitr remission (for Muslims) regularly since July 2015 (Kompas, August 16, 2018; Kemenkumham, May 17, 2022; SINDOnews, July 17, 2015). Subsequently, from 2018 to 2022, Patek never once missed his two annual remissions for Eid al-Fitr and Indonesian Independence Day. Collectively, these allowed him to be eligible for parole as early as he was. In contrast, terrorist convicts who have refused to pledge their allegiance to Indonesia have been denied parole eligibility, despite any good behavior and/or the completion of the first six months of their sentence (Viva, August 17, 2019).
Assessing the Role of Remission
In assessing the Indonesian counter-terrorism policy, remission operates as a carrot-and-stick mechanism that rewards prisoners convicted with terrorism, with remission leading to their release on parole, should they comply with the necessary regulations (BPHN, June 23, 2012). In addition to remission and parole, BNPT also uses families as a tool to influence individuals to abandon Islamist ideology. Hence, in November 2019, the Indonesian government granted Patek's wife Indonesian citizenship, something Patek had requested from the head of the BNPT in 2016 (Antaranews, November 20, 2019; Republika, November 20, 2019).
In continuing compliance with the deradicalization program, in 2021, Patek earned a six-month reduction in his prison sentence—his fourth remission for Indonesian Independence Day—which led to his eventual release on parole in 2023 (BNPT, August 23, 2021). During a regular visit by the BNPT head to the penitentiary Patek was housed in, the BNPT head referred to Patek as a partner in the deradicalization program, praising the progress he has shown (BNPT, August 23, 2021). In response, Patek stated, "I thank the head of the BNPT and the team who have come here to stay in touch with me and my friends who are here. Note that my friends and I are sinners who have done wrong to this country, but the head of the BNPT and the team still pay attention to us. We are very grateful" (BNPT, August 23, 2021).
In crafting a counter-terrorism policy that allows terrorist convicts to be released on parole, the BNPT deradicalization program divides into two categories, "inside" and "outside" of prison (BNPT, August 23, 2021). Identification, rehabilitation, re-education, and reintegration are emphasized inside the penitentiary, while outside of prison, issues like identity, religious beliefs, and the concepts of nationalism and entrepreneurship are emphasized (BNPT, March 31, 2021; BenarNews, December 14, 2021). A partnership with the Director-General of Correctional Institutions (under the Ministry of Law and Human Rights) further enables terrorist inmates to receive the same benefits as regular prisoners, including remission, assimilation, and parole, with the goal of preparing them for reintegration into general society (TRIBUNnews, May 23, 2015).
Patek's Release
Patek eventually received his tenth remission in May 2022, bringing his parole eligibility date to January 14, 2023. However, since he was still eligible to apply for a second remission for 2022, he could have conceivably been released as early as July 14, 2022 (Kemenkumham, May 17, 2022).
Patek had been compliant with the appropriate regulations for this to occur. As a consequence, the Indonesian government stakeholders working on deradicalization, such as BNPT, the Police Detachment (Densus) 88, the Minister of Law and Human Rights, and other government institutions had no choice but to recommend that Patek be granted remission and that his parole schedule be adjusted (Tempo, August 23, 2022). Patek's status also had to be changed from "convict" to "client" of the correctional institutions once he was released on parole (Detik, December 7, 2022).
In anticipation of the possibility of Patek's early release on parole prior to January 14, 2023, the head of the Ministry of Law and Human Rights and the head of correctional institutions invited Patek to a deradicalization discussion shortly after he was granted his Eid Fitr remission. During the discussion, the head of the Ministry of Law and Human Rights expressed his hope that Patek would continue to be proactive in the deradicalization program outside the penitentiary and acknowledged Patek's significant role as a senior terrorism convict who convinced other convicts to reaffirm their allegiance to Indonesia. In addition, the head of the Ministry of Law and Human Rights praised the success of Surabaya penitentiary (where Patek had been incarcerated) in implementing the government's deradicalization program. There are currently seven terrorists incarcerated in Surabaya penitentiary, all of whom have pledged allegiance to the Republic of Indonesia (Kemenkumham, May 17, 2022).
Patek was eligible to be released immediately after receiving his five-month remission on August 17, 2022, the 77th anniversary of Indonesian independence; this was delayed, however, as permission to that effect had yet to come from the Minister of Law and Human Rights (Tempo, August 23, 2022). Ultimately, on December 7, 2022, the Minister of Law and Human Rights granted the request of the head of correctional institutions to release Patek on parole and ordered him to undergo a training program until April 29, 2030 (Detik, December 7, 2022).
The day of Patek's release, however, coincided with a suicide bombing at the Astaanyar Police Station. The suicide bomber was a former terrorist inmate, who was released in September 2021 after serving a four-year sentence for his role in a February 2017 bombing (TheJakartaPost, December 8, 2022; Merdeka, February 27, 2017; Republika, March 13, 2017). After this, the Vice President of Indonesia—who has previously served as the chairman of the Majelis Ulama (MUI), Indonesia's top Muslim clerical body—instructed BNPT to regularly evaluate the deradicalization program and strengthen the monitoring regime of the same (Kompas, December 8, 2022). Therefore, Patek's parole release should provide an opportunity for Patek and Indonesia's counter-terrorism strategy stakeholders to evaluate the deradicalization program collaboratively (SBS, December 8, 2022).
Conclusion
As Patek has acknowledged, his terrorist attack left the victims' families with permanent marks of sorrow and pain (ABC, December 14, 2022; 9News, October 12, 2022; 9News, October 12, 2022; SMH, September 28, 2022; VOI, August 26, 2022). For them, Patek's release on parole represents a betrayal of the justice system and is unforgivable (7News, December 7, 2022; SBS, December 14, 2022). Ali Fauzi, Patek's close friend and deradicalization mentor, understood how difficult it was for the Australian government to accept Patek's parole and to cope with the anger and frustration of its own citizens. The surviving Indonesian victim of the 2002 Bali bombing refused Ali Fauzi's older brother Ali Imron's request for forgiveness. Imron is currently serving a life sentence without the possibility of parole for his role in that attack (Tempo, March 30, 2011; 9News, December 14, 2022; Kompas, October 11, 2022).
The stakeholders in Indonesia's deradicalization program, meanwhile, have gradually persuaded Patek to abandon his ideology and return his allegiance to the Republic of Indonesia. As previously discussed, this was done primarily by the application of rewards and punishments, such as providing medical treatment while Patek was in police custody and granting Patek's wife Indonesian citizenship (NYBreaking, December 13, 2022). Therefore, it is possible that in the future, through the Indonesia deradicalization program, voices like those of Patek and Ali Fauzi will be heard not only by Indonesian Islamist militants but also by other jihadists around the globe who are prepared to renounce violence and terrorism, in order to build a more peaceful Islamic community on their own territory.
The deradicalization program should not be viewed as a means of requesting forgiveness, but rather as a means of demonstrating to society that remorseful expressions and tearful eyes will be followed by a commitment to maintain former terrorists' reintegration into the peaceful community, as Ali Fauzi did. On February 21, 2023, Patek attended Ali Fauzi's graduation from the University of Muhammadiyah Malang, where his friend received a PhD in Islamic Studies. Ali Fauzi's achievement in higher education, according to Patek, was a powerful message for him and other former inmates that education and knowledge trump terrorism; likewise, Patek stated that Ali Fauzi's deradicalization process through education should not only inspire others, but also make them better people (Tempo, February 21; Merdeka, February 21).