Brief: ISWAP Condemns Nigerian Elections Before Tinubu's Disputed Victory
Publication: Terrorism Monitor Volume: 21 Issue: 5
By: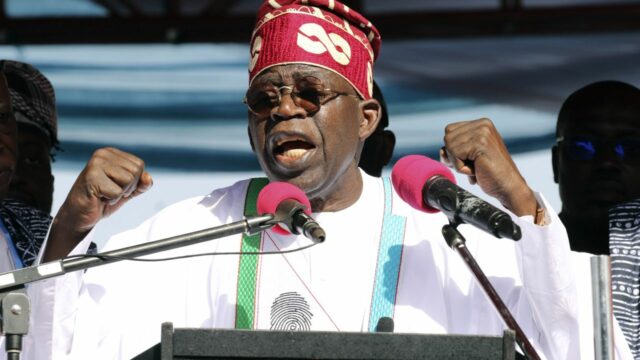 The current Nigerian vice-president, Bola Tinubu, was declared the victor in the February 25 presidential elections by the country's Independent National Electoral Commission (INEC) on March 1 (punchng.com, March 1). Only four days before the election, Islamic State in West Africa Province (ISWAP) released a video labeling democracy as apostasy against Islam and condemning Nigerian Islamic scholars who advise Nigerians to vote in elections (Telegram, February 21). This was an about-face for ISWAP, which had generally not weighed in on Nigerian political affairs in recent years, unlike the group's former rival, Abubakar Shekau (Terrorism Monitor, February 9). Shekau had frequently released video diatribes against the Nigerian state, until he detonated a bomb to kill himself during an ISWAP offensive on his hideout in May 2021 (vanguardngr.com, June 18, 2021).
Tinubu's apparent electoral victory was immediately disputed by the People's Democratic Party (PDP), Labour Party (LP) and African Democratic Congress (CDC), which alleged there were inconsistencies in the counting of votes (aljazeera.com, March 1). Although there is no indication that the election's aftermath will lead to a coup or anything resembling the electoral violence of 2011 (when political and ethno-religious tensions bubbled over, resulting in clashes that killed around 800 people), the best-case scenario for ISWAP would be Nigeria entering a prolonged period of political instability (vanguardngr.com, May 17, 2011). The violence in 2011 gave rise to Muslim-Christian violence in the "Middle Belt" region of central Nigeria. This was capitalized upon by Shekau, who appealed to Muslim grievances at the time to recruit Nigerian Muslims and urged his fighters to carry out suicide attacks on Christian targets.
Moreover, political instability in Nigeria would divert the attention and resources of the Nigerian security forces, which are already unable to root out ISWAP from its rural hideouts, for the most part (securitypraxis.eu, June 26, 2020). Generally the Nigerian military's efforts have been concentrated around the more urban areas of northeastern Nigeria. ISWAP, the remnants of the late Shekau's faction, and the more minor al-Qaeda-affiliated jihadist group, Ansaru, have attempted for several years (with varying degrees of success) to penetrate northwestern Nigeria (Humangle, January 3, 2022). Frustration over perceived irregularities in this year's elections could reinforce ISWAP propaganda. ISWAP's message—that elections are un-Islamic and that a legal, political, and social system under ISWAP's sharia rule would be the only legitimate form of government for Nigerian Muslims—may find greater traction in a time of political disorder. Further, this would aid ISWAP recruitment in the northwest.
Another difference between ISWAP's pre-election video and Shekau's monologues on elections a decade ago is that now ISWAP has a following among jihadists in Africa and across the globe. The group under Shekau was little-known to the global jihadist community in 2011 outside al-Qaeda in the Islamic Maghreb (AQIM) and al-Shabaab. However, Islamic State (IS) released a photostream of IS fighters in Mozambique watching the ISWAP video condemning elections (Twitter/@G88Daniele, February 28). This reflects how ISWAP's military successes now inspire IS's other African affiliates. This is a reverse of ten years ago, when the Nigerian jihadists were themselves inspired by other groups, such as AQIM and al-Shabaab.
Also notable about ISWAP's video was the monologue by a bespectacled fighter, whose name, Abu Yahya al-Muhajir, indicated he was an "emigrant" (muhajir). This would imply that he is from a neighboring country or a part of Nigeria besides the northeast. Prior to Shekau's death, his faction had released several videos of similarly composed and well-dressed fighters discussing the faction's ideology and reasoning for its attacks. This contrasted from the much more maniacal Shekau and may have been an attempt to broaden Shekau's faction's appeal to a more mainstream Nigerian Muslim audience.
While some Shekau faction members have joined ISWAP since Shekau's death—and it is unclear whether they have influenced ISWAP's video-making decisions— this latest video followed a similar script. On the one hand, it displayed brutal images of ISWAP militants ambushing and killing Nigerian soldiers. Conversely, it also presented a well-mannered commander explaining ISWAP's ideology to viewers in an attempt to convince them that ISWAP's interpretation of Islam is correct. This message may hold greater sway in Nigeria at a time when secular democracy is undergoing the key trial of a democracy: contested elections.