The DPP's 2024 Presidential Candidate-in-Waiting: William Lai
Publication: China Brief Volume: 23 Issue: 4
By: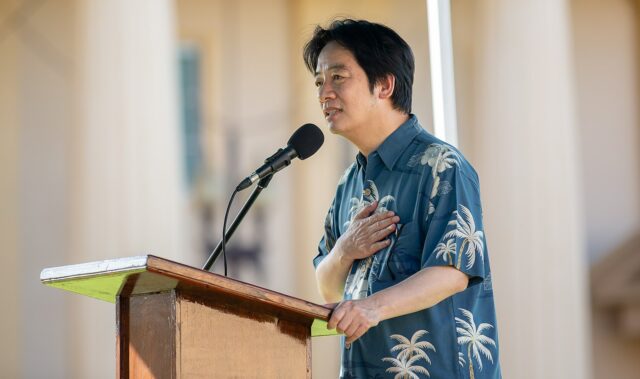 Introduction
Taiwan will hold closely watched presidential and legislative elections next January. While the major parties' presidential candidates have not been officially chosen, the nominee for the ruling Democratic Progressive Party (DPP, 民主進步黨) has been all but formally anointed and, barring an unexpected event, will almost certainly be William Lai (賴淸德, Lai Ching-te). The doctor-cum-vice president, former premier, mayor of the southern Taiwan metropolis of Tainan and lawmaker has a storied political career that distinguished him early on as a rising star within the DPP.
As Lai comes from a medical career with limited foreign relations experience, he would, if elected, have considerably less of an international profile than his predecessors. While his views on Taiwan's sovereign status are widely known in the Taiwan-and-China-watching community—although arguably not well understood—not much is known about his actual policy positions. What is known about Lai's ideological stance on Taiwan's independent status and cross-Strait relations, however, has left much to be desired among analysts, with international observers questioning how he would implement those beliefs should he be elected as the next president of Taiwan (Republic of China, 中華民國). As the races heat up, it is important to get a better understanding of the potential future leader himself, his values, intellectual influences, and policy preferences, in order to assess their implications for a possible Lai administration's approach to cross-Strait peace and security.
From Coal Miner's Son to Vice President
Born in 1959, William Lai is the youngest son in a family of six children from the rural village Wanli district (萬里區) on the northern coast of Taiwan. His father worked in the mines and died from a work-related accident when Lai was very young, and he and his siblings were all raised by his mother. The definitive moment that Lai himself attributed to his decision to switch from a life of medical practice to politics was in 1996, after the Third Taiwan Strait Crisis, when Beijing fired a series of missiles around Taiwan in order to intimidate voters ahead of the island democracy's first direct presidential election (Office of the President [Taiwan]) .
Against his mother's wishes, Lai shifted away from his medical practice and officially entered politics in 1996 when he successfully won a seat in the National Assembly and then in 1998, he ran and won the race as the DPP legislator for Tainan. [1] He served a total of four consecutive terms in the Legislative Yuan (Taiwan's parliament) (EBC News, December 24, 2022; Formosa Television [FTV], May 19, 2019). During that period, Lai studied at Harvard University, where he obtained a Master of Public Health. [2] In 2010, he won the race to serve as the mayor of Tainan Special Municipality. In 2014,  Lai easily won re-election. In 2017, he was elevated from the local to the central government by President Tsai Ing-wen (蔡英文) when he succeeded Lin Chun (林全) as her premier and then in 2020 as her vice president.
New Tide Faction Ties 
Lai has served in several very senior positions in Tsai's administration, but other factors will also shape his policy platform and team as he readies for his presidential run. One influential variable will be his association with the New Tide Faction (新潮流系), which is generally considered the largest—albeit unofficial—faction within the DPP (Global Taiwan Brief [GTB], July 27, 2022). While there are no real substantive differences between the factions in terms of overall party ideology, the policy orientation of the New Tide Faction is generally regarded as center-left. The faction is known to emphasize three broad policy stances: Taiwan independence, mass political participation and social democracy. The faction's stance on Taiwan independence is of obvious importance to cross-Strait relations.
President Tsai was able to keep factional infighting mostly in check by carefully managing appointments to the DPP's Central Executive Committee (CEC) (Liberty Times, July 18, 2022).  This is also a reflection of the overall power balance between the factions within the party. The New Tide Faction (新潮流) holds the most seats in the CEC with 30 percent (nine); with TNCPA (正常國家促進會) and the Ing Faction (英系) each holding 20 percent (six each), while the Taiwan Forward/Ocean Faction (湧言會/海派), Su Faction (蘇系), and the Green Fellowship Association (綠色友誼連線) each command 10 percent (three each) (GTB, July 27, 2017).
Although no real substantive difference in positions of the DPP factions on Taiwan exist, there are genuine differences on the optimal policy approach. In 2019, a contentious DPP primary election, in which Lai challenged Tsai for the party's presidential nomination, exposed these differences. The reason why the former premier challenged his own party's president was largely due to concerns from within the deep-green (深綠)camp about Tsai's approach to national and cross-Strait policy, which they believe led to its devastating loss in the 2018 local elections and deeper green pressure that Tsai was not doing enough to take a harder line against China and more actively assert Taiwan's independence. [3]
A Shift to a Deeper-Green Stance?
As J. Michael Cole observed, Lai's "base rests primarily with the deeper-green side of the party, which embraces a more vocal and activist approach to Taiwan's self-determination" (GTB, March 27, 2019). Former AIT Chairman Richard Bush also explained how "The 'Deep Green' favor a more radical approach to securing autonomy through measures that call for Taiwanese independence, while the 'Light Green' are conscious about both the potential for conflict and the need to sustain the benefits of cross-Strait economic relations. The only thing the two camps generally agree is that they must rely on the United States to deter Beijing and keep Taiwan safe." [4]
This deep-green base of support was also reflected in Lai's  own words, which he is now mostly known for, when he described himself as a "pragmatic political worker for Taiwanese independence" (務實的台獨工作者) (China Times, January 18). As a result, domestic media has labeled Lai the "golden child of Taiwanese independence" (台獨金孫) (Liberty Times, June 20, 2017). Yet, to be fair, not much beyond these sound bites have been examined by Taiwan watchers to more fully understand what this potential future president means by "pragmatic political worker" and "independence."
In reality, Lai's long-held public stance on "Taiwan independence" belies a more nuanced approach toward this sensitive issue. In 2014, while serving as Tainan city mayor, Lai also traveled to Shanghai when not many senior DPP officials have (CNA, June 7, 2014). It is also worth remembering that in 2017, Lai even stirred some controversy with his deep-green base while the party was undertaking significant debates about its policy platforms, when he said that the DPP's approach should be "pro-China, love Taiwan" (親中愛台). Some in the deep-green camp, saw these comments as Lai shifting away from his position on Taiwan independence. Lai further explained, "To be pro-China and love Taiwan is to take Taiwan as the core, and then offer China the hands of friendship" (Taipei Times, April 16, 2018).
In subsequent exchanges, Lai has also clarified what he meant by calling himself a "political worker for Taiwanese independence." In addition to emphasizing what is now seemingly the mainstream position of the DPP that "Taiwan is a sovereign, independent nation and therefore does not need to declare independence" and that "only the nation's 23 million people have the right to decide Taiwan's future," Lai claims that his position as a "political worker" is based on a practical and pragmatic stance on independence, which depends on "building up Taiwan and making it stronger and more attractive to people so that they support it." Hence, for Lai, other key policy considerations include spurring economic growth, maintaining peace and stability across the Taiwan Strait and working with allies and partners (Taipei Times, April 16, 2018).
Foreign and Defense Policy Platforms
Missing in much of the speculation about how a potential Lai presidency would upend the delicate cross-Strait balance is the fact that he has already laid out some important policy makers on what his policies on cross-Strait relations would be. As he took over as chair of the DPP in January—Lai issued a major policy statement with three pillars on cross-Strait relations (DPP, January 18; CTi News, January 18). In it, the presidential hopeful stated notably that:
The DPP's current cross-Strait policy is based on the "1999 Resolution of Taiwan's Future" (台灣前途決議文) (DPP).
Critically, "The DPP, under my leadership, will continue to stand firm on the "Four Commitments" (4個堅持) that is to (1) Uphold our free and democratic constitutional system (2) The Republic of China and the People's Republic of China are not subordinate to each other (3) Resist annexation or encroachment upon our sovereignty (4) The future of the Republic of China (Taiwan) must be decided in accordance with the will of the Taiwanese people. We will use our utmost efforts to maintain the status quo of regional peace and stability."
"Peace depends on national defense, and national defense depends on the people. (和平靠國防,國防靠全民)" (DPP, January 18).
These positions will likely form the basic foundation for Lai's cross-Strait framework and can be viewed as setting the floor for his future policy formulation as president. Party insiders note that this is an indication of Lai's commitment to the policies set by President Tsai Ing-wen and is intended to assure the United States that he will not deviate from this stance.
PRC officials often highlight the "independence clause" in the DPP charter as a major reason for refusing to negotiate with the party  (The Diplomat, July 23, 2014). However, as Cole notes, the clause was "inserted into the charter at the party's creation in the 1980s as Taiwan was emerging from decades of authoritarian rule [and] sets a de jure independent country, ideally known as the Republic of Taiwan, as a core objective for the party." It is in this context that Lai's emphasis on the "1999 Resolution of Taiwan's Future" is noteworthy and requires unpacking.
Contrary to the perception that the DPP charter shuts the door to cross-Strait talks, the 1999 resolution actually holds up the prospect for dialogue by recommending that "Taiwan and China should engage in comprehensive dialogue to seek mutual understanding and economic cooperation. Both sides should build a framework for long-term stability and peace." Moreover, the resolution also reaffirms commitment to  the "status quo" and sets a high legal bar for change, stating that: "Taiwan, although named the Republic of China under its current constitution, is not subject to the jurisdiction of the People's Republic of China. Any change in the independent status quo must be decided by all residents of Taiwan by means of plebiscite" (TaiwanDC.org, May 8, 1999). At the same time, the proclamation notes "Taiwan should renounce the 'One China' position to avoid international confusion and to prevent the position's use by China as a pretext for annexation by force." The Resolution is quite flexible, even though Beijing is unlikely to reciprocate in kind.
Other Variables that Could Affect Lai's Policy 
Although the office of the presidency certainly matters for the policy of any new government, numerous structural factors that will also shape Lai's policies. For instance, despite the pro-independence and pro-unification instincts of Chen Shui-bian (陳水扁) and Ma Ying-jeou (馬英九), respectively, neither was able to fundamentally move the country towards either goal. Structural factors, as well as the constraints of public opinion that overwhelmingly favors some form of the "status quo" in a robust democratic system, have had a moderating effect on both presidencies (Election Study Center, National Chengchi University, January 13; GTB, February 23, 2022). These constraints will also help determine who would ultimately be electable in 2024, as well as the extent to which any presidential candidates' individual initiatives would elicit popular support.
Perhaps more telling for what a William Lai presidency could portend for cross-Strait policy is who his running mate will be in the 2024 elections. Currently, possible vice-presidential picks floated around political circles include: Taiwan's current ambassador to the United States, Hsiao Bi-khim (蕭美琴, b. 1971) and former Culture Minister Cheng Li-chun (鄭麗君, b. 1969) (United Daily News, February 6). His vice president could play a very strong international role for a potential president with relatively less foreign policy experience. Moreover, the DPP has a relatively short bench for foreign and defense policy, so it is likely that Lai will bring on many of the seasoned hands from the Tsai administration. As a result, his administration will probably reflect more continuity than what many would expect, despite his deep-green orientation.
At the same time, Lai's relatively limited international exposure belies the fact that he has actually travelled to the United States on multiple occasions, has extensive experience with Japan, and has also engaged in talks in China as well (Office of the President [Taiwan]). For example, in May 2019, he traveled to Japan to deliver a speech to the House of Representatives on Taiwan-Japan relations. As vice president elect, Lai traveled to the United States in February 2020 and met with U.S. officials (Senate Foreign Relations Committee, February 4, 2020). In January 2022, he traveled to Honduras, one of Taiwan's few remaining diplomatic allies, where he met briefly with U.S. Vice President Kamala Harris during the inauguration ceremony of President Xiaomara Castro (Taipei Times, January 29, 2022). Then in July 2022, Lai traveled to Japan to attend former Prime Minister Shinzo Abe's funeral (Focus Tawian, July 13, 2022). In November 2022, Lai visited Palau in the Pacific Islands (Taipei Times, November 2, 2022).
It is also worth remembering that as mayor of Tainan, Lai traveled to Shanghai in 2014. A speech that he delivered at Fudan University holds clue on how he may engage Beijing as president. At that event Lai made a notable statement: "Taiwan independence is certainly the DPP's proposition, but the DPP respects the decision of the people of Taiwan" (CNA, June 7, 2014). "That is to say, once the 23 million people in Taiwan make a resolution on their future through democratic procedures, which is against Taiwan independence, or even the final unification, the DPP members should also obey the public opinion and fully accept it," he added.
Nevertheless, Beijing is still unlikely to engage in official dialogue with the DPP unless the party were to accept the "1992 Consensus" (九二共識) and "oppose Taiwan independence" (反台獨), which are two basic premises of Beijing's "One-China Principle" (一個中國原則) (NEXT TV, February 12).  Any such move would be a non-starter for Lai since it preconditions his "opposition to Taiwan independence." For Lai and the DPP, the basis for and key to cross-Straits dialogue must be based on the commitment that the future of Taiwan is to be determined solely by its 23 million people. While the likelihood of official cross-Strait talks is low, Lai and his New Tide Faction could still potentially open a back channel to Beijing. Indeed, while not publicly well known, the New Tide Faction has its own channels to Beijing. According to one source, the New Tide Faction has had "a separate communications channel with officials from the Taiwan Affairs Office (TAO) under the Mainland's State Council since 1997" (KMT, September 13, 2011).
Conclusion
In the final analysis, the prospect of a William Lai presidency for cross-Strait relations will likely mean that dialogue between the two sides will be limited over the next four years. At the same time, a more thorough understanding of Lai's stance on Taiwan independence reveals that concerns about a dramatic or radical change in Taiwan's cross-Strait policy are unlikely to materialize under a Lai administration. As tensions in the Taiwan Strait continue to mount, all parties within Taiwan seem to recognize the need to exercise prudence and pragmatism. The real question now is whether Beijing sees it the same way.
Russell Hsiao is the executive director of the Global Taiwan Institute, senior fellow at The Jamestown Foundation and adjunct fellow at Pacific Forum. 
Editor's Note: China Brief typically uses simplified characters for Chinese script. However, as this article largely uses sources from Taiwanese media, the traditional characters used in the original context have been retained.
Notes
[1] The National Assembly, which forms one leg of the tricameral parliament, was abolished in 2005. It is also around this time it is believed that Lai was recruited by the New Tide Faction of the DPP. Lai's  first foray into politics began in 1994 when he served as the local medical doctors association supporting Chen Ding-nan (陳定南) for provincial governor. Other known earlier influences on Lai were Lin Yi-hsiung (林義雄), Loa Ho (賴和), Chiang Wei-shui (蔣渭水). See, biographical profile on Lai (FTV, May 18, 2019).
[2] In 2004, he was chosen to participate in the US Department of State's International Visitor Leadership Program. (https://english.president.gov.tw/Page/543)
[3] See Ryan Hass, "Taiwan's Tsai Ing-wen enters second term with a strong political mandate, but no room for complacency," Brookings,  May 13, 2020.
[4] See Richard C. Bush, "Taiwan's democracy and the China challenge," Brookings, January 21, 2021.