The End of 'Complementarity' in Armenia's Foreign Policy
Publication: Eurasia Daily Monitor Volume: 10 Issue: 165
By: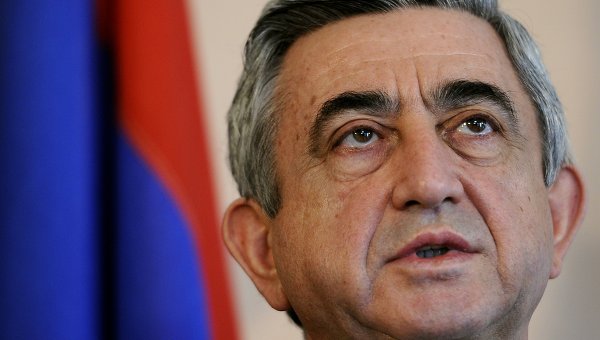 "Complementarity," the term purportedly denoting Armenia's policy of balance between Russia and the West, has reached the end of the road, and that end is Russia.
Long assumed to be the guiding principle of Armenia's foreign policy, "complementarity" has lost any meaning with Armenia's decision to join the Russia-led Customs Union and prospectively the Eurasian Union. Presidents Vladimir Putin and Serzh Sargsyan jointly announced that decision on September 3, and the Armenian government started on September 7 the drafting of accession documents for the Customs Union (see EDM, September 5, 6, 11)
Yerevan's choice, in effect, repudiates the European Union's offer to conclude association and trade agreements with Armenia—an offer that the United States had also encouraged Yerevan to embrace. Instead, Armenia's decision in favor of Russia's economic bloc, compounding Yerevan's military alliance with Moscow, brings the process of Russia's satellization of Armenia close to completion.
As described by the prominent analyst Richard Giragosian (a rare critic in Yerevan of the September 3 decision), the "complementarity" principle supposedly combined reliance on Russia to protect Armenia militarily with reliance on the West to promote Armenia's economic development (News.Am, Arminfo, September 6).
That duality, however, never applied in practice. The administrations of presidents Robert Kocharian and Serzh Sargsyan allowed Russia to establish an overwhelming economic presence in Armenia. That, along with endemic local corruption, discouraged Western investment generally and even the Armenian diaspora's investment in Armenia. By farming out the economy to Russia, the two Karabakhi presidents ensured Moscow's support for their rule in Yerevan and freezing the resolution of the Armenia-Azerbaijan conflict.
The long-serving minister of foreign affairs, Vardan Oskanian, had often invoked complementarity as the operational concept of Armenia's foreign policy. In essence, however, this reflected neither equidistance between Russia and the West, nor a balanced pursuit of military interests and economic interests with Russia and the West, respectively.
Complementarity had long become a rhetorical device, behind which Armenia was falling more deeply into military and economic dependence on Russia. As early as 2004, the Russian Duma's chairman, Boris Gryzlov, congratulated Armenia for turning into "Russia's outpost in the South Caucasus." Some in Armenia felt shocked by this description because it accurately summarized the process under way (PanArmenian.Net, December 17, 2004). That phrase remains a defining, oft-quoted byword in Armenia's political debates to this day. Increasingly, Russian-Armenian relations took on the logic of relations between the metropolis and its outpost or exclave, as some Armenian observers conclude retrospectively (Lragir, September 4, 9).
Armenia's main political parties basically support or accept Sargsyan's decision on joining Russia's Customs Union project. In this sense, the strategic choice rests on a political consensus across party lines. No coherent public debate can yet be observed in Yerevan on the economic merits of joining the Customs Union. Instead, politicians representing the main political parties justify this economic choice with reference to national security considerations. Explicitly or implicitly, this means Russian military protection of Armenian territorial gains at Azerbaijan's expense.
Complementarity's demise was not a pre-determined outcome. It is largely a result of Yerevan's need for Russian support to maintain the occupation of six districts inside Azerbaijan, beyond Upper Karabakh.
Having renounced the European Union's offer of association and trade agreements, Yerevan takes the position that it can only cooperate with the EU to an extent that would not contradict Armenia's commitment to Russia's Customs Union project. Foreign Affairs Minister Eduard Nalbandian rushed to Brussels and Vilnius to inform the European Commission and the EU's Lithuanian presidency of Armenia's policy shift. The Armenian government made the same explanations to the EU's Enlargement and Neighborhood Policy Commissioner Stefan Fuele, in Yerevan (Arminfo, News.Am, September 11).
Limiting relations with the EU, as a deliberate policy, to a level that would not impinge on relations with Russia, means to all intents and purposes a Russia-First orientation; and Yerevan's statements to that effect amount to an unofficial obituary of the "complementarity" policy.
"Armenia has said Yes to Putin and No to the European Union," noted the European People's Party (EPP, umbrella organization of Europe's center-right and Christian-Democrat parties) in a statement deploring Yerevan's decision. The EPP had strongly encouraged Yerevan and Brussels to conclude the association and trade agreements. The Christian-Democrats' support all but guaranteed parliamentary ratification of those agreements in Europe, had these been signed. Instead, a disappointed EPP reminded Yerevan that the Customs Union would turn Armenia and other acceding countries into "Russia's satellites" (PanArmenian.Net, RFE/RL, September 6).
If "complementarity's" Western dimension ever operated in any real, practical sense, it was by using Armenian diaspora advocacy groups in the West to support Yerevan's policy objectives. This activity was particularly visible in the US Congress, often contradicting the US administration's policy objectives or complicating US relations with allied Turkey and strategic partner Azerbaijan.
Thus, Armenian advocacy groups and their allies unsuccessfully opposed the Baku-Tbilisi-Ceyhan oil pipeline project, successfully opposed the Kars-Tbilisi-Baku railroad project (blocking EximBank funding for it), successfully imposed parity on US government funding of cooperation with Azerbaijan and Armenia, blocked or derailed several US ambassadorial appointments to the region, and urged US recognition of a "genocide" against Armenians in the Ottoman Empire, in the knowledge that such recognition would explode US-Turkey relations (2015 will be a watershed year in this as yet unsuccessful campaign). Insofar as they negatively affect Washington's allies and partners, those public advocacy efforts should lose credibility when traceable to a government in Yerevan that has dropped "complementarity's" façade, choosing full-fledged satellization by Russia.