The Gas Offensive With Spetsnaz Probing Strikes in the Ukrainian Campaign
Publication: Eurasia Daily Monitor Volume: 11 Issue: 70
By: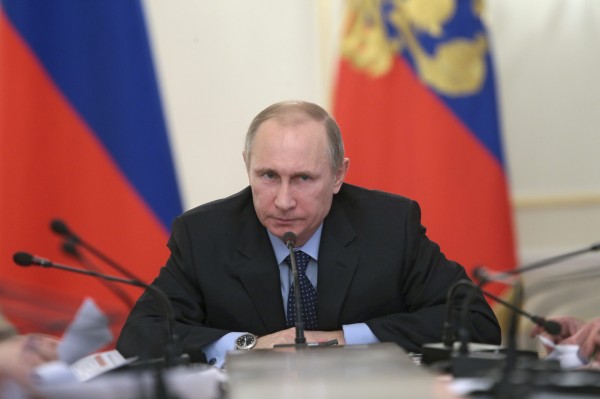 Inevitably, Russia is trying to regain the initiative in the Ukrainian crisis by applying the most powerful instrument of its foreign policy—the export of natural gas to Europe. Last Thursday (April, 10), President Vladimir Putin sent a letter to the leaders of the 18 European states that purchase Russian gas via pipelines going through Ukraine with a stark warning that their supplies were at risk (https://president.kremlin.ru/news/20751). It is clear that Moscow prefers to talk with each consumer separately and take advantage of their different vulnerability to the looming cut in supply (Kommersant, April 11). Putin's threat was taken seriously, and US President Barack Obama discussed its implications with German Chancellor Angela Merkel, while none of the Western leaders in the last two weeks has picked up the phone to call the Kremlin (RBC Daily, April 11). They probably have gained a fairly good understanding of his motives and rationale, and so have little doubt of his readiness and even compulsive need to deliver on the promise.
This need is shaped to a large degree by Moscow's demonstrated inability to incite a mass uprising in Eastern Ukraine, except for a few hundred thugs that were previously recruited by former president Viktor Yanukovych as enforcers and presently find themselves unemployed. They were quickly expelled from Kharkiv and cannot find serious support even in Donetsk, where influential oligarch Rinat Akhmetov is bargaining with Kyiv for more authority but has no intentions whatsoever to surrender his business empire to Moscow (https://ej.ru/?a=note&id=24915). Conditions for a blitzkrieg-type military intervention have failed to materialize, and the battalions have to be returned to the barracks, if only for taking in new conscripts and releasing those better-trained soldiers who were drafted in spring 2013 (Moskovsky Komsomolets, April 9). Yet, Putin cannot disappoint the hysterical public expectations in Russia, which were whipped up by his high-intensity propaganda war. So the Kremlin now has to augment the offensive by also channeling it along a non-military route (https://echo.msk.ru/programs/personalno/1297504-echo/).
The wielding of the "gas weapon" may appear familiar and easy, but in fact Putin has only a slim chance of cutting through the European Union's defenses. Customers like Slovakia and Bulgaria have so far been reluctant to contemplate sanction in the energy sphere outlined by Obama during his European tour last month, but they know from experience that only commitment to a joint effort can help minimize the damage when Moscow turns the gas valve to try to pre-empt a new round of sanctions. Such pre-emption is certain to encounter a pre-planned set of counter-measures, from hitting Gazprom with penalties stemming the long-running probe into its monopolistic abuses, to helping Ukraine make its case for lower gas prices at the Stockholm arbitration court, to punishing a hundred or more officials from a pre-drafted list (Kommersant, April 9). Russia can hardly deflect these measures by re-directing its gas exports to China, since the "strategic partners" in Beijing have shown zero flexibility in the lengthy Russian-Chinese quarrel over the price formula (Nezavisimaya Gazeta, April 10; Forbes.ru, April 11).
Quite probably, these problems with the pre-announced "gas offensive" became apparent to Putin already over the weekend. Consequently, he decided not to wait for the formal response from the EU that was due on Monday. The new plan was to combine the cuts in gas supply with several strikes by special forces (Spetsnaz) troops targeting administrative buildings in several smaller cities in the Donetsk region, like Slavyansk and Kramatorsk (https://newsru.com/world/12apr2014/donetskaya.html). Local police had no will to resist, but the energetic Minister of Interior Arsen Avakov mobilized loyal troops and secured the consent of the key business and political elites for restoring order (https://echo.msk.ru/blog/echomsk/1298590-echo/). What made the forceful operation possible was the absence of sympathetic crowds of civilians around the captured buildings, which showed that the majority of Ukrainians with pro-Russian feelings were not ready to fight for the cause. Nevertheless, the escalation of the numerous local confrontations to armed violence signifies a deepening of the Ukrainian crisis to such a level of tensions that holding elections scheduled for late May could become highly problematic.
While staging armed provocations, Moscow at the same time maintains the position of "non-interference." Foreign Minister Sergei Lavrov even tried to warn US Secretary of State John Kerry that any armed operation by the Kyiv government in Eastern Ukraine would destroy the prospect for the Geneva talks (https://ria.ru/world/20140413/1003679257.html). The four-party meeting (the EU, Russia, Ukraine, and the US) is scheduled for Thursday, April 15, but the chance for a productive outcome is non-existent as Moscow insists on the unacceptable demand of "federalizing" Ukraine and presents its annexation of Crimea as a fait accompli (Vedomosti, April 9). Assuming that the talks would lead nowhere, the Obama administration has decided to send Vice President Joe Biden to Kyiv on April 22 and to assert, in no uncertain terms, that Moscow will be held responsible for the unrest in Donetsk region (https://www.gazeta.ru/politics/2014/04/13_a_5991033.shtml). And while the EU is focusing on the gas issue, NATO is not only preparing emergency plans but also has launched a forceful response to Russia's propaganda war by publishing (in Russian) a point-by-point repudiation of claims about the wars in Kosovo and Libya as well as the quasi-referendum in Crimea (https://echo.msk.ru/blog/echomsk/1298732-echo/).
Putin has discovered that even a short pause in the escalation of the conflict puts him at a disadvantage. With every passing day devoid of forward momentum, the "patriots" at home begin to think about the economic costs of the "historic victory" while the West formulates a coherent response to Russia's blatant violation of international law. The Kremlin's new series of moves is based on the premise that the harder the pressure from Moscow the deeper is the disarray in Kyiv, Brussels and Washington. However, it may very well have the opposite effect as Western politicians attentive to business interests arrive at the conclusion that these interests cannot be secured by "appeasing" the aggressor. And meanwhile, the Ukrainian elites are realizing that if they do not mobilize to defend their own state, nobody else will. Putin has trapped himself in a game he cannot walk away from, and it is hard to estimate what it will take to stop him. Quite possibly, he cannot be stopped at all. His predatory regime will only be destroyed if it hits an impenetrable wall of Western resistance—and such a wall has yet to be built.