Iranian Drone Exports to the Balkans and Its Geopolitical Repercussions
Publication: Terrorism Monitor Volume: 21 Issue: 2
By: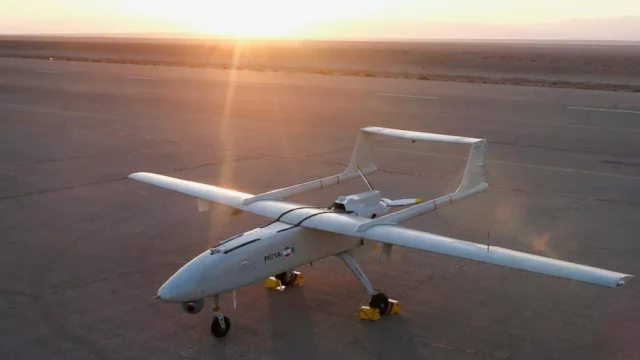 Iranian military activity in Europe's neighborhood is not limited to supporting Russia's war in Ukraine. Transforming itself from a net arms importer into a burgeoning arms exporter, Tehran is engaged in opportunistic behavior across conflict zones, ranging from Ukraine to tense, fragile regions, like the Balkans. Eyeing the Balkan weapons market, Tehran has focused on the unmanned aerial vehicle (UAV) sector. The Islamic Revolutionary Guard Corps (IRGC) is the main military actor involved in the proliferation of Iran's indigenous drone program; as such, Tehran's entry to the Balkan region's drone industry opens the door to IRGC involvement across NATO's southeastern flank.
Amidst an escalating arms race and existing political tensions, Iran's entry to the region would be a wildcard that could lead to increased geopolitical volatility.
On the one hand, Tehran is already disrupting the security environment in the region by carrying out cyberattacks against some of NATO's regional allies, such as Albania (kryeministria.com, September 7, 2022). In tandem with this, Iran is strengthening its relations with Serbia. The most recent and noticeable example in this regard is the visit of the Iranian foreign minister to the Serbian president on December 4 (mfa.ir, December 5).
On the other hand, besides politics, religion also remains a commonality upon which Tehran can capitalize. Although the majority of the Balkan Muslims are Sunni, some heterodox religious communities, such as the Bekhtasis and Alevis (Kizilbash), remain open to Iranian influence. In the past, the IRGC had allegedly sent tons of arms and ammunition to back Bosnian government forces (Iranwire, November 14, 2020). These examples show that the Balkan region is not immune to Iranian influence, and that Tehran is ready to exploit any vulnerability, including through expanding its UAV program to the Balkans.
Tehran Exploits the Ongoing Arms Race in the Balkans 
With continued demand from the Kremlin and the expanding global network of Iranian drone manufacturing lines, Iranian UAVs are proliferating fast. This is particularly visible in fragile settings as well as in full-out wars, such as Yemen and Ukraine, respectively (Terrorism Monitor, November 4). Currently, showing its truly opportunistic behavior, Tehran is engaged in a quid pro quo-style exchange with Russia, where Iran obtains various sophisticated weapon systems in return for its "generous" supply of UAVs—and possibly ballistic missiles. The most recent example of this mutually beneficial exchange is the Russian-Iranian deal whereby the Kremlin agreed to supply Tehran with 4++ generation Sukhoi Su-35s and Tehran vowed to continue supporting Russia's ongoing invasion of Ukraine. Open-source intelligence points to a high probability that Moscow can divert 24 fighter jets initially intended for Egypt to Tehran instead (Iran International, December 25). According to some sources, Cairo's cancellation of the procurement was mainly due to the sanctions placed against Russia over its invasion of Ukraine (Defence Blog, January 4).
The current security situation in the Balkans is volatile and tense (Balkan Insight, April 21). Amid heightened threat perceptions, the Balkan countries are in an arms race led by Belgrade and Zagreb, with an ever-increasing number of procurement deals across the region (Nova, April 19). While Croatia, Albania, and Bosnia are opting for Western solutions, other countries, such as Serbia and Armenia in the Caucasus, are welcoming non-Western systems with open arms. Therefore, Iran's entry into the Balkans weapons market is not only an indicator of Iran's international military transactions, but can also catalyze an ongoing arms race in the Balkans and potentially trigger a full-fledged conflict in Eastern Europe.
On the other side, in Kosovo, tensions are rising between the country's Serb population and state authorities, with many clashes recorded. The ultranationalist discourse by Serbian domestic politicians may be fueling further clashes (Balkan Insight, October 19). Iran's entry into the Balkan arms market will disrupt the delicate balance of a frozen conflict and increase the existing fractures. This creates a pressing need to contain Tehran's influence in the region before it leaves a permanent footprint in the Balkan security-military landscape. This risk is especially evident in Iran's recent exchanges with Serbia and Armenia (Panorama, October 20). Both countries have allegedly expressed interest for Tehran's UAVs (Hetq, October 20; News.am, November 22). Although the Serbs have their own indigenous drone program, the affordability and the combat-proven performance of Iranian drones can still charm Belgrade. In addition, Iran can assist Serbia through a local production deal that can reduce the costs of Serbia's own drone program. Tehran's drone portfolio is also quite attractive, with sophisticated long-range UAVs such as the Arash-2 and Mohajer-6.
Serbia: Iran's Entry Point to the Balkans
Tehran's potential UAV sale to Serbia is also important for two additional reasons. First, it points to Iran's expanding footprint in volatile, post-conflict regions, such as the Balkans and the Caucasus. Driven by the desire to counter Western and Turkish influence, Iranian UAVs can be a destabilizing factor that can add fuel to an arms race. Second, the increased threat of aggression by Serbia against Kosovo and the ongoing "dronization" trend in Serbia can lead to heightened tensions between Belgrade, Kosovo as well as Bosnia and Herzegovina. If a potential deal with Iran is finalized, Belgrade will become the largest military drone operator in the Balkans. Providing Serbia with the instruments to inflict significant losses on an opponent in a short period of time will have serious implications for a hypothetical war with Kosovo or Bosnia and Herzegovina.
Because of soaring demand and the pragmatic export policies of Iran and China, non-Western solutions have already acquired a large market share in the Balkans. In 2021, Serbia purchased a sizable set of Russian military equipment, including Mig-29 fighter jets, Mi-35 and Mi-17 helicopters, T-72MS tanks, and Pantsir S1 anti-aircraft missile systems. In 2022, Serbia signed a deal with China for the procurement of CH-92 armed drones and anti-aircraft missiles. At the end of 2022, Russia again sold Belgrade anti-tank Kornet guided missiles. Serbia is also looking to acquire further Chinese technology and know-how (Chinamil, September 20, 2018). With both Moscow and Beijing arming Belgrade, the U.S. is faced with a tough test regarding its strategy in the Balkans.
Conclusion
Given these recent developments, the West has the opportunity to amend its policy in the Balkans to avoid the formation of a pro-Iranian camp in the region. Such a bloc is already in the making, with the flow of Iranian and Chinese weapons systems into the Balkan countries' arms markets. One way for Washington to reverse this trend is to strengthen relations with its allies in the region, such as Bosnia and Herzegovina (BiH) and Kosovo. At the moment, establishing a dialogue especially with the former is crucial due to the high-level of support from the part of the country populated by Serbs for Putin's war in Ukraine. On January 8, the Bosnian Serb leader of BiH provided Russian President Vladimir Putin with a medal of honor, signaling the ongoing political influence of the Kremlin over the region's separatist groups (Twitter, January 9).
As an immediate neighbor to the Balkans, Turkey may play a key role in improving the relations between Washington and the regional countries. Ankara's suitability for this role is rooted in its close historical bonds and military partnerships. As a result of these advantages, Turkey can build dialogue and foundations of cooperation, which is becoming urgent amid the rise of populism in several Balkan nations, such as Serbia; this rise in populism coincides with decreasing Transatlantic-Western support in some regional countries that are also members of the EU, such as Bulgaria (Sofia Globe, June 4). In one potential scenario, the Balkan countries would establish a close economic, political, and military partnership to reduce their dependence on Russia and to boost trust and cooperation with the West.
The increasing Iranian presence also has implications for the broader stability of the region. The security situation will need to be maintained to avoid a spillover effect and a power vacuum that Belgrade can exploit to use its new "toys" coming from Chinese and Iranian sources. The Serbs have already violated the Open Schengen initiative—of which they are a founding member—by blocking roads and barricading the Serbian-Kosovan border (Balkan Insight, December 28). Therefore, the West would benefit from placing Serbia under a close watch to avoid increasing tensions in an already volatile security situation.
Iranian and Chinese weapons flowing into the Balkan market will also transform the region into a new hot zone, where the weapons of two blocs (Western and anti-Western) will enter into a direct confrontation. With Albania and Kosovo filling their arsenals with Turkish UAVs and armored vehicles, Serbia and Armenia are eyeing additional systems from Iran, China, and Russia (TRT Haber, December 21; Twitter, December 21). Although the rate of armament is still below the agreed-upon threshold as stated in the Western Balkans Small Arms and Light Weapons (SALW) Control Roadmap, it is rapidly moving towards the maximum level.
Another way of curtailing Iran's endeavors in the region would be rooted in logistics and trade. Tehran has various production sites across the world, but most of the parts for its sophisticated drones are dependent on Western components. If NATO and the West can exploit this vulnerability, it will have a serious impact on decreasing Iran's success in producing and exporting drone capabilities.