The Indian Navy's Agenda for Maritime Security in the Indian Ocean
Publication: Terrorism Monitor Volume: 8 Issue: 8
By: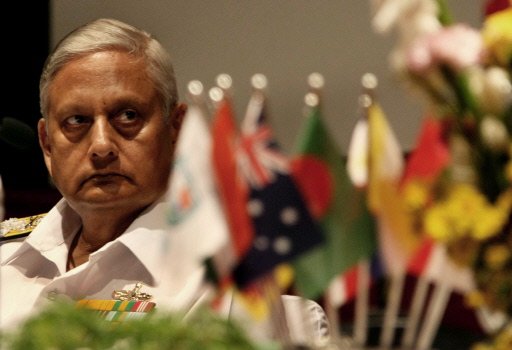 The 2010 U.S. Quadrennial Defense Review noted that "India has already established its worldwide military influence through counter-piracy, peacekeeping, humanitarian assistance, and disaster relief efforts. As its military capabilities grow, India will contribute to Asia as a net provider of security in the Indian Ocean and beyond" (Hindustan Times, February 3). India's Navy, however, has backed away from suggestions that it might take a dominant role in establishing security in the Indian Ocean, according to Indian Navy chief Admiral Nirmal Verma, who states "India has no intention of playing a headmaster's role in the Indian Ocean Region" (Press Trust of India, February 5; The Hindu, February 6). The Indian Navy is instead seeking a cooperative regional approach to maritime security, as embodied in its recent participation in regional naval exercises and its upcoming Malabar war-games with U.S. naval forces in April and May.
Earlier this month, the Indian navy hosted the seventh biennial Milan-2010 exercises in the seas around the Bay of Bengal's Andaman and Nicobar Islands, where eight Asia-Pacific navies (Australia, Bangladesh, Indonesia, Malaysia, Myanmar, Singapore, Sri Lanka and Thailand, along with observers from Brunei, Philippines, Vietnam and New Zealand) had gathered (Andaman Chronicle, February 3). The agenda at this naval congregation included discussions on maritime terrorism, piracy, and a seminar on humanitarian aid and disaster relief (Press Trust of India, February 5). Afterwards the participating navies conducted joint naval exercises focused on sea lane security.
The Milan series of multinational exercises, held since 1991, was conceptualized to foster closer cooperation and address issues of maritime security among the navies of countries in India's extended neighborhood of South East Asia and as far away as Australia and New Zealand. Expanding on the Milan series of exercises, the Indian Navy hosted the Indian Ocean Naval Symposium (IONS) at New Delhi in February 2008 (Indiannavy.nic.in, February 15, 2008). Naval delegations from 29 countries of the Indian Ocean region participated in a symposium that addressed issues of maritime security and cooperative mechanisms, followed by a two-day conclave for the naval chiefs of the participating countries. India is likely to hand over the rotating leadership of IONS to the United Arab Emirates in May (Zeenews.com, December 2, 2009).
Multilateral anti-piracy and counterterrorism exercises are fast gaining currency in the Indian Navy's operational planning. India has had some previous successes in anti-piracy and counterterrorism operations:
• In 1988, Indian maritime forces rescued Maldivian cabinet minister Ahmed Mujuthaba when it captured a freighter controlled by Tamil mercenaries in the aftermath of a failed coup attempt in the Maldive Islands. [1]
• In November 1999, the Indian Navy captured the Japanese-owned MV Alondra Rainbow from a group of mostly Indonesian pirates who had seized the vessel. [2]
• In 2002, after the terrorist attacks in the United States, the Indian Navy provided naval security cover to U.S.-flagged high-value vessels, including nuclear submarines, through the Strait of Malacca, then plagued with pirates and possible terrorists. [3]
• More recently, an Indian frigate INS Tabar destroyed a Somali pirate "mother-ship" in the Gulf of Aden in 2008 after pirates threatened to open fire on the Indian warship (Ibnlive.in.com, November 19, 2008).
In 2008, however, India was a victim of maritime terrorism when terrorists of the Kashmir-based Lashkar-e-Taiba (LeT) attacked Mumbai from the sea (see Terrorism Monitor, November 19, 2009).
The development of interoperability in exercises with foreign navies offers the Indian Navy an important tool in security operations. These exercises assist in developing skills for joint operations to address problems related to piracy, terrorism, drug trafficking, and the smuggling of arms and people. Interoperability has also facilitated institutionalized cooperative naval exercises with the navies of the United States (Malabar Series), Russia (Indra Series), France (Varuna Series), U.K. (Konkan Series), Australia, Oman, Bangladesh, Sri Lanka and Singapore and coordinated patrols with Indonesia and Thailand.
The Indian Navy chief has stated that Milan-2010 does not indicate the creation of a "security bloc" targeted against any other nation, an apparent reference to China, which is very sensitive to multinational naval exercises held by other Asian-Pacific states (Thaindian.com, February 5). Three of the navies observing or participating in Milan-2010 (Vietnam, Malaysia and the Philippines) belong to nations engaged in territorial disputes with China over the resource-rich Spratly Islands of the South China Sea (Sunday Island Online [Colombo], February 6).
India has had different responses to multilateral naval and maritime initiatives such as the U.S. proposed Proliferation Security Initiative (PSI – aimed at intercepting weapons of mass destruction being transported by sea) or the "Thousand Ship Navy" concept (TSN – a global maritime partnership designed to protect sea lanes), and the U.N.- sanctioned International Ship and Port Security Code (ISPS – designed to secure sea ports) and Container Security Initiative (CSI – a mechanism for the monitoring and surveillance of regulatory and safety mechanisms of container cargo). In essence, India supports multilateral initiatives that have been sanctioned by the United Nations and remains averse to any U.S. proposed initiatives, such as the PSI and TSN.
Notes:
[1] "Operation Cactus", https://www.bharat-rakshak.com/CONFLICTS/Operation cactus.html.; "Maldives: The Coup that Failed," Asiaweek, November 18, 1988, pp.37-38.
[2] Prabhakaran Paleri, Role of the Coast Guard in the Maritime Security of India, (New Delhi: Knowledge World, 2007), p.147; Commodore RS Vasan IN(Retd), "Alondra Rainbow revisited, A Study of related issues in the light of the recent judgment of Mumbai High Court," South Asia Analysis Group, Paper no.1379, May 13, 2005, https://www.southasiaanalysis.org/%5Cpapers14%5Cpaper1379.html.
[3] Arun Prakash [Former Indian Chief of Naval Staff], From the Crow's Nest, (New Delhi: Lancer, 2007), p.173.