The Kremlin Gently Nudging Lukashenka Toward Constitutional Reform
Publication: Eurasia Daily Monitor Volume: 17 Issue: 157
By: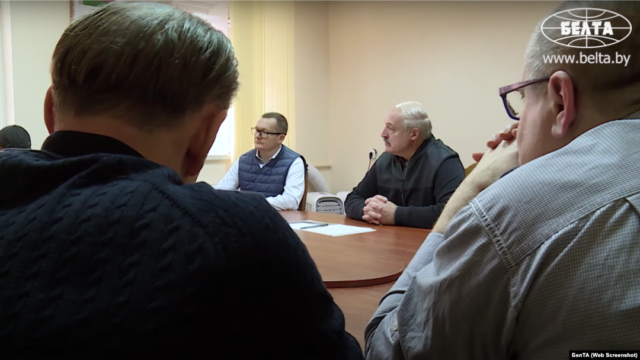 The Kremlin is presently redoubling its attention to Belarus, issuing public pronouncements in rapid succession. Belarusian opposition leader Sviatlana Tsikhanouskaya's (Svetlana Tikhanovskaya) calls from abroad for a general strike on October 26 ultimately fell flat. And street demonstrations have been shrinking with each passing week in Minsk, while vanishing in provincial towns. In this situation, conditions finally seem right for the Kremlin to nudge President Alyaksandr Lukashenka into embarking on political reforms. Yet the Belarusian authorities continue using excessive force against remaining protesters in the capital, at the risk of backlash. For his part, Lukashenka claims that a radicalized core of protesters is about to turn into "terrorists" as a culminating stage of that movement (BelTA, October 27, 30). If tensions persist instead of calming down, the political reforms would be delayed.
Moscow wants those reforms in order to decentralize power and institute a polyarchy in Belarus after Lukashenka's departure. A polyarchy of competing actors would open Belarus to Russian influence and manipulation. Russia exploits Lukashenka's and Belarus's current vulnerabilities to impose those reforms on him. Moscow needs Lukashenka as president to shepherd the constitutional reform through a time-limited transition period and then bow out. The Belarusian leader is widely believed to be playing for time. Given the incomplete stabilization in Minsk, however, Moscow cannot risk pushing Lukashenka onto a fast track of constitutional reforms, let alone new elections. Instead, the Kremlin is gently nudging Lukashenka onto a low- or moderate-speed track of those reforms.
Russian President Vladimir Putin (Kremlin.ru, October 22; TASS, October 29) and Foreign Affairs Minister Sergei Lavrov (Sputnik News, Komsomolskaya Pravda, October 14; Kommersant, November 3) have each, twice, commented on Belarus in recent days. Putin has also held an hour-long telephone conversation with Lukashenka (Kremlin.ru, BELTA, November 4).
Senior diplomats and intelligence officials have also made statements. They all add up to a composite picture of Moscow's current objectives and tactics vis-à-vis Belarus. These emerge as follows:
– On Belarus's constitutional reform, according to Putin, Lukashenka is already taking practical steps to launch the process. This is "an important move on Lukashenka's part toward his political opponents." "The political forces should join this process. Instead of suspecting him of deceit, let them join in this work and thus influence the outcome," the Russian head of state coaxed (TASS, October 29). Similarly, according to Lavrov, Lukashenka is ready for a "comprehensive dialogue with all political forces," as "Lukashenka does not cling to power." The authorities intend to include a "wide spectrum of social groups" in this process. Lavrov firmly disagreed with a journalist's suggestion that Lukashenka's consent to these political reforms is only a "theatrical performance" (Sputnik and Komsomolskaya Pravda, October 14; Kommersant, November 3). According to Putin and Lavrov, Russia does not bet on Lukashenka but on the Belarusian people. In a similar vein, Deputy Minister of Foreign Affairs Andrei Rudenko expects Lukashenka to realize that "the only way out of this situation is constitutional reform with the participation of various social groups, including representatives of the opposition (TASS, November 2).
– On noninterference in Belarus's affairs, Russia recognizes Lukashenka as the legitimately elected president. The West's nonrecognition amounts to interference in the country's internal affairs. Moscow urges Western countries (unnamed) to discourage unlawful and violent protests in Belarus. The constitutional reform is Lukashenka's own initiative, not Moscow's. The Belarusian people itself shall drive the whole reform process without external interference. Notably, this assertion seems to cast doubt on the usual oversight by the Organization for Security and Cooperation in Europe (OSCE), the Council of Europe's Parliamentary Assembly or the Venice Commission on the Belarusian constitutional process.
– On mediation, Moscow takes the position that any suggestion for OSCE or other European actors to mediate between Lukashenka and the Belarusian opposition are matters for Belarus to consider or not, as a sovereign state. Russia believes that the OSCE has disqualified itself from a mediator's role because the international organization's Office for Democratic Institutions and Human Rights (ODIHR) unjustifiably declined Belarus's invitation to monitor the recent presidential election in Belarus. For their part, Western countries have deprived themselves of opportunities for dialogue with Minsk by de-recognizing Lukashenka and imposing sanctions on Belarusian officials.
– On Western-based Belarusian opposition leaders, Moscow rules out negotiating with them. Putin's spokesperson, Dmitry Peskov, equates them with "artists on tour" (TASS; October 22). Lavrov describes Tsikhanouskaya as a figurehead who "reads scripts written by others for her."
– On opposition groups in Belarus, Moscow considers some Belarusian opposition groups as eligible and necessary for the planned national dialogue and working out the new constitution. Moscow gives no hint as to whom it might consider. Russia currently attacks Tsikhanouskaya (Western-based) but keeps silent about Viktar Babarika (jailed in Minsk).
– On the Belarusian security forces, Putin's remarks obliquely suggest that they may have used unjustified violence against protesters. In that case, those responsible should answer for it. Lavrov opines that the security forces should abide by the law and use force proportionately. These comments look like ever-so-slight overtures to Belarusian opposition groups, eventually to position Russia as a political arbiter between them and Lukashenka.
– On the internal security situation, Foreign Intelligence Service (SVR) chief Sergei Naryshkin visited Lukashenka in Minsk on October 22. Naryshkin's rather sparse public remarks conveyed that the answer to foreign-instigated disorder is constitutional reform; but, for this, stability is the key precondition (BELTA, October 22). And according to Oleg Syromolotov, a four-star intelligence general currently serving as deputy minister of foreign affairs for anti-terrorism, the protesters in Minsk are fewer but more radical and aggressive, necessitating close cooperation between Belarusian and Russian authorities (RIA Novosti, October 30). This assessment fully matches Lukashenka's (see above).