The Kremlin Prepares to Massively Falsify Duma Election Results
Publication: Eurasia Daily Monitor Volume: 8 Issue: 218
By: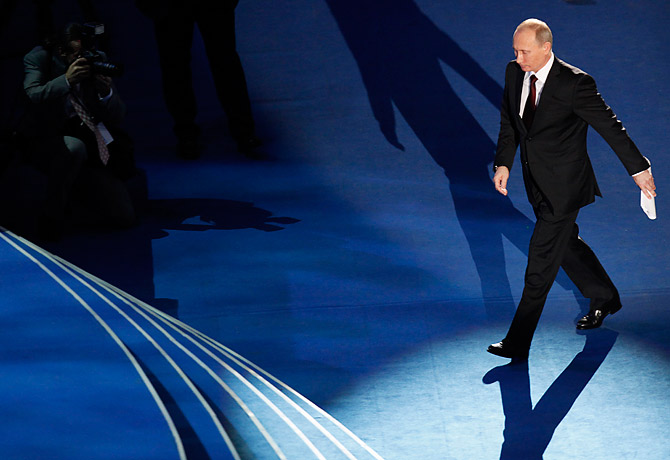 On November 27, one week before the parliamentary Duma elections in Russia, a congress of the ruling United Russia party unanimously endorsed Prime Minister and former President Vladimir Putin, as its official candidate in the upcoming presidential elections, scheduled for March 4, 2012. In his acceptance speech, Putin outlined the main priorities for his third six year presidential term and scolded the party faithful for chanting without enough drive. Putin's name is not particularly good for chanting (Poootin) and the noise made by the delegates sometimes sounded like booing or a mumbling. Putin was obviously annoyed: "It is okay, when you chant [President Dmitry] 'Medvedev' or 'Putin,' but when it is 'Russia!' I want to hear the entire hall. Well, come on again!" Putin began to hammer the speaker stand and the microphone with his fist and the rhythm of his bang engulfed the Soviet-built sports arena and his 11,000 supporters. The party faithful did their best to follow Putin's lead, but many clearly lacked vigor and cadence. As the congress closed, Putin not only ordered a new chant, but began yelling himself from the stand: "Rossiya! Rossiya! Rossiya!" (Moskovskiy Komsomolets, November 28).
Both Putin and Medvedev in their speeches at the congress emphasized that Russia is much better off under their rule than the West, which is engulfed in economic problems and political unrest. Both attacked unnamed political opponents as weak and corrupt losers, insisting that only they are qualified to rule Russia in the foreseeable future. Putin clearly stated the main priority of his coming term in the Kremlin: "the speedy creation of a new Eurasian Union in the post-Soviet space," and spoke harshly of Western subversion: "We know that sadly these days in the run up to the Duma elections some foreign powers are gathering those who are on their payroll, the so called 'grant receivers,' and are giving them instructions to subvert the election." Putin called the Western agents "Judas" or traitors that will surely fail, because the Russian people hate them, Western "grants" will be squandered and the money could have been better spent to cover Western budget deficits. Putin called on Western "partners" to end their present costly ineffective foreign policy and "instead join us in meeting multiple modern threats and challenges" (https://premier.gov.ru/events/news/17248/ November 27).
Some of the names of the "Judas" characters were soon revealed to the public. On November 25, the government-owned newspaper Rossiyskaya Gazeta, which is the official mouthpiece of Putin's cabinet, published a scathing report on Golos, Russia's only independent election watchdog, accusing it of being financed partially by the European Commission and US agencies such as USAID, National endowment for Democracy (NED) and the National Democratic Institute (NDI). Golos has never kept secret the sources of its funding, believing they are legitimate (Rossiyskaya Gazeta, November 25).
The article in Rossiyskaya Gazeta was published just before Putin's public attack on the "Judas" traitors, but its outlines were of course known to his aides. The smear campaign against Golos intensified after Putin's speech: the NTV channel belonging to state-owned Gazprom that is constantly used by the Kremlin as a vehicle for dirty propaganda attacks sent a TV crew to the Golos premises in Moscow to ask questions about: "Why are you taking money from the CIA?" NTV has promised to air an "investigative report" about Golos on December 2, just before Election Day. A well-known news website www.gazeta.ru, which is part of the Kommersant publishing house, owned by the Kremlin-connected oligarch Alisher Usmanov was running with Golos an interactive Map of Voting Irregularities. After Putin's speech www.gazeta.ru withdrew from the project on November 30, and fired the editor in charge Mikhail Kotov. Duma deputies have called on the prosecutor's office to investigate Golos and close it down if it is using foreign grants (www.lenta.ru, November 30). Russia's rulers, led by Putin, seem to be preparing a massive rigging of the Duma election and maybe also the upcoming presidential poll and are trying to discredit or close down Golos –which may expose them.
Putin, who ruled Russia from the Kremlin 2000 to 2008, and then took a seemingly back seat as prime minister from 2008 to 2012, though remaining in charge, will formally return to the Kremlin as president after an assured undemocratic re-election with essentially the same strategic agenda. Putin still sees the former Soviet Union in its 1991 borders as the real "big Russia" and the present Russian Federation as an essentially illegitimate, amputated leftover. The reintegration of the post-Soviet space is not pre-election propaganda – it is Putin's main strategic priority. Putin clearly sees the West (the US) as the main opposition to such reintegration, which supports and finances other opponents. Putin is sending a powerful message to the West to keep out of the post-Soviet space and that any intrusions will be countered. A massive military nuclear-strategic rearmament has begun to build forces capable of keeping the West at bay (EDM, November 17). At the same time, if Western "partners" keep their fingers out of the post-Soviet pie, Putin is ready to cooperate on other international issues, though in his speech at the congress he stressed Russia will "cooperate only as an equal," on its own terms and will not allow anyone to tell it what to do internally or internationally.
The reset policy with Moscow, promoted by the Barack Obama administration seems to be turned upside down by Putin: the US is required to make numerous strategic concessions, abandon forever the entire post-Soviet space to tyranny without a whimper, and Russia in exchange will maybe sometimes cooperate on something when it sees fit – but without any guarantees. Of course, the deal seems to be too good to be plausible even with Obama. Practically everyone in Moscow is gearing up for a measured confrontation with Washington that will not be confined to the electioneering season. In addition to continuing disagreements on Ballistic Missile Defense (BMD) in Europe, on Libya, Syria, Iran and US supply bases in Central Asia, additional unsettled scores are arising. This week, speaking at a conference in Moscow on the Euro-Atlantic security architecture, KGB general (retired) Deputy Secretary of Russia's Security Council, Vladimir Nazarov, announced: "The US was directly involved in the murder of Russian peacekeepers, servicemen and citizens in South Ossetia in August 2008 – we have concrete proof" (ITAR-TASS, November 30).