Yanukovych Set to Sacrifice European Future and Keep Tymoshenko In Prison
Publication: Eurasia Daily Monitor Volume: 8 Issue: 217
By: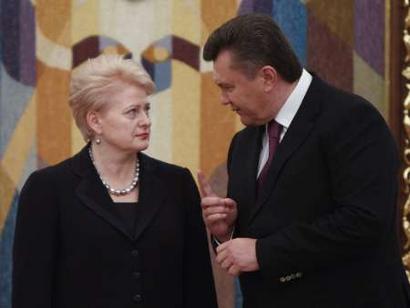 As the EU-Ukraine summit scheduled for December 19 approaches, the chances for concluding an association agreement decrease. Although the two sides have completed their association and free trade talks (see EDM, November 2), Ukrainian President Viktor Yanukovych's determination to keep in prison his bitter rival, former Prime Minister Yulia Tymoshenko, makes the logical conclusion of the talks with the signing of the agreement and its further ratification by the legislatures of EU member states nearly impossible. The efforts made in November by several EU leaders to persuade Yanukovych to change his mind on Tymoshenko proved futile. Apparently, Yanukovych either believes that the EU will proceed with the association agreement despite Tymoshenko, as Ukraine is too important to lose to Russia, or keeping the most popular oppositionist incarcerated ahead of the October 2012 parliamentary elections is more important to him than relations with the EU.
On November 15, the Ukrainian parliament refused to decriminalize the abuse of power law upon which basis Tymoshenko was indicted in October. Yanukovych's Party of Regions insisted that the law would not be changed for the sake of one person. Yanukovych had mentioned the possibility of decriminalization, while meeting EU leaders earlier this fall, so many hoped this would be the way to resolve the situation. Meeting Polish President, Bronislaw Komorowski, and German President, Christian Wulff, in Poland on November 15, Yanukovych admitted that there may be problems with ratifying the association agreement due to Tymoshenko's imprisonment. However, Yanukovych reiterated that he would not interfere with the courts and that Tymoshenko was not an opposition leader but prime minister when she exceeded her authority in preparing gas contracts with Russia's Gazprom in 2009 (Interfax-Ukraine, November 15). Yanukovych repeats this in all his meetings with visitors from the EU.
On November 22, it was Lithuanian President Dalia Grybauskaite's turn to try to persuade Yanukovych to change his mind. She told him in Kyiv that the results of the summit would depend on the resolution of the situation around Tymoshenko, adding that this was a message that the EU authorized her to convey to Yanukovych. The court's decision to imprison Tymoshenko for seven years shocked the EU, as it is believed that the aim was to politically neutralize Tymoshenko, said Grybauskaite. The only positive outcome of Grybauskaite's plea for Tymoshenko was that Yanukovych after meeting her instructed the health ministry to ensure that Tymoshenko, who has had spinal problems, be properly examined in a hospital. At the same time, Yanukovych threatened that Kyiv would take a pause with the EU "if certain politicians and countries think that Ukraine does not match" EU criteria (UNIAN, November 22).
The Polish Foreign Minister, Radoslaw Sikorski, and his Swedish counterpart, Carl Bildt, paid an enigmatic visit to Yanukovych's stronghold of Donetsk on November 23, to meet Ukraine's richest businessman and Yanukovych's old ally Rinat Akhmetov; who is viewed by many as pro-European. No details about the meeting have emerged, but the Ukrainian weekly Zerkalo Nedeli suggested on November 26 that Sikorski and Bildt overestimated Akhmetov's influence on Yanukovych, as far as his attitude to Tymoshenko is concerned. At the same time, a report by Interfax on November 23 suggested that Yanukovych would ignore the summit on December 19 and visit Moscow on that day instead. On November 24, the business daily Kommersant-Ukraine cited its sources as saying that the report in Interfax was aimed by Yanukovych's team at testing the EU's reaction.
However, visiting Polish President, Bronislaw Komorowski, made it clear on November 28 that the EU was firm in its belief that by keeping Tymoshenko behind bars Kyiv demonstrated that it did not meet the EU's criteria for treatment of the opposition. Komorowski reiterated that Tymoshenko's imprisonment would slow the process of ratification of the EU-Ukraine association agreement. He added that he had hoped that Tymoshenko's offenses would be decriminalized. For his part, Yanukovych only promised Komorowski to improve the conditions of Tymoshenko's incarceration, while Prosecutor-General Viktor Pshonka insisted in a TV interview that politics had nothing to do with Tymoshenko's imprisonment (1+1 TV, November 29).
Meanwhile, it has become obvious that the association agreement will not even be initialed on December 19. Ukrainian Deputy Foreign Minister, Pavlo Klimkin, said on November 23 that Kyiv had intended to only complete the talks by the summit, while the association agreement could be signed later. European Commission representative in Kyiv, Jose Manuel Pinto Teixeira confirmed that the agreement would not be initialed at the summit (Kommersant-Ukraine, November 25). Diplomats are explaining this by referring to technical problems, but it is clear from statements by EU leaders that the main problem is Tymoshenko's imprisonment.
Yanukovych's argument that he may not interfere with the courts is ambiguous. First, he has established total control over the court system as his loyalists have been appointed to almost all the top positions in courts during the past several years. Second, Yanukovych could have asked his party caucus, which dominates parliament, to approve decriminalization of the articles under which Tymoshenko was convicted, but he chose not to.