The Motor Sich Factory and Its Covert Ties to Russia
Publication: Eurasia Daily Monitor Volume: 16 Issue: 128
By: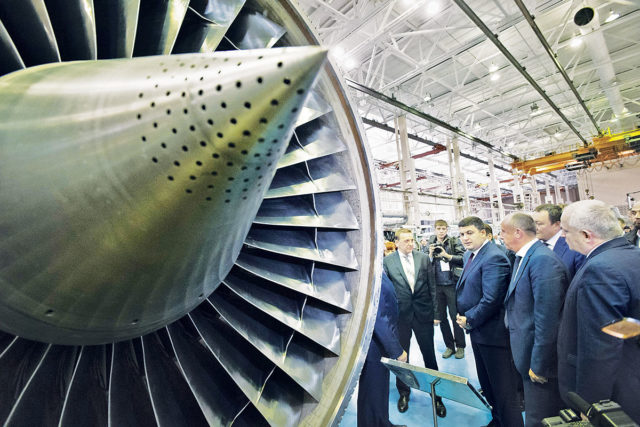 On September 4, the Security Service of Ukraine (SSU) launched a pre-trial investigation against representatives of Motor Sich, one of the largest manufacturers of engines for airplanes and helicopters in the post-Soviet space, over the firm's alleged "subversive activities" against Ukraine. The SSU asserts that Motor Sich had supplied military hardware and dual-use products to Russia (Radiosvoboda.org, September 4), which was outlawed in August 2014 (Rnbo.gov.ua, August 27, 2014). Details of the current investigation remain classified, in accordance with Ukrainian law.
Importantly, this is not the first such investigation into the legality of Motor Sich's business practices. On July 19, the SSU issued a statement claiming that, for at least two years, the Snizhne Engineering Factory (a branch of Motor Sich in the Donetsk region) financed militants of the self-proclaimed, Moscow-backed Donetsk People's Republic (DPR) by paying "taxes" to the militants. It was revealed that in 2015 alone the branch paid 32 million rubles ($650,000) to the DPR, in addition to rendering some technical-material assistance to the separatist authorities. Payments were made to the "Central Republican Bank" of the DPR (Radiosvoboda.org, July 19).
The Snizhne Engineering Factory is, notably, a producer of unique turbine blades for helicopters, attack aircraft and civil engines. According to Ukrainian sources—and corroborated by workers' statements—the plant continued operating in three shifts to fulfill orders for the Russian defense aircraft industry even in September 2014, when cooperation with Russia was banned. Blanks for blades were delivered directly from Motor Sich and, after they were finalized at the Snizhne Engineering Factory, were exported to St. Petersburg (Donetskie.com, September 5, 2014).
On December 20, 2017, Motor Sich President Vyacheslav Boguslayev—who in 2000 was awarded Ukraine's highest national title, the Hero of Ukraine, and was a member of parliament from the Party of Regions and a four-time member of Ukraine's National Security and Defense Council (Motorsich.com, accessed September 16)—said that the Snizhne Engineering Factory continued to be under the full control of Motor Sich. At the same time, managerial control over Motor Sich was transferred to another company in order to skirt Ukrainian laws forbidding it from working in the temporarily occupied territories (Lb.ua, January 12, 2018). He did not specify in which country the managerial company was registered; but according to an investigative journalist's report, management of the factory was transferred to Aviatech, registered in the Russian city of Rostov-on-Don. Interestingly, the owners of Aviatech are Boguslayev's Russian business partners. In particular, Anatoliy Sitnov, the former chief of armaments of the Armed Forces of the Russian Federation, is a member of the Supervisory Board of VKMS, a Russian-based helicopter manufacturer owned by Boguslayev; and Viktor Denisov, a former commander of Russia's military transport aviation arm, is a director of VKMS (Bihus.info, July 9). Notably, before 2014, Russia was the main export market for Motor Sich, including the Russian defense-industrial complex. At that time, Boguslayev strongly supported Ukraine's accession to the Moscow-led Eurasian Customs Union (which became the Eurasian Economic Union in January 2015); today, he continues to advocate for rapprochement with Russia (Lb.ua, January 12, 2018).
Despite Boguslayev's rhetoric about adherence to Ukrainian law, the news site Bihus.info reported that Motor Sich is still supplying components for Russian military engines. Journalists found that Boguslayev and Petro Kononenko (the director of the Motor Sich branch in Moscow) own a number of companies in Russia, including Borisfen (which allegedly cooperates with the Russian Federal Security Service—FSB), Losiny Ostrov, Aviaremont-MS, VKMS and VK-MS. According to the Russian state's federal procurement portal, between 2015 and 2017, Borisfen received $3.5 million for engine extension services of AI-9B aircraft auxiliary power units, which Motor Sich produces; it also provides the same services for the Universal-Avia company, a Crimea-based Ukrainian State Aviation Enterprise, "nationalized" by Russian occupying authorities in 2014. The Borisfen company also received several government contracts from the Russian state company Special Flight Squad "Russia" (Bihus.info, July 9), a federal institution subordinated to the Presidential Administration of the Russian Federation, providing air transportation services to Russian military and special forces as well as to President Vladimir Putin (Udprf.ru, accessed September 14).
Ukrainian sources note that, between 2015 and 2016, another of Boguslayev's companies, VKMS, supplied parts for the TV3-117 gas turbine engine to the Russian JSC 218 ARP (Aircraft Repair Plant). Despite Boguslayev's statements (and those of other Motor Sich representatives) about the engines and its parts being destined exclusively for Russian civil aviation, they also were supplied to the Ministry of Defense of the Russian Federation (Bihus.info, July 9). Interestingly enough, though Motor Sich apparently stopped direct supplies to Russia after 2018, it launched massive exports to Bosnia-Herzegovina, to the newly established D.O.O. Inzeniring BN. In 2018, more than 600 shipments containing the TV3-117 engines were delivered to the Balkan-based company. According to Importgenius, an international customs portal, this Bosnian company subsequently shipped similar parts for helicopters exclusively to two Boguslayev-owned firms in Russia: VKMS and VK-MS.
The director of the aforementioned Bosnian firm, Savo Cvijetinovic, is a member of the Union of Independent Socialists, recognized by experts as a subversive instrument of Russian influence in the Balkans. Inzeniring BN's Cvijetinovic is also a frequent guest in Russia, traveling there under the guise of membership in the Society of Russian-Serbian Unity. Cvijetinovic confirmed to journalists that his company is an intermediary between the three Boguslayev companies (i.e., Motor Sich, VKMS and VK-MS) (Pravda.com.ua, July 9). Additionally, Motor Sich products were also shipped to Russia through another intermediary: the United Arab Emirates–based company Double Power FZE (Umoloda.kyiv.ua, July 9). In 2018, Boguslayev's net worth doubled to $301 million, making him the 18th richest person in Ukraine (Lnews.zp.ua, October 28, 2018).
Thus, despite explicit legal prohibitions, the strategically important Ukrainian aviation engine manufacturer Motor Sich continues to actively collaborate with the Russian side by supplying its defense-industrial complex with essential components. And with the reported attempts by China (see EDM, September 6) and other third parties to become involved, this situation may grow even more complicated and perilous for Ukraine's national security.