The NATO Summit, Western Sanctions and Belarus's Capacity to Act Independently
Publication: Eurasia Daily Monitor Volume: 20 Issue: 116
By: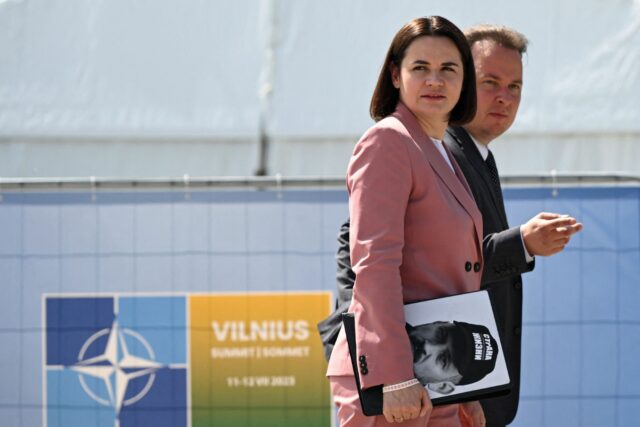 The North Atlantic Treaty Organization summit on July 11 and 12 was held just 30 kilometers from the Belarusian border. Valer Karbalevich of Radio Free Europe/Radio Liberty noted that, in the summit's final communiqué, Belarus was mentioned seven times (Svaboda, July 13). If, however, one takes a close look at the document, the issue of Belarus's agency comes to light. Specifically, only one of Belarus's seven mentions is about Belarusian politics itself: "We call on Belarus to stop its malign activities against its neighbors, to respect human rights and fundamental freedoms, and to abide by international law" (Nato.int, July 11). Other references to Belarus are in conjunction with Russia using Belarusian territory and infrastructure for its aggression against Ukraine, the growing military integration of Russia with Belarus, the deployment of Russian nuclear weapons in Belarus and the possible deployment of the Wagner private military company on Belarusian soil. Basically, any policy discussion on Belarus is considered a derivative of policy toward Russia. Listening to the pronouncements from the leaders of Belarus's neighbors, this conclusion is further reinforced. Thus, Lithuanian President Gitanas Nauseda called Belarus "a province of Russia" (Kyiv Independent, July 14). And Karbalevich quotes Latvian Prime Minister Arturs Krišjānis Kariņš, as saying, "Belarus has lost its sovereignty and become an extension of Russia" (Svaboda, July 13).
This approach, suggests Karbalevich, is not shared by the so-called "transitional cabinet" headed by Svetlana Tikhanovskaya, leader of the Belarusian democrats-in-exile. Reacting to the statement of the Lithuanian president, the cabinet stated: "Such an interpretation creates a wrong perception of Belarus in the world and contributes to even greater isolation of our country and our people. Belarus is not a province of Russia, and the Belarusian people will not allow it to become one" (Svaboda, July 13).
It seems that both the authors of the latter statement and the Baltic leaders might benefit from some soul-searching. Do their own policies not bear some responsibility for Belarus's predicament? For all intents and purposes, Minsk took "no-nonsense" steps in diversifying its international relationships, especially economic ties; however, it was subjected to a virtual blockade by its Western neighbors, extraordinary for a landlocked country (see EDM, February 1). This was done largely on Lithuania's and Poland's initiative, with enthusiastic support from Tikhanovskaya's cabinet. A direct result of these policies was a steep rise in Belarus's dependency on Russia as a market for Belarusian goods and as a venue for Belarusian export transit. The detailed analysis that Sergei Bogdan, a Belarusian historian working for the Free University of Berlin, has recently published in regard to transportation and logistics brings this issue into sharp relief (Minsk Dialogue, July 11).
The analysis is titled "Transport Semi-Blockade of Belarus: From Transit Wars to Self-Destruction of a Region." The region that Bogdan has in mind is between the Baltic and Black seas, the so-called "Intermarium," which boasts of lasting intra-regional ties and which showed ever-increasing cohesion prior to 2021. It stands to reason that sanctions were introduced in response to Minsk's bad behavior, especially the downing of an international passenger plane in May 2021, and to Minsk assisting Moscow's invasion of Ukraine. However, official Minsk has not relented on repressions and military cooperation with Russia in the wake of sanctions; that is, sanctions have not achieved their desired outcome in this regard. It is on the negative side that they have outperformed.
Following the imposition of an air blockade on Belarus, the International Air Transport Association (IATA) criticized the move, noting that "the ban on European aircraft using Belarusian airspace is a politicization of aviation safety issues" (Airlines.iata.org, June 8, 2021). The IATA emphasized that it condemns the actions of the Belarusian side, but added that one illegal action cannot justify another. A double standard was obvious too. Even after the incident with the Ryanair flight, similar cases did not cause such a harsh reaction—for example, the forced landing of the Khartoum-Istanbul flight on January 15, 2022, at the Egyptian Luxor airport and subsequent arrest of the Egyptian opposition activist Hossam Menoufy Mahmoud Sallam, a citizen of Egypt and of the United Kingdom (Middleeasteye.net, January 15, 2022).
Bogdan shows that, prior to 2021, Minsk was not in a hurry to reroute its refined oil exports via Russian ports, even when Vladimir Putin demanded such an action in August 2017. In January 2020, President Alyaksandr Lukashenka demanded that oil exports from Russia be reduced to 30–40 percent of Belarus's total exports, whereas 30 percent should enter through Lithuanian and Latvian ports and 30 percent through Odesa, Ukraine (Minsk Dialogue, July 11). Now, these are just memories.
Bogdan believes that the semi-blockade of Belarus subjects its citizens to collective punishment by artificially undermining the economic basis of their well-being. Restrictions related to, for example, denying Belarusians the right to cross borders or use the financial infrastructure of Western countries were not even applied to Iraq, Libya and Iran (i.e., countries that have been subjected to some of the most severe sanctions pressure). And there are no signs that such measures contribute to the political democratization of Belarus. In fact, recent events suggest otherwise. The premature death of Ales Pushkin, an artist, in a Belarusian prison (Zerkalo, July 11) and the arbitrary extension of Dmitry Dashkevich's prison term (Planbmedia.by, July 11) are just two examples here.
The blockade of Belarus, believes Bogdan, calls into question its survival as an independent state. Specific decisions of European Union members from the spring of 2022 onward in the fields of transport and transit imply a refusal to recognize any difference whatsoever between Belarus and Russia. They lead not only to the delegitimization of the existing Belarusian state but also to the absolute dependence of Belarus on Russia in all areas, including relations with third countries (Minsk Dialogue, July 11).
In summary, the way Belarus is mentioned in the Vilnius summit's communiqué is hardly an aberration. It reflects the de facto Belarus policy of the collective West. While West European politicians tend to take Minsk more seriously than those from Poland and the Baltics (Svaboda, July 13), it is the latter that are the gatekeepers on this issue. And whether this situation requires a meaningful correction may be a question worth asking for Western policymakers.