The Navalny Poisoning and Russia's Nerve Agent Politics
Publication: Eurasia Daily Monitor Volume: 17 Issue: 124
By: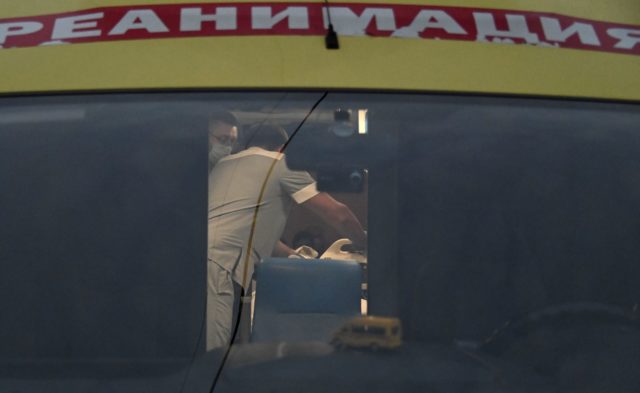 Prominent Russian opposition leader Aleksei Navalny (44) suddenly became critically ill on August 20, onboard a passenger jet destined for Moscow soon after takeoff from the western Siberian city of Tomsk. The pilot made an emergency landing in the nearby city of Omsk. An ambulance was waiting on the tarmac and took Navalny to a local hospital. Russian medical authorities announced the anti-corruption blogger and one-time mayoral candidate had not been poisoned but was suffering from some natural disorder, possibly a fluctuation in his sugar levels. Purportedly, no toxins were found in samples of Navalny's body fluids, either by the local Omsk laboratory or a lab in Moscow. But two medics who had contact with Navalny in Omsk, who requested to remain anonymous, told liberal news site Meduza that Navalny displayed several typical symptoms of nerve agent poisoning and was treated with atropine—a classic nerve agent antidote—with the first shot of the therapy administered in the ambulance at the Omsk airport, which may have saved his life. Later, at the Omsk hospital, Navalny lapsed into a coma. The atropine treatment was discontinued after the official diagnosis refuted a poisoning. Navalny, nonetheless, survived, hooked up to a ventilator (Meduza, September 9).
Navalny's family—his wife Yulia and brother Oleg—flew to Omsk and insisted Aleksei be transferred for treatment abroad. Germany agreed to take the ailing Russian oppositionist. Kremlin spokesperson Dmitry Peskov indicated Moscow's consent and, by August 21, a specially chartered medical jet arrived in Omsk with a German team of doctors aboard. The medical transfer was financed by Boris Zimin and the Zimin Foundation—a charity established by his father, Dmitry, a retired businessman who supports the Russian opposition and lives in self-imposed exile (Kommersant, August 22). The administration of the Omsk hospital initially refused to allow the transfer of Navalny to Germany but eventually agreed, apparently after a phone call from Moscow, according to Oleg Navalny (Newsru.com, August 24).
By August 22, Navalny was safely lying at the Charite hospital, in Berlin. Immediately upon admission, he started being treated as a nerve agent attack victim. Charite doctors insist they found evidence of acetylcholinesterase (AChE) enzyme inhibitor poisoning, thus undermining the narrative maintained by Russian officials. Moscow continues to deny any foul play and has adamantly refused to open a criminal investigation, citing the absence of probable cause. Organophosphate nerve agents, like sarin, VX and the notorious Soviet-developed Novichok, deactivate the AChE enzyme that breaks down acetylcholine and some other choline esters, which function as neurotransmitters in the body. The victim is, in effect, poisoned by an excess of his or her own acetylcholine, resulting in muscle paralysis and the inability to breathe. Novichok was infamously used to poison former Russian military intelligence colonel Sergei Skripal together with his daughter Yulia in Salisbury, England, in 2018. When used as weapons of mass destruction, nerve agents are extremely lethal; but if a victim receives qualified medical attention and treatment, as Navalny or the Skripals did, body cells can eventually synthesize enough of the AChE enzyme for neurotransmission to begin working well enough for the victim to recommence breathing and start to recover (Interfax, August 25). Reportedly, Navalny is now out of a coma and has regained consciousness (RIA Novosti, September 10).
Russian medical experts are adamant it would be "scientifically impossible" to find cholinesterase inhibitors in Navalny "five days after the alleged poisoning," insisting the German doctors and specialists are ether mistaken or are falsifying their findings (Lenta.ru, August 24). It is possible this expert opinion was the basis of the Kremlin's decision to allow the transfer of Navalny to Berlin: in other words, the Russian side falsely assumed it would be impossible to find any solid evidence of foul play. Medical authorities announced that "some 60 Navalny samples" were analyzed and "no toxins were found" (Interfax, September 8). If those claims were accurate, it may be that Russian technological and scientific backwardness was to blame. On September 2, it was officially announced in Berlin that irrefutable evidence had been discovered: traces of a Novichok-type nerve agent on Navalny's skin and on a plastic water battle he used before becoming critically ill (Interfax, September 2).
Berlin and other Western capitals have demanded that Moscow perform a vigorous investigation and provide an explanation of what happened with Navalny. The use of a nerve agent on Russian territory is a gross violation of the Chemical Weapons Convention (CWC) and constitutes an international crime. But Moscow went into Soviet-style rejection mode, refuting the Germen findings as part of an anti-Russian conspiracy and continuing to adamantly deny the Navalny poisoning ever happened (Interfax, September 4). Moscow has demanded Berlin disclose and hand over all evidence and samples that were used to discover the presence of Novichok for Russian experts to asses, threatening a downturn in relations if refused. Yulia Navalny categorically refused to allow the handover of any medical evidence to Moscow, and the German government announced it will instead send evidence to the Organization for the Prohibition of Chemical Weapons (OPCW), which oversees the implementation of the CWC. The chair of the Russian Federation Council Foreign Relations Committee, Konstantin Kosachev, announced the Novichok could have been produced in the United States and then shipped to Germany, where the Germans used it to contaminate the samples they then handed over to OPCW experts. According to Kosachev, if Berlin insists the Navalny samples contain Novichok, the Germans must first prove the nerve agent indeed came from Russia (Interfax, September 10).
Novichok-type nerve agents may be in the form of a gas, a liquid or even a powder. The compound is chemically stable, deadly in tiny doses and can effectively penetrate the skin (unlike, say, polonium-210), which permits great operational flexibility when preparing a clandestine attack. Apparently, the Russian authorities believed taking out the potential leader of the Russian opposition was worth the risk of possible exposure. Maybe scenes of the Belarusian civil rebellion against the long-serving authoritarian President Alyaksandr Lukashenka had unnerved the Kremlin. The Navalny case has already engulfed and tarnished all branches of power in Russia, probably ensuring they all stay loyal to President Vladimir Putin in times of possible crises. If the Kremlin is seriously planning to make any kind of assertive move against Belarus, the potential fallout with the West will be so immense that the Navalny case will quickly fade from memory.