The No Limits Partnership: PRC Weapons Support for Russia
Publication: China Brief Volume: 23 Issue: 15
By: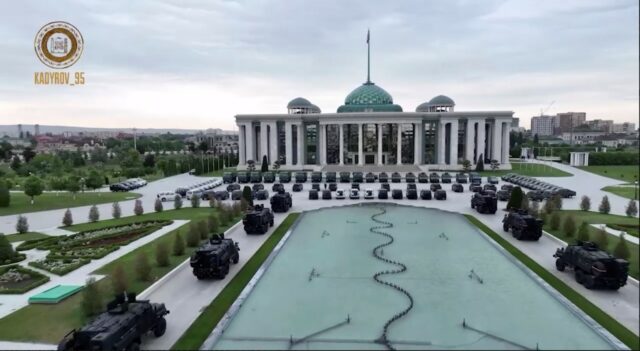 Introduction
Amid the ongoing war in Ukraine, there is growing concern about the possible involvement of the People's Republic of China (PRC) in supplying Russia with weapons, munitions, and various other technology that could have dual-use applications. Notably, no significant provision of large-scale military hardware from the PRC to Russia is evident, as such equipment would have been easily identified on the battlefield amongst the major equipment losses suffered by Russian forces. There are, however, consistent reports substantiating the claim that Chinese companies are providing military and dual-use equipment to Russia. In the PRC's political system, this type of transaction would be difficult to conduct without the government's tacit approval or—at the very least—the Chinese Communist Party (CCP) authorities turning a blind eye.
In February 2022, following a meeting ahead of the opening ceremony of the Beijing Winter Olympic Games, Chinese leader Xi Jinping and Russian President Vladimir Putin discussed the dimensions of their two countries' strategic partnership (Global Times, February 5, 2022). Xi and Putin reiterated that "friendship between the two states has no limits, there are no 'forbidden' areas of cooperation, [and the] strengthening of bilateral strategic cooperation is neither aimed against third countries nor affected by the changing international environment and circumstantial changes in third countries" (The Kremlin, February 4, 2022).
The closing ceremony for the Beijing Winter Olympics was held on February 20. Four days later, Russia invaded Ukraine. Since then, there has been widespread speculation that the PRC leadership knew about the Russian invasion. Additionally, there have been heightened concerns regarding the extent of Chinese support for Russia since the start of the war in Ukraine.
In July, the US Office of the Director of National Intelligence (ODNI) reported on the "Support Provided by the People's Republic of China to Russia", with indications of increased Russian reliance on the PRC (ODNI, July 2023). In 2022 total Russian imports from the PRC increased by 13 percent to $76 billion. In the same year, PRC chip exports to Russia increased by 19 percent. Many of these transactions were facilitated by shell companies in Hong Kong acting as agents of secondary sales from international suppliers via the PRC to Russia.
The ODNI report stated that "the PRC is providing some dual-use technology that Moscow's military uses to continue the war in Ukraine, despite an international cordon of sanctions and export controls. The customs records show PRC state-owned defense companies shipping navigation equipment, jamming technology, and fighter jet parts to sanctioned Russian government-owned defense companies" (ODNI, July 2023).
French diplomats further corroborated this report, notifying the public of intelligence indicating that the PRC has been supplying Russia with dual-use technologies as well as non-lethal assistance equipment, such as helmets and body armor (SCMP, July 22). When asked if the PRC is assisting Russia's war efforts in Ukraine, French presidential advisor Emmanuel Bonne responded by saying "there are indications that they are doing things we would prefer them not to do" (SCMP, July 22).
The PRC government has emphatically denied allegations that it has provided any weapons or military assistance to Russia. Former PRC Foreign Minister Qin Gang was reported by his own ministry as saying that "China does not sell weapons to parties involved in the Ukraine crisis and prudently handles the export of dual-use items in accordance with laws and regulations. Normal exchanges and cooperation between Chinese and Russian enterprises should not be affected" (PRC Ministry of Foreign Affairs, May 10). The second part of Qin Gang's statement is significant, as he clearly states that exchanges between Chinese and Russian enterprises—such as commercial ties—are not be impacted by the war in Ukraine. Upon closer examination, his comments appear to suggest that dual-use technologies and equipment could be subject to the PRC government turning a blind eye.
PRC Military Weapons and Munitions Supplies
In June, reports emerged indicating that the PRC state-owned enterprise Poly Technologies (保利科技有限公司) had provided two large quantities of smokeless gunpowder to Russia in 2022. The smokeless powder—transported to the Barnaul Cartridge Plant ammunition factory in central Russia by train—was sufficient to make at least 80 million rounds of ammunition. The reports also indicated that the Barnaul Cartridge Plant may have been used as a training camp affiliated with the Wagner Group (New York Times, June 23). As the plant is intricately tied to Russian war efforts, in December 2022 the European Union sanctioned it as a measure to restrict Russian aggression (Council of the EU, February 25).
The US ODNI report mentioned Poly Technologies, reporting shipments of navigation equipment for M-17 military transport helicopters to Russian state-owned military export company JSC Rosoboronexport (ODNI, July 2023). The shipments referred to by the US ODNI have been reported in detail by the non-profit organization Center for Advanced Defense Studies (C4ADS), which has documented 21 shipments of goods by Poly Technologies to Russia since February 24, 2022, shortly after the Russian invasion. C4ADS reported that 21 of the shipments were to Russian state-owned defense companies, several of which are subject to international trade sanctions. According to the report, the shipments included a large quantity of spare or used parts explicitly labeled for use in Russian Mi-8AMTSh military assault helicopters. As such, C4ADS concluded that Poly Technologies and affiliate companies have not halted military trade with Russia; rather, the company has circumvented international sanctions regimes in continuing to provide military equipment to Russia (C4ADS, April 6).
To assess the CCP's role in these covert weapons sales, it is worth considering the background of Poly Technologies. The organization, established in 1983, is part of the China Poly Group Corporation (中国保利集团公司) and represents a weapons trading arm of the People's Liberation Army (PLA). The China Poly Group Corporation is now a prominent enterprise under the supervision and management of the State-owned Assets Supervision and Administration Commission (SASAC) (China Poly Group, accessed August 9). Poly Technologies' ties to the PRC government is illustrated by the role of Mr. He Ping—the son-in-law of former Chinese leader Deng Xiaoping—as Honorary Chairman of the group since the early 1990s (SCMP, July 18, 1996).
In short, Poly Technologies is effectively an entity controlled by the PRC state. Consequently, it can be inferred that its arms exports reflect the interests of the PRC. In a 1996 sting operation, undercover US Customs agents arrested seven people in connection with the importation of 2,000 AK-47 assault rifles into the US; the sale involved senior staff from Poly Technologies as well as NORINCO (中国兵器工业集团有限公司)—a PRC state-owned arms manufacturer. To evade scrutiny, the AK-47s—which had their Chinese markings removed—were initially shipped through Hong Kong and Japan, and were described on shipping documents as "hand tools" (LA Times, May 24, 1996). In 2013, the United States government enforced sanctions on Poly Technologies. The US authorities suspected Poly Technologies was involved in supplying equipment to support the development of weapons of mass destruction and ballistic missile programs in Iran, North Korea, and Syria (SCMP, February 12, 2013).
In June, the head of the Chechen Republic Ramzan Kadyrov posted a video to his Telegram account showing newly procured PRC-manufactured armored vehicles in use by the Chechen armed forces (Defense Express, August 1). Kadyrov claimed that the vehicles could be used in "special military operations." The relatively light vehicles could serve as support for the Chechen troops deployed to fight in Ukraine, including the Akhmat group of Chechen Spetsnaz that recently signed a contract with the Russian Ministry of Defense (Reuters, June 12). The vehicles—referred to as "China Tiger" armored personnel carriers—are designed to transport infantrymen to the battlefield and can be configured for roles such as command post, law enforcement, riot control, and medical support (Army Technology, August 11, 2016). The China Tiger unit is produced by the Chinese corporation Shaanxi Baoji Special Vehicles(陕西宝鸡专用汽车有限公司)(Shaanxi Baoji Special Vehicles Manufacturing, accessed August 9). Shaanxi Baoji is privately owned but is reportedly an example of growing "civil military integration" in China (Sina, accessed on August 10). The company supplies vehicles to the PLA as well as to 12 foreign countries (Shaanxi Baoji Special Vehicles Manufacturing, accessed on August 10).
PRC Drone Supplies
Along with conventional military equipment, the Kremlin is increasingly utilizing drones in its war against Ukraine. The US ODNI stated in its recent report that as of March this year, the PRC has shipped more than $12 million in drone parts to Russia (ODNI, July).
According to a German report published by Der Spiegel, the Russian military was in direct contact with Chinese drone manufacturer Xi'an Bingguo Intelligent Aviation Technology(西安冰果智能航空科技). In February, Xi'an Bingguo planned to supply the Russian military with 100 of its prototype ZT-180 drones—an unmanned aerial vehicle (UAV) capable of carrying warheads of up to 50 kilograms. The report stated that the Chinese drone is comparable to Iran's Shaheed 136 kamikaze drone, a foreign-made UAV that is widely used by the Russian military. Additionally, Xi'an Bingguo purportedly planned to provide components and manufacturing blueprints for the Russian military to produce the drones themselves (Der Spiegel, February 23).
On the company website, Xi'an Bingguo Intelligent Aviation Technology claims its corporation was established in 2017 as a global supplier of smart aerial systems. Their five major businesses are Unmanned Aerial Vehicles, smart cruising services, aero-based Internet of Things, and flying cars (Xi'an Bingo Intelligent Aviation Technology Co., Ltd, accessed August 9). While the company's official webpage does not show the ZT-180 prototype, it does show drones such as the BG-JX300. The BG-JX300 has a payload of 80 kilograms and a range of 1,600 kilometers—making it a significant upgrade from the Shaheed 136 kamikaze drone that has a payload of 40 kilograms and a range of 1,500 kilometers (RUSI, January 13). Although the drones shown on the Xi'an Bingguo Intelligent Aviation Technology website have no military markings—and are not specifically designated for military use—their specifications certainly meet the threshold for military application.
In July, it was reported that from December 2022 to April 2023, Russian companies imported 37 Chinese UAVs that were designated in customs clearance records as being "for use in the special military operations" (Nikkei Asia, July 1). The Chinese drones sought out by Russian companies—specifically those produced by SZ DJI Technology Co., Ltd. (DJI) (深圳大疆创新科技有限公司)—were subject to sanctions by the US Treasury in 2021 (US Treasury, December 16, 2021). Sanctions were imposed on the grounds that these drones were extensively employed by the Xinjiang Public Security Bureau to conduct surveillance on China's Uyghur ethnic minority. In January and March, customs records reportedly showed that 34 drones manufactured by DJI were shipped to Russia. Twenty-four of the drones were listed as the Mavic 3 model, which DJI describes on its website as a powerful flagship camera drone equipped with a 4/3 CMOS Hasselblad camera—capable of facilitating professional-level imaging.
On July 31, an additional indicator emerged linking Chinese companies to Russia's procurement of drones. In what could be interpreted as an implicit admission of culpability, the Chinese Ministry of Commerce announced that UAV export control measures will be implemented starting September 1. A spokesperson for the Ministry of Commerce stated that "China has always been committed to maintaining global security and regional stability, and has always opposed the use of civilian drones for military purposes. The moderate expansion of the scope of export controls on drone-related equipment is an important measure displaying China's role as a responsible country by practicing the Global Security Initiative and safeguarding world peace" (State Council of the PRC, July 31).
Conclusions
In June, US Secretary of State Antony Blinken summarized US and allied countries' concerns when he said that "Chinese firms…may be providing technology that Russia can use to advance its aggression in Ukraine. And we have asked the Chinese Government to be very vigilant about that" (US Mission China, June 20).
In March, Chinese President Xi Jinping said in a speech before visiting Moscow that "Our two sides have put in place an all-round and multi-tiered cooperation framework. China-Russia trade exceeded $190 billion last year, up by 116 percent from ten years ago. China has been Russia's largest trading partner for 13 years running." PRC state-owned media stated in an editorial in May that "China-Russia ties [are] nobody's business but their own" (China Daily, May 24). Based on the consistent statements made by the PRC government—and the growing body of evidence suggesting Chinese companies are supplying military equipment to Russia—it seems that the CCP is assuming its usual rhetorical approach of saying one thing and doing another.