The Political Considerations Behind Russia's Military Command Chaos
Publication: Eurasia Daily Monitor Volume: 20 Issue: 16
By: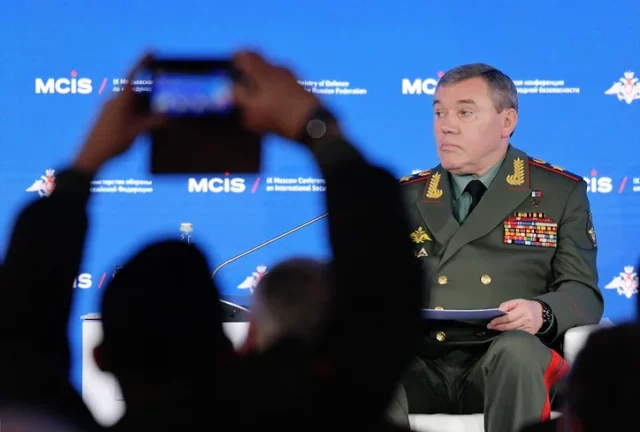 On January 11, the Russian Ministry of Defense once again changed the command structure of the Russian forces fighting against Ukraine. Army General Valery Gerasimov (born in 1955), chief of the Russian General Staff, finally became the commander of Russia's joint forces in Ukraine, replacing Army General Sergei Surovikin (1966), commander of the Russian Aerospace Forces (Meduza, January 11). Surovikin had been appointed as the commander of joint forces on October 8, 2022, after several attempts by the Kremlin to establish a working command structure there.
The official reasons for the change included the necessity of increasing coordination between different branches of the Russian Armed Forces and improving quality of logistics as well as overall command and control of military groupings (Kommersant, January 11, 2022). That means, Moscow considers that the previous efforts under Surovikin in these key aspects were largely unsuccessful. Besides Gerasimov, Army General Oleg Salyukov (1955), commander of ground forces, and Colonel General Alexei Kim (1958), former deputy commander of ground forces, who recently became a deputy chief of the General Staff, were also appointed, along with Surovikin, as Gerasimov's deputies in his command position.
While Gerasimov's appointment is the latest re-shuffle for the Russian military, it is not the only change that has been made to Russia's top military brass over the past 11 months. For instance, two commanders of Russia's airborne troops have already been dismissed: Colonel General Andrei Serdyukov (1962), who commanded the troops from October 2016 to June 2022, and Colonel General Mikhail Teplinsky (1969), who was Serdyukov's successor until he was recently dismissed on January 23 (Zona.media, January 23, 2023).
The same situation is present in Russia's military districts. In December 2022, the Western Military District received its fourth commander since the beginning of Russia's all-out aggression against Ukraine: Lieutenant General Yevgeny Nikiforov (1970), former chief of staff of the Eastern Military District, replaced Colonel General Sergei Kuzovlev (1967), who was then appointed commander of the Southern Military District, after spending only a couple of weeks as the Western Military District commander (Chita.ru, December 30, 2022; RBC, January 23, 2023). Before Kuzovlev, Lieutenant General Roman Berdnikov (1974) had commanded the Western Military District from September to December 2022, when he replaced Colonel General Aleksandr Zhuravlev (1965), who was the district commander in 2018–2022. In the Southern Military District, Kuzovlev replaced Army General Aleksandr Dvornikov (1961), who had been favored by the Kremlin before he failed as a grouping force commander from April to May 2022 (BBC.com/russian, July 20, 2022).
The commander of the Central Military District was also changed: Colonel General Aleksandr Lapin (1964) was replaced by Major General Aleksandr Lin'kov (N/A), who became executive district commander while waiting for the new commander, possibly Lieutenant General Andrei Mordvichev (1976), current commander of the 8th Guards Combined Arms Army, to be appointed (Kommersant, November 3, 2022; Ura.ru, January 10, 2023). For his part, Lapin was then appointed as chief of staff of ground forces after he had endured major public criticism and even verbal humiliations coming from Chechen leader Ramzan Kadyrov and Yevgeny Prigozhin, head of the Wagner Group mercenaries (RBC, January 10, 2023).
The same process was undertaken in the Eastern Military District, with former district commander, Colonel General Aleksandr Chaiko (1971), who replaced Colonel General Gennady Zhidko (1965) in November 2021, being dismissed as early as July 2022. Zhidko once again became the district commander after only several months as the chief of the Russian Armed Forces' main political-military directorate and the deputy minister of defense. In October 2022, he was finally replaced by Lieutenant General Rustam Muradov, (1973) who had commanded the Russian peacekeeping forces in Karabakh in 2020–2021 and was deputy commander of the Southern Military District in 2018–2022 (Kommersant, October 7, 2022).
All these turbulent appointments demonstrate that the Kremlin embodies a lack of trust in its own military generals and, therefore, tries to delegate responsibility for disastrous decisions in Ukraine directly to them. Meanwhile, this command chaos also demonstrates how the last generation of Soviet officers appeared to be unprepared for modern conventional warfare. Being mostly young lieutenants and captains, these officials decided to stay in military service during the 1990s and suffered from the lack of training, temporary absence of salaries, low standards of living and fought in the bloody Chechen wars, as their colleagues started new careers. Their education is mostly limited to experience during the war in Afghanistan and their own professional development. And besides the five-day war against Georgia in 2008, their tactical expertise is limited to the asymmetric campaigns in Chechnya, Ukraine (2014–2015) and Syria. Thus, their ability to "survive" more than two decades of President Vladimir Putin's governance means they prioritize total personal political loyalty, indoctrination and even resentment toward Soviet practices, rather than developing real professional competences.
Even so, the Kremlin continues to doubt the political loyalty of its military generals. That is why Colonel General Viktor Goremykin (1959) became chief of the Russian military's main political-military directorate and the deputy minister of defense, replacing Zhidko (Vedomosti, July 28, 2022). In 2009–2022, Goremykin was the chief of the Russian Armed Forces' main personnel directorate, and according to his official biography, he most likely was part of the military counterintelligence officers who subordinated to the Russian Federal Security Service (Mil.ru, accessed January 26). The reason for this change was clarified by Defense Minister Sergei Shoigu as a lack of readiness to execute the combat tasks in Ukraine among Russian military personnel (Mil.ru, December 21, 2022).
Generally speaking, permanent fear of a coup d'etat and permanent prevention of this chimerical threat are key parts of the political culture of Soviet/Russian authoritarianism. The historical cases of General Lavr Kornilov and Lev Trotsky, Stalin's purges in the Soviet military leadership, Stalin's and Khrushchev's fears regarding Marshall Georgy Zhukov and even Yeltsin's fears of the political ambitions of Lieutenant General Aleksandr Lebed and Lieutenant General Lev Rokhlin in the 1990s all contributed to the development of the Kremlin's way of thinking. Now, Moscow is trying to merge its military generals into the working command hierarchy, which is aimed at saving the Russian leadership from complete defeat and breeds neither a heroic general with political ambitions nor the leader of the "political party of stolen victory" in case of such defeat.
Even the proclaimed "military reforms" with a planned extraction of the Moscow and Leningrad military districts from the Western Military District together with the transformation of brigades back into divisions means that many current colonels may soon become generals (TASS, December 21, 2022). As such, the Kremlin has jump-started bureaucratic and military competition among these colonels, hoping to avoid defeat and trying to balance against the current generation of generals.