The Politics of China's Missile Redeployments
Publication: China Brief Volume: 10 Issue: 19
By: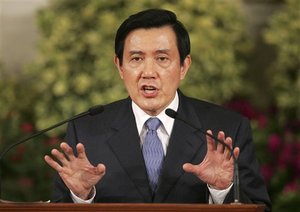 Having achieved his administration's goal of institutionalizing cross-Strait relations through the Economic Cooperation Framework Agreement (ECFA), Chinese President Hu Jintao is now pursuing negotiations on cultural and educational exchanges with Taiwan as outlined in his "six-point proposal" made during the 30th anniversary of the "Message to Compatriots in Taiwan" speech (See "Hu Jintao's 'Six-Points' Proposition to Taiwan," China Brief, January 12, 2009). Chinese leaders appear to have realized that premature political negotiations with President Ma Ying-jeou could negatively affect Ma's reelection bid in 2012. In a recent turn of events, Beijing has hinted at the possibility of withdrawing the missiles targeted at Taiwan if the Ma administration accepts the "one-China principle" [1]. While estimates for the number of Chinese missiles targeting Taiwan vary, President Ma confirmed in Matsu on September 16 that the PRC continues to introduce missiles and its military deployments against Taiwan has not been reduced [2].
Although the threat of a Chinese military invasion was vastly reduced when the Kuomintang (KMT) regained power and announced its acceptance of the so-called "1992 Consensus," Beijing continues to decry U.S. arms sales to Taiwan. After President Barack Obama announced the January 2010 arms package to Taiwan, Beijing reacted harshly by suspending high-level military exchanges with the United States, and threatened to impose sanctions on defense corporations involved in the arms sales (China Daily, February 1). Although U.S. Pacific Commander Robert Willard participated in the Second Round of the U.S.-China Strategic & Economic Dialogue (S&ED), Beijing suspended high-level military contacts and declined to entertain a visit by Secretary of Defense Robert Gates in June 2010. Yet, Gates asserted that Beijing's interruptions of the two powers' "military relationship will not change U.S. policy toward Taiwan" [3].
At the same time, Beijing is encouraging meetings of retired generals on both sides of the Taiwan Strait to deal with sensitive topics related to military confidence-building measures (CBMs). With the sponsorship of an annual golf tournament of retired generals and admirals starting from 2009, Beijing is trying to create an image that attempts to present Taiwan's continued purchase of U.S. arms as anachronistic (United Daily News, June 21; China Times, August 30). The United States is concerned about the pace and scale of Taiwan's retired generals' trips to China, and therefore, the Ma government has reassured the U.S. that it will not authorize retired generals to conduct military negotiations with Chinese counterparts (Taipei Times, August 31).
The signature of the ECFA and direct air links have been greatly reduced the tensions across the Taiwan Strait. These agreements will bring an estimated one million Chinese tourists to Taiwan by the end of 2010, through this effort Beijing is creating the evidence-backed arguments that the United States should cease arms sales to Taiwan on the basis of the August 17, 1982 Communiqué. According to the logic of China's recent overtures, it may seem that in order to help boost Ma's chances of reelection in 2012, China will likely freeze or reduce the number of missiles targeting Taiwan if the United States reconsiders its arms sales to Taiwan.
Beijing will likely push for the discontinuation of U.S. arms sales to Taiwan in negotiations with Washington and adopt a posture to further calm the waters directly across the Taiwan Strait. After frequent calls from President Ma Ying-jeou for the withdrawal of Chinese missiles opposite Taiwan, it seems clear that Beijing must consider options regarding missile deployment before any meaningful negotiations can occur on a cross-Strait peace agreement. For Beijing, a consideration of missile redeployments is more easily attainable than a pledge of renunciation of force against Taiwan. Beijing could also demonstrate its goodwill to the people of Taiwan, reduce Taiwanese enmity toward China and weaken military morale on the island.
Yet, Beijing has many options to obviate the redeployment of its missiles targeting Taiwan. The PLA could merely freeze deployment at current levels, or it could reduce the missiles by a substantial number. It is unlikely Beijing would accept a complete, verifiable and irreversible dismantlement (CVID) of their missiles targeting Taiwan. Even if China did withdraw the missiles, it could quickly redeploy them at any time. For Beijing, it is imperative that the missiles be available to retarget Taiwan if and when the opposition Democratic Progressive Party (DPP) regains power. Those missiles are seen as a deterrent to potential U.S. or Japanese intervention in the Taiwan Strait. Indeed, according to the remarks of retired PLA officer Li Jijun, Chinese missiles are good instruments with which to deter Taiwan independence and to stabilize the Taiwan Strait, and that while there is room for negotiation, those instruments should not be given up before negotiations take place (China Review News, November 13, 2009).
While refusing to rule out the use of force against Taiwan, Beijing may also stress that as long as Taiwan does not declare independence, China will not attack. Beijing has said that if Taiwan embraces the "one China principle," there will be no war and Taiwan will not have to purchase U.S. arms. For the KMT, the DPP and the Obama Administration, responding to such a Chinese gesture would pose a challenge. Taipei would have to make concrete concessions in cross-Strait talks, and the international community would likely welcome Beijing's move, seeing a reduction of missiles as a positive step toward peaceful reconciliation.
Even though the Pentagon detects the real need for Taiwan's defense to have a sustainable replacement for obsolete and problematic aircraft platforms, the Obama administration is trying to convince Taipei that it is more imperative to consolidate the integration of weapons systems and better coordinate interoperability among different government agencies. Especially in light of the fact that Taiwan's all-volunteer force will take shape by 2014, this gesture seems to imply that the Obama administration plans to increase the "soft power" of Taiwan's military before substantive weapons sales take place [4]. With hesitation and postponement of F-16 C/D sales, the Obama administration's hands could easily be tied if Beijing declared a reduction of its missiles targeting Taiwan. Retired Lieutenant Colonel Mark Stokes stated in Taipei that should Beijing draw down its missiles opposite Taiwan, "then formal notification to Congress could be deferred" [5].
With the improvement of cross-Strait relations, President Ma continues to push Taiwan's military to combine hard with soft power to safeguard the island's security. More importantly, he believes that through military readiness, Taiwan could deter a war in the Taiwan Strait. President Ma also assures Washington that he will never ask the U.S. to fight for Taiwan yet he continues to emphasize the reasonable and rational purchase of U.S. weapons (CNN, May 1). Regrettably, the KMT government reduced its annual defense budget by 6.75 percent from the 2009 level to $9.3 billion in 2010, in contrast to China's increase of its defense budget by 7.5 percent ($77.9 billion) from that in 2009 (AFP, January 13; March 4).
President Ma has persistently indicated that before Taiwan goes to the negotiating table, he will "certainly demand that they (mainland Chinese) remove those missiles" [6]. Taiwan's Mainland Affairs Council in June 2010 delinked possible Chinese missile redeployments with U.S. arms sales, and urged Beijing to withdraw military deployments and eradicate the military threat against Taiwan [7]. It will be hard for the DPP to take a different approach from the KMT government. Since Beijing has refused to renounce the use of force, for Taipei, the PRC's redeployment of its missiles must be complete rather than a partial reduction, as well as verifiable and irreversible, and most importantly, it must involve dismantlement instead of withdrawal.
Even though Beijing shows flexibility in missile deployment, both the KMT and the DPP will push the PRC to renounce the use of force and will want the continuation of U.S. arms sales to Taiwan (Taipei Times, August 6) [14]. Taiwan's Ministry of National Defense reacted positively to the prospect of Chinese missiles withdrawal, but does not believe it has "military significance" because missiles could be redeployed and Beijing has not renounced the use of force (United Daily News, July 31). The KMT government will rule out a proportionate response in its military posture because of the existing power asymmetry (Central News Agency, June 21). The DPP is skeptical of any positive results that might arise from cross-Strait CBMs or the likelihood of a peace agreement and has been concerned about the KMT government for not raising the defense budget to 3 percent of Taiwan's GDP.
Militarily, the balance of power in the Taiwan Strait has tilted in favor of China. Taiwan maintained the qualitative advantage in the Taiwan Strait area through the 1990s, but China increased its defense budget by double-digit percentages annually from 1989 to 2009, and much of China's new military strength could be deployed against Taiwan. Taiwan can no longer match China's armed forces, neither in terms of quantity nor quality of arms.
The politics of China's missiles redeployments in on-going cross-Strait negotiations have security implications, particularly for the United States. The Obama administration has had difficulties gaining a clear understanding of the ongoing cross-Strait talks, particularly over KMT-CCP negotiations. Moreover, President Ma needs U.S. backing as he forges a closer relationship with China on the one hand, while shoring up the island's deterrent capabilities on the other.
Taiwan's relationship with the United States waned as the competing Taiwanese political parties delayed the arms procurement process from 2004 to 2008. Although critical of the KMT's policy, the DPP Chairwoman Tsai Ing-wen voiced her support for the F16 C/D sale (Taiwan News, July 20). Now that a rare consensus has been reached in Taipei, Washington appears concerned over the possible ramifications of such a sale. If the PRC takes actions regarding missile redeployment before President Obama's F16C/D decision, any U.S. plan to go ahead with the sale could be further strained.
As China seizes the initiative to push on-going cross-Strait negotiations on its own terms, there will be a smaller U.S. role in cross-Strait peace negotiations. Indeed, a détente in the Taiwan Strait relieves the United States from being forced into intervening in a Taiwan-China military confrontation. Washington can also focus its attention on dealing with other regional flashpoints, but any increase in Chinese influence over Taiwan should not sacrifice the interests of the United States and other countries in the region.
In addition to thwarting U.S. arms sales to Taiwan, Beijing is aiming to reduce the U.S. role in the establishment of a cross-Strait peace agreement. Since May 2008, Beijing's leaders have kept silent about the proposal that the United States and China co-manage the Taiwan issue. The implications of a possible cross-Strait peace agreement for the Taiwan Relations Act could mount a policy challenge for the United States. Given China's increasing strength and Beijing's increasing ability to direct cross-Strait relations, the lack of a proactive posture by the United States in the Taiwan Strait has allowed U.S. influence to be relatively diminished. China's growing strength is also making it increasingly complicated for the United States and Taiwan to maintain a shared strategic view.
Notes
1. "Mainland Will Agree to Cross-strait Military Talks," China Daily, July 30, 2010; "PLA Drops Hint on Cross-strait Missiles? Is it Possible to Go ?" cited in https://www.peopleforum.cn/redirect.php?fid=11&tid=30564&goto=nextnewset.
2. Office of the President of Republic of China (Taiwan), News Release, September 16, 2010; If only M9 and M11 missiles are counted, the number stands around 1,050~1,150 by the end of 2009, Office of the Secretary of Defense, Military and Security Developments Involving the People's Republic of China 2010 August 2010, p. 2; If Chinese cruise missiles deployed against Taiwan are included, the number might jump to 1,300 in 2009, see 2009 National Defense Report: Building an Elite Armed Forces (Taipei: Ministry of National Defense, 2009): 53. Another source in Taiwan indicates that the number of Chinese missiles might reach 2,000 by the end of 2010, see Hsu Shao-hsuan, "PRC's Preparations to Attack Taiwan Accelerate: Report," Taipei Times, July 19, 2010: 1.
3. Secretary Robert Gates' Speech at The 9th IISS Asia Security Summit, The Shangri-La Dialogue, Singapore, June 5, 2010, cited in https://www.iiss.org/conferences/the-shangri-la-dialogue/shangri- a-dialogue-2010/plenary-session-speeches/first-plenary-session/robert-gates/; Ma Liyao and Zhong Nan, "Call for Better China-US Military Ties," China Daily, May 26, 2010.
4. Wallace C. Gregson, "Remarks to the US-Taiwan Business Council Defense Industry Conference," September 28, 2009, www.us-taiwan.org/reports/2009_september28_wallace_gregson_ conference _ keynote.pdf.
5. Mark Stokes, "The Dynamic Aerospace Balance in the Asia-Pacific Region: Implications for Stability in the Taiwan Strait and Beyond," paper presented at an international conference on A Rising Chinese Hegemony and Challenges to the Region, July 19-20, 2010, sponsored by Taiwan Brain Trust, Taipei, Taiwan.
6. "Transcript of Interview with the New York Times and International Herald Tribune," News Release, President Office of the Republic of China (Taiwan), June 18, 2008, cited in https://english.president.gov.tw/Default.aspx?tabid=491&itemid=19226&rmid=2355.
7. Mainland Affairs Council, News Release, No. 46, June 18, 2010, cited in https://www.mac.gov.tw/ct.asp?xItem=85037&ctNode=5649&mp=1.