The PRC's Cautious Stance on the U.S. Indo-Pacific Strategy
Publication: China Brief Volume: 20 Issue: 4
By: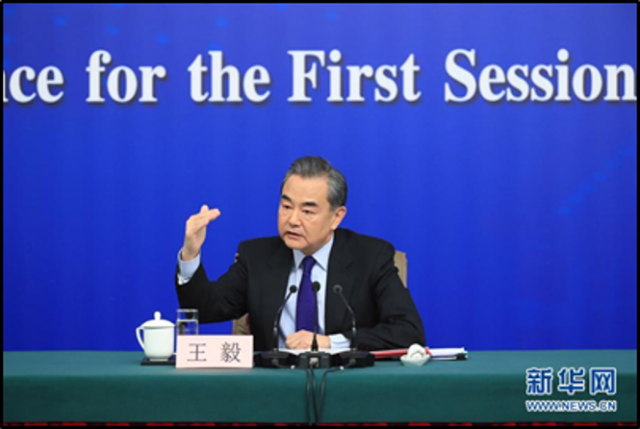 Introduction: Japan and the United States Promote an "Indo-Pacific Strategy"
In June 2019, the U.S. Department of Defense issued a major new policy document, the Indo-Pacific Strategy Report, which asserted that "Inter-state strategic competition, defined by geopolitical rivalry between free and repressive world order visions, is the primary concern for U.S. national security." The document was clear as to which country it identified as the greatest source of strategic concern: "In particular, the People's Republic of China, under the leadership of the Chinese Communist Party, seeks to reorder the region to its advantage by leveraging military modernization, influence operations, and predatory economics to coerce other nations." [1]
This was followed by the U.S. State Department document A Free and Open Indo-Pacific: Advancing a Shared Vision, issued in November 2019. This document stated that "Authoritarian revisionist powers seek to advance their parochial interests at others' expense," and that therefore "the United States is strengthening and deepening partnerships with countries that share our values." [2]
In using such language, the United States is not alone. Japanese Prime Minister (PM) Abe Shinzo has advocated Japan's own "Free and Open Indo-Pacific Strategy," which he has discussed since 2016. This concept emphasizes economic development assistance and infrastructure construction, promotion of the rule of law, and freedom of trade. It particularly emphasizes maritime security and freedom of navigation—which connect directly to the territorial disputes that are a key point of ongoing contention between Japan and China. [3]
The U.S. and its allies have advanced their cooperation on this new "Indo-Pacific Strategy" quietly but steadily: in one notable example, on February 4, the U.S. Department of the Treasury and its Japanese counterpart signed the "Memorandum of Cooperation [MOC] on Strengthening Energy and Infrastructure Finance and Market Building." Brent McIntosh, Under Secretary for International Affairs in the U.S. Department of the Treasury, noted that the MOC is "a testament to our shared commitment to advancing a free and open Indo-Pacific" (U.S. Department of the Treasury, February 4, 2020).
Given that several regional governments—including the United States, Japan, Australia, and India (the so-called "QUAD" group), as well as the Association of Southeast Asian Nations (ASEAN)—have incorporated the term "Indo-Pacific" as a part of their official strategy or policy, the significance of this broad concept will continue to increase in the foreseeable future. Meanwhile, China's reaction to the Indo-Pacific Strategy has been restrained so far, although it is certain that Beijing is closely monitoring it. This article considers the narrative on Indo-Pacific-related affairs in the People's Republic of China (PRC), by focusing primarily on how officials of the Chinese Ministry of Foreign Affairs (MFA) have dealt with the concept, as well as how cooperation among regional states has developed since the latter part of 2017.
MFA's Watchful Attitude Towards the Indo-Pacific Concept
Although the Indo-Pacific Strategy still faces problems of ambiguity as a regional concept and geographical scope, it has become a significant keyword in an evolving and dynamic series of geopolitical developments. These include the U.S.-China, Japan-China, or India-China power struggles; Beijing's Belt and Road Initiative (BRI); and geostrategic competition among regional countries in land, maritime, and other new domains such as space or cyber technology. The heightened momentum for the Indo-Pacific concept from the latter part of 2017 has evoked a reaction from the Chinese government—albeit a restrained one, as Beijing deliberates as to how best to respond in diplomatic terms.
As the Trump administration was set to publish its new version of the National Security Strategy of the United States of America in late 2017—and both Washington and Tokyo had just begun to stress the Indo-Pacific Strategy in collaborative terms—MFA spokesperson Geng Shuang (耿爽) answered four questions on issues related to the Indo-Pacific at a routine press conference in November 2017. Geng's response to a query as to how China perceived the Indo-Pacific Strategy, as proposed by the United States and Japan, did not appear negative at first glance. He referred to a principle that every relevant party is responsible for contributing to "stability and prosperity in the Asia-Pacific." Additionally, he answered a recurrent question from the media, reiterating that regional vision and cooperation should be based on openness and inclusiveness, while "politicized and exclusionary ones should be avoided." When asked whether China believes that it is excluded from the new regional framework, Geng said that relations among regional countries "would not target a third party." In response to another question on the difference and contradictions between the Indo-Pacific and Asia-Pacific concepts, Geng stated that, "be it the Asia-Pacific or others," regional development or cooperation should be achieved in accordance with appropriate trends (MFA, November 13, 2017).
While Geng's comments imply that China has no intention of rejecting the Indo-Pacific concept totally, it represents the PRC government's cautious stance toward it. In particular, Beijing seems to have potential concerns about being excluded or targeted by the United States or Japan. Simultaneously, from the Chinese perspective, the "Asia-Pacific" is preferable to the "Indo-Pacific" as a regional concept. Geng did not refer to the Indo-Pacific: this wary attitude can be attributed to the origin of the term, which was neither coined nor promoted by Beijing, but rather advocated by its strategic rivals Washington and Tokyo.
As with the case of Geng's statement, it appears that Chinese officials are vigilant against using the Indo-Pacific Strategy as a regional concept at any open dialogue, particularly in the presence of foreign audiences. For example, the Indonesian government hosted officials from regional countries, including China, for a "High-Level Dialogue on Indo-Pacific Cooperation" in March 2019. PRC Vice Foreign Minister Kong Xuanyou (孔铉佑) participated in the conference and addressed the participants. Despite the fact that the central theme of the dialogue was the "Indo-Pacific" concept, Kong refrained from referring to the term directly (MFA, March 21, 2019).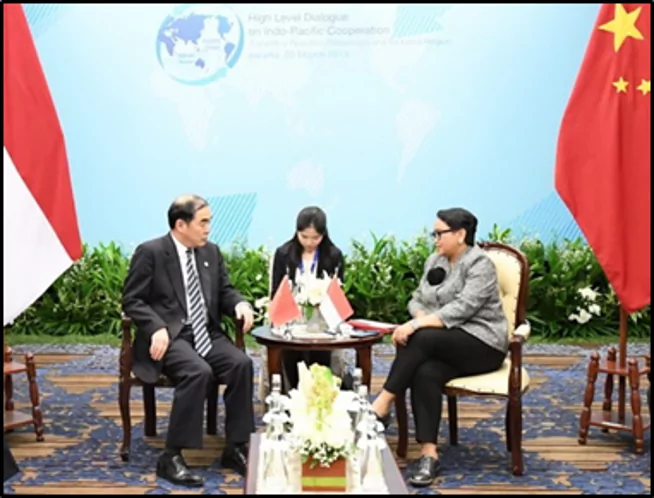 Wang Yi's Remarks on the Indo-Pacific Strategy
Notwithstanding the cautious approach to the Indo-Pacific concept, the PRC has begun to disclose how it considers the idea, and the implications for regional cooperation among countries involved. Specifically, two remarks made on the Indo-Pacific concept by Wang Yi (王毅)—holding the dual posts of PRC State Councilor and Foreign Minister—are remarkable, considering his influence in the government. At a press conference on the sidelines of the First Session of the Thirteenth National People's Congress in March 2018, in response to a question on the Indo-Pacific and the QUAD, Wang said:
It seems there is never a shortage of headline-grabbing ideas. They are like the sea foam in the Pacific or Indian Ocean. They may get some attention, but soon will dissipate. Contrary to the claim made by some academics and media outlets that the "Indo-Pacific Strategy" aims to contain China, the four countries' official position is that it targets no one. I hope they mean what they say, and that their actions will match their rhetoric. Nowadays, stoking a new Cold War is out of sync with the times and inciting block confrontation will find no market (Xinhua, March 8, 2018).
Wang made further related comments when visiting Thailand to participate in the China-ASEAN Foreign Ministers' meeting in July 2019. Responding to a question about his views on the Indo-Pacific concept, he said that ASEAN, which released its own Outlook on the Indo-Pacific document the previous month, played a central role as the core of regional activities. Listing the principles that regional countries should respect, he said: "First, focus on East Asia and Asia, without affecting the existing cooperation mechanisms and achievements in the region; second, focus on cooperation and consensus, without engaging in geographic confrontation and games; third, focus on openness and inclusiveness, without forming factions or seeking small cliques." He added that the principles and ideas of ASEAN's vision for regional cooperation are consistent with those of China (MFA, July 31, 2019). The discourse by Wang highlights two features of Chinese thinking: first, it should be alert on the Indo-Pacific Strategy amid concerns of being excluded or treated as a target by the United States and its partners; and second (and conversely), the collective initiative likely lacks the clarity and impetus necessary to become an enduring concept.
Beijing's Cautious Pessimism About the Indo-Pacific Strategy
The first feature is Beijing's suspicion of the potential risk the Indo-Pacific Strategy would contain. In China, the Indo-Pacific Strategy advanced proactively by the U.S. and its allies is viewed principally as a countermeasure to undermine the BRI, and to weaken China's growing influence. Vice-Foreign Minister Le Yucheng (乐玉成) has stated that China welcomes regional initiatives, but also added that "What we are firmly against is attempts to use the Indo-Pacific strategy as a tool to counter the BRI or even contain China" (MFA, September 26, 2018). In addition, during an interview with the French media, PRC Ambassador to France Lu Shaye (卢沙野) expressed concerns regarding the Indo-Pacific Strategy on grounds that the initiative was originally proposed by Washington in order to compete with Beijing (MFA, December 12, 2019).
Beijing also views the Indo-Pacific Strategy as an example of Washington's power politics, which are intended to impede Beijing's relationship with neighboring countries. In response to comments by U.S. Secretary of Defense Mark Esper that China is disturbing the Indo-Pacific region by its own deeds, MFA spokesperson Hua Chunying (华春莹) refuted the allegation, and further maintained that "For a long time the U.S. has been grossly interfering in the affairs of regional countries in the Asia Pacific. Politically, it has tried to drive a wedge between them by promoting the so-called 'Indo-Pacific strategy'" (MFA, August 5, 2019).
Retired diplomat Wu Zhenglong (吴正龙), former ambassador to Croatia, believes that the objective of Washington's Indo-Pacific Strategy is to contain China's rise and offset its influence by consolidating the status of U.S. hegemony. However, he also asserts that solidarity among QUAD members is not strong enough for going ahead with the Indo-Pacific Strategy in concert (Huanqiu, July 20, 2018). The PLA Daily shares a similar viewpoint: just after the U.S. Department of Defense issued the Indo-Pacific Strategy Report in June 2019, the newspaper stated that the United States would find it difficult to advance the strategy, as regional countries, including U.S. allies, are not sure of Washington's intentions; furthermore, they are concerned that the new strategy could bring regional instability in its aftermath. Thus, these countries are likely to be hesitant to follow the U.S. lead, and to work with each other (PLA Daily, June 13, 2019).
A report on the Indo-Pacific Strategy published by a Chinese think-tank, the Institute for China-America Studies, echoes these views. It claims that the Indo-Pacific Strategy, aimed at containing China, will face tough challenges: not only because domestic burdens in Washington will impact the Indo-Pacific Strategy, but also because the United States and its allies will not function well together, pursuing individual interests rather than collective gains. This analysis concludes that the impact of the Indo-Pacific Strategy will be limited, to the extent that China can smoothly proceed with the BRI and develop its diplomatic ties with regional countries (The Institute for China-America Studies, October 2019). From the Chinese point of view, the Indo-Pacific Strategy is not a sustainable concept in the long term.
Conclusion
The Indo-Pacific Strategy as a regional concept has become widespread among many countries, and PRC diplomats have clearly noticed the narrative. Might China also decide to officially adopt such a regional idea? While it seems unlikely in the short-term, Beijing may discover that the Indo-Pacific as a regional concept prevails more widely and deeply among regional countries than the terms "Asia-Pacific" or "East Asia," which Beijing prefers to use. If the Indo-Pacific concept supported by the United States and Japan gains further traction, it will be necessary for China to address the Indo-Pacific concept more seriously in the future.
YAMAZAKI Amane is a Research Fellow at Aoyama Gakuin University (AGU), and a former Research Fellow at the Japan Institute of International Affairs (JIIA). He received his M.A. in International Politics from the AGU, and expects to earn a PhD in International Politics from the AGU in spring 2020. His main research fields are Chinese diplomacy, security issues in the Indo-Pacific region, and international relations theory.
Notes
[1] U.S. Department of Defense, Indo-Pacific Strategy Report: Preparedness, Partnerships, and Promoting a Networked Region (July 1, 2019), introductory preamble by Acting U.S. Secretary of Defense Patrick Shanahan. https://media.defense.gov/2019/Jul/01/2002152311/-1/-1/1/DEPARTMENT-OF-DEFENSE-INDO-PACIFIC-STRATEGY-REPORT-2019.PDF.
[2] U.S. State Department, A Free and Open Indo-Pacific: Advancing a Shared Vision (November 2019), pp. 5-6. https://www.state.gov/wp-content/uploads/2019/11/Free-and-Open-Indo-Pacific-4Nov2019.pdf.
[3] Japan Ministry of Foreign Affairs, Towards Free and Open Indo-Pacific (November 2019). https://www.mofa.go.jp/files/000407643.pdf.