The Russian Security Services—The Prime Murder Suspect
Publication: Eurasia Daily Monitor Volume: 6 Issue: 14
By: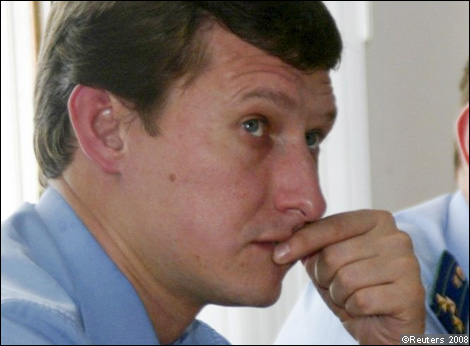 On Monday, January 19, at around 3:00 P.M., a Novaya Gazeta reporter Anastasiya Baburova, 25, and a prominent human rights lawyer Stanislav Markelov, 34, were shot in the head in a Moscow street some half a mile from the Kremlin by a masked gunman with a silencer-fitted pistol. Baburova and Markelov were walking together toward a metro station after a press conference at which Markelov had criticized the early release on January 15 of former Russian Colonel Yuri Budanov, a tank commander convicted and imprisoned in 2003 on charges of murdering a young Chechen girl named Elza Kungayeva in 2000. Markelov represented the Kungayeva family and was planning to appeal Budanov's release. According to the Moscow police, information retrieved from closed circuit TV cameras installed in the street indicates that the gunman followed Baburova and Markelov from the press conference venue before crossing the street and catching up wit them for the hit. Markelov was killed immediately; Baburova died several hours later in a Moscow hospital (Interfax, January 19; Itar-Tass, January 20; Kommersant, January 20; Novaya Gazeta, January 21).
Markelov had received threats in connection with the Budanov case. He had also represented Mikhail Beketov, the editor of the pro-opposition newspaper Khimkinskaya Pravda, who was severely beaten in Khimki last November, as well as the families of many Chechen civilians who had disappeared or were tortured. Markelov had also defended Novaya Gazeta reporter Anna Politkovskaya, who was gunned down in Moscow in 2006.
Baburova was a student of journalism at Moscow State University and since October had been a freelance journalist at Novaya Gazeta, investigating the activities of neo-Nazi groups in Russia. Before becoming a professional journalist, Baburova was a political activist who took part in Other Russia anti-regime protest marches. Baburova was the fourth Novaya Gazeta journalist killed since 2000 (Kommersant, January 20; Novaya Gazeta, January 21).
Budanov has announced that he had nothing to do with the murder. Investigators from the Moscow department of the Investigation Committee of the Prosecutor General's Office believe Markelov's murder was well-planned and connected to his human-rights activities. According to the investigators, Baburova may also have been intentionally targeted. Hundreds of people in Moscow and other Russian cities have publicly expressed their solidarity and outrage after the murder. Pro-Moscow Chechen President Ramzan Kadyrov posthumously awarded Markelov with a medal for his "merits to the Chechen republic" (Itar-Tass, January 20; Novaya Gazeta, January 21). Kadyrov has been accused of complicity in the killing of prominent Chechens as well as being connected with the Politkovskaya murder. Apparently, this time he wanted to stress his innocence publicly.
In the opinion of the Novaya Gazeta staff, of which I am a member, the Russian security services or rogue elements within these services are the prime suspects in the murders of Baburova and Markelov. The boldness of the attack by a single gunman in broad daylight in the center of Moscow required professional preliminary planning and surveillance that would necessitate the security services, which closely control that particular neighborhood, turning a blind eye. The use of a gun with a silencer does not fit with the usual pattern of murders by nationalist neo-Nazi youth groups in Russia, which use homemade explosives, knifes, and group assaults to beat up and stab opponents to death.
The offices of Russia's rulers President Dmitry Medvedev and Prime Minister Vladimir Putin have not issued any statements expressing indignation or offering any condolences after the two murders. This follows the usual behavioral pattern of the authoritarian Putin regime when its critics are murdered in cold blood. During the funeral of Politkovskaya in October 2006, there was not one prominent figure from the Kremlin or government and no one acting as an official representative of President Putin to offer condolences or lay a wreath. Instead, Putin publicly declared that Politkovskaya was "extremely insignificant, well-known only in the West" and claimed that the foreign enemies of Russia had planned her murder "to create a wave of anti-Russian sentiment internationally" (see EDM, October 11, 2006). Today again, Putin and Medvedev have not publicly sided with the victims of a terrorist assault in the center of Moscow, apparently since the victims are opponents of regime.
Novaya Gazeta extremely irritates Putin and his cohorts, who on numerous occasions have personally expressed their anger. In recent months, as social tension has been growing in Russia with the economic crisis crippling the nation, the circulation of Novaya Gazeta has grown significantly. At present, we have three issues a week and sell some 270,000 copies an issue, making us the most prominent opposition newspaper in Russia and a prime Kremlin target. As the crisis in Russia deepens, the pressure on human-rights critics of the regime and opposition journalists may increase. The regime will increasingly hobble its critics, and the suppression of the opposition may become more violent. The law in Russia does not protect us; we may be gunned down with impunity.