The Russian-Ukrainian Conflict Could Be Escalating
Publication: Eurasia Daily Monitor Volume: 14 Issue: 96
By: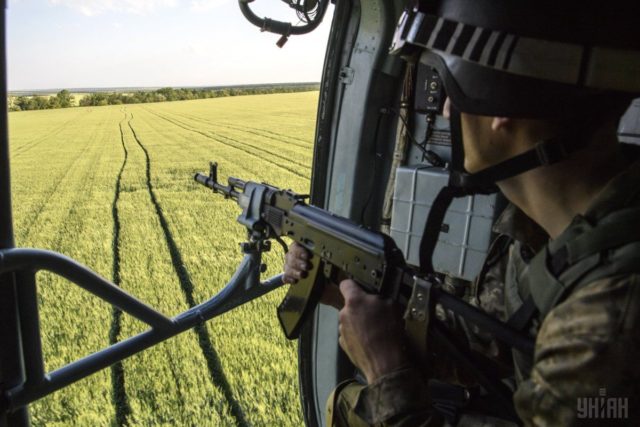 This week (July 18), Alexander Zakharchenko, the Russia-backed leader of the self-proclaimed and Moscow-supported "Donetsk People's Republic" (DPR), declared that a new state—"Malorossia" or "Little Russia"—must be created to replace the present Ukrainian "failed state." According to Zakharchenko, the regime in Kyiv has failed, and the only way to stop the conflict in Donbas and to maintain Ukrainian territorial unity is to reinvigorate the failed state as a federalized Malorossia that will have two official languages—Russian and "Malorossian" (Ukrainian). This new country would then become part of a joint union state with Russia and Belarus "while continuing to be independent and sovereign." All attempts to join the North Atlantic Treaty Organization (NATO) or the European Union would be repudiated by the new Malorossia government. The capital of the new state would be Donetsk instead of Kyiv. Selected delegates from different regions of Ukraine will be gathered to form a constitutional assembly to inaugurate Malorossia (RIA Novosti, July 18).
The Malorossia declaration by Zakharchenko was condemned in Kyiv and in the West for undermining the Minsk Two (signed in February 2015) roadmap to peace in Donbas. France and Germany called on Russia to condemn the Malorossia project as "unacceptable" and to concentrate on implementing the Minsk Two protocols. The initial reaction in Moscow was mixed. The Russian representative in the Minsk "Contact Group"—Boris Grizlov, an old-time Kremlin insider from St. Petersburg—told reporters the Malorossia initiative "does not comply with the Minsk process and could be treated as a discussion point as part of information warfare and a reaction to provocative statements coming from Kyiv." Some Russian parliamentarians supported Zakharchenko, while others expressed doubts, insisting the Malorossia idea is "impractical and badly thought through." Within the Russian-controlled part of Donbas, different pro-Russia separatist leaders also expressed misgivings about Malorossia (RIA Novosti, July 18).
An opinion seems to have formed in the Russian media that Zakharchenko is a crazy separatist, who does not really know what he is talking about and has embarrassed the Russian authorities by publicly undermining the Minsk Two protocols, which Russia officially supports (Kommersant, July 20). Ukrainian observers insisted the Malorossia plan was a "provocation" invented in the Kremlin—it was a way for Zakharchenko and the Russia-backed rebels in Donbas to remind the West about their existence and possibly instigate some Western pressure on the Ukrainian authorities to make concessions. Ukrainian experts seem to believe the provocative statement by Zakharchenko about a fictitious Malorossia cannot be a prelude to a serious escalation in the Donbas fighting, "since this would destroy the Russian diplomatic game of portraying Kyiv as the bad guy that is failing to implement Minsk Two" (Segodnya.ua, July 18).
The situation has turned out to be more complicated, however. President Vladimir Putin's aide Vladislav Surkov is the Kremlin's point man on everything concerning Ukraine. He is a true decision maker (together with Putin), unlike Grizlov or any Russian parliamentarians. On July 19, he was reported to have actually supported Zakharchenko at a meeting with experts in the Kremlin. Surkov reportedly said, "All this hype about the fantasy Malorossia state is good—it emphasizes that Donbas is fighting not to separate from Ukraine but for its territorial integrity, for all of Ukraine and not for a part. There is a civil war in Ukraine between forces that see its future differently: Kyiv wants a pro-European utopia, Donbas replies with the idea of Malorossia" (RIA Novosti, July 19).
Surkov's spin of the Malorossia idea seems to be more than just a way to cover up the embarrassment of a faulty move by Zakharchenko. It is in line with the Kremlin's longstanding strategic goal to take back all of Ukraine under Russian domination as part of the so-called "Russkiy Mir" ("Russian World"). In essence, Zakharchenko followed up with what the Kremlin has been seeking to obtain all along. Speaking to reporters in Hamburg this month, after meeting President Donald Trump during the G20 summit, Putin once again insisted: "I am absolutely sure the interests of Ukraine and Russia, of the Ukrainian and Russian people fully match, but the interests of Ukrainian leaders and some political forces in Ukraine are different." Putin accused the Ukrainian leadership of deliberately trying to separate the Ukrainian and Russian people and states, which need and want to be together to jointly develop and build a future. Putin accused Ukraine's leaders of "trading in Russophobia" to please the West, which appears intent not to allow Russia and Ukraine to move any closer, at any cost. "I believe this situation will end eventually, and we are interested in it ending as soon as possible," continued Putin (Kremlin.ru, July 8).
The fighting in Donbas has been increasing after the Putin-Trump summit. According to the Organization for Security and Cooperation in Europe's (OSCE) special observer mission in Donbas, there has been a 20 percent increase in ceasefire violations in the week after the G20 summit (Militarynews.ru, July 18). According to official Ukrainian military sources, on July 19 alone, nine Ukrainian soldiers were killed and five more wounded in renewed clashes along the eastern frontline. These losses seem to indicate a dramatic increase in violence (Militarynews.ru, July 20).
Meanwhile, the cost of keeping part of Donbas as a Russia-controlled enclave is growing for Moscow, as the fighting continues to simmer while its social and economic infrastructure degrades. But the Kremlin does not need a "frozen conflict" in Donbas with an ever-growing price tag, when the real goal is to take and "integrate" the entirety (or most) of Ukraine. According to Putin, the true enemy is the regime in Kyiv and its Western backers. And it seems increasingly unlikely that these enemies can be defeated by Russia simply maintaining the status quo in eastern Ukraine, instead of going all in to end "this situation as soon as possible," to quote Putin (Kremlin.ru, July 8).