The Russian 'Withdrawal' and Putin's Brilliant Deception in Syria
Publication: Eurasia Daily Monitor Volume: 13 Issue: 53
By: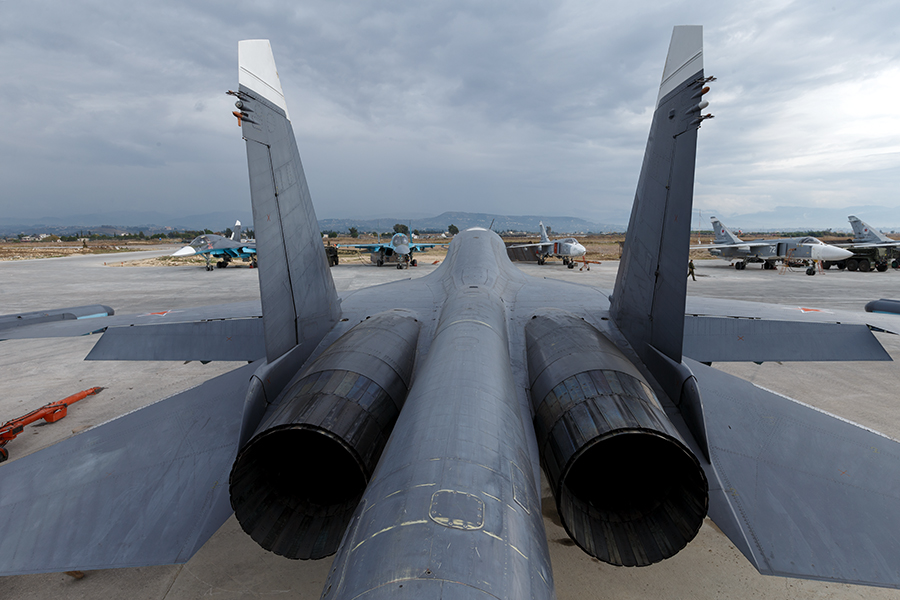 In a surprise move, Monday (March 14), President Vladimir Putin announced the Russian military mission in Syria was "mostly accomplished" and ordered an immediate withdrawal of "most of our forces" (see EDM, March 15). The partial withdrawal was announced during a late evening meeting, at the Kremlin, with Defense Minister Sergei Shoigu and Foreign Minister Sergei Lavrov. Despite the announced pullout, the Russian airbase Hmeymim near the coastal Syrian city of Latakia and the naval base in Tartus will continue to be manned by Russian troops and "steadfastly defended on land, air and sea." According to Putin, these Russian bases "have traditionally been in Syria for many years and will be used to facilitate the peace process and control the ceasefire," in place since February 27, while United Nations–sponsored peace talks are planned to begin this week, in Geneva (Kremlin.ru, March 14).
The Russian naval maintenance and supply base in Tartus has, indeed, been in Syria since 1971. But an agreement with the regime of Bashar al-Assad to establish the Hmeymim airbase was signed only at the end of last August, and it became fully operational in late September, when Russian combat jets and helicopters were deployed there under the cover of the "Tsentr 2015" large-scale Russian military maneuvers. According to Shoigu, Russian jet flew "more than 9,000 combat sorties in Syria since September 30, and Russia for the first time performed massive attacks using sea- and air-based long-range cruise missiles." The "terrorists" in Syria have suffered heavy losses, according to the defense minister, while the Syrian army of President al-Assad has been advancing, "liberating towns and villages" (Kremlin.ru, March 14).
With the ceasefire, the Russian bomber force based in Hmeymim has decreased its bombing raids. It would seem reasonable to withdraw the attack jets from the overcrowded Hmeymim base back to Russia to allow the pilots and ground maintenance crews to rest and rejoin their families, while the jets receive good quality maintenance on Russia's home turf instead of idly sitting in Syria during the spring season of rains and storms. In a brilliant tactical move, Putin seems to have turned a reasonable military move to cut forward air force deployment in response to a cessation of hostilities into a major strategic deception ploy by making the global community believe he is actually withdrawing from Syria.
Sources in the defense ministry have told journalists that the withdrawal of the "main part" of Russian attack jets will be complete by March 20 (Interfax, March 15). This was later echoed by the commander-in-chief of the Russian Air Force, Colonel General Viktor Bondarev: "The withdrawal will be swiftly concluded in a couple of days." The attack jets are being flown back to their home bases by pilots flying over Iraq, Iran and the Caspian Sea. If not carrying ordinance and with additional fuel tanks, this trip can be done without refueling (Russian tactical jets practically never perform midair refueling, and many of Russia's military aircraft lack the capability). Some of the helicopters deployed in Hmeymim will be transported to Russia by military transport jets, according to Bondarev (Kp.ru, March 17).
The swiftness of the Russian drawdown is a clear indication that the "main part" of the Russian contingent in Syria—that is, the personnel and heavy equipment—is staying behind. But a sizable part of its firepower—the attack jets—are being withdrawn. The Russian marines, T-90 tanks and armor guarding the bases, and antiaircraft missiles, including the long-range S-400 Triumf systems, will stay. Crews operating Russian drones in Syria are also not being pulled out. Apparently, Russia's naval task force deployed off the Syrian coast, a squadron of fighter-bombers and some helicopters will also stay, together with supplies of heavy equipment, fuel and ordinance (Kommersant, March 15). Russian attack jets may, of course, be swiftly redeployed to Syria anytime, if needed.
Up to 700 Russian military personnel have been decorated for actions in Syria. On March 17, at a reception in the Kremlin for servicemen involved in the Syria bombing campaign, Putin announced: "After the ceasefire, was agreed the number of attack sorties decreased from 60–80 to 20–30 per day. Our previously deployed task force became disproportionate to the task and, in agreement with al-Assad, we decided to withdraw a substantial part." Putin recommitted to full support for al-Assad, who will be supplied with additional military equipment, while the Russian antiaircraft S-400 and Pantsyr missile crews will be deployed to Hmeymim in full battle readiness to "destroy any aircraft considered threatening." The Russian military will be helping al-Assad's forces to plan operations, will supply them with intelligence and continue attack sorties by jets that will be left in Hmeymim. Putin added: "If need be, we can reinforce [Russian bases] in Syria in several hours to meet any threat, using all our arsenal" (Kremlin.ru, March 17).
Putin put the cost of the Syrian operation at 33 billion rubles (some $500 million), but added that the cost will still rise as used equipment, ordinance and supplies (including such high-cost items as long-range cruise missiles) are replaced. Yet, Putin implied the costs were worth taking: "Only in real battle could we test our capabilities. It is better to use up resources fighting than training." Putin believes Russia's security is stronger today: "If we did not do it [go into Syria] we would have paid a bigger price later" (Kremlin.ru, March 17).
Putin emphasized the importance of "establishing a constructive relationship with the United States" over Syria (Kremlin.ru, March 17). Russia is today unready to take on the West in an all-out confrontation, when its budget and economy is under pressure and its strategic rearmament program has not yet achieved its major goals. By cutting back its bombing in Syria in agreement with Washington and publicly announcing a "Syrian withdrawal," Moscow may hope to be rewarded with much-needed sanctions relief, while keeping its hands free to resume massive bombing. Putin did not abandon al-Assad, but apparently he hopes to induce Washington to further modify the US position on regime change in Syria and keep up the pressure on the Syrian opposition and its regional supporters by the threat of redeployment and resumed massive attacks. At the same time, the immediate costs of the Syrian deployment have been cut by the partial withdrawal, while Putin's critics abroad and at home have been disorientated and discouraged by the pullout propaganda blitz.