Putin the 'Peacemaker' Ends Operations in Syria
Publication: Eurasia Daily Monitor Volume: 13 Issue: 51
By: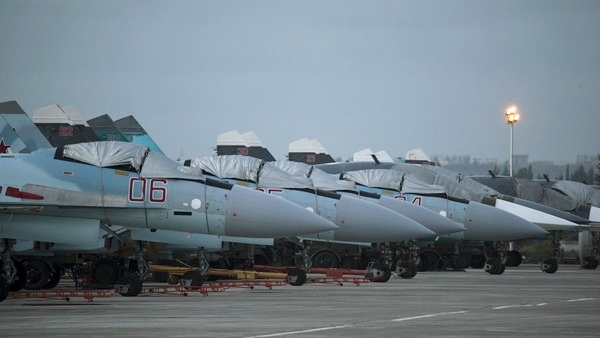 On March 14, President Vladimir Putin unexpectedly announced his order to commence withdrawing the main element of Russia's military deployment in Syria. Justifying the decision, Putin said that most of the objectives in the air operations in Syria were achieved and on this basis he chose to bring the operation to an end. However, Putin also told Defense Minister Sergei Shoigu that Russia's logistics base in Tartus and its Hmeymim airbase will operate "as usual," adding, "They should be protected from land, sea and air." The residual Russian military presence, evidently including air defense assets, will be tasked with monitoring the ceasefire (Kommersant, March 14, 15).
Putin ordered the process to commence on March 15. He explained that Moscow had deployed a "small" but "efficient" military grouping that, together with its partners, including the regime of Syrian President Bashar al-Assad, had created the conditions to start a "peace process." Shoigu reported on the achievements of the Aerospace Forces (Vozdushno Kosmicheskikh Sil—VKS) during their Syria campaign, which began on September 30, 2015. Shoigu stated that the VKS had killed more than 2,000 militants recruited from Russia, including 17 warlords. The VKS flew more than 9,000 sorties using precision weapons, with targets including energy infrastructure, weapons and supply routes. Russian bombers assisted in reclaiming 400 settlements and 10,000 square kilometers of Syrian territory. Furthermore, Russian aircraft destroyed 209 Syrian oil facilities and over 2,000 means of delivery of petroleum products. Shoigu said the Russian military is currently monitoring ceasefire observance using unmanned aerial vehicles (UAV) and satellite reconnaissance. He passed over the VKS's role in smashing the anti-Assad opposition (TASS, March 14).
Timed to coincide with the resumption of talks in Geneva, and consistent with a recent switch to a "peace offensive," Putin's speech boldly proclaimed that Russia's Armed Forces had contributed positively to the conflict in Syria and would retain a long-term footprint in the country. Indeed, military and defense commentary in the media had focused on the complex cessation of hostilities, Moscow's role in this, as well as the delivery of humanitarian aid through Hmeymim. Moreover, Kommersant, which carried Putin's announcement, followed it up with positive assessments of the high level of professionalism of the VKS forces in the Syria operation. Such comments quickly made favorable comparisons between the VKS's performance and that of US or North Atlantic Treaty Organization (NATO) aircraft involved in bombing missions in Syria. It also highlighted intelligence cooperation between Moscow and Damascus (Kommersant, March 14; Nezavisimoye Voyennoye Obozreniye, Lenta.ru, March 11).
Russian media coverage of Moscow's involvement in Syria had changed its emphasis away from the military dimension to the diplomatic efforts to end the civil war. However, despite the apparent pseudo ceasefire, which seemed uncertain, attention was given to VKS's close air support (CAS) in the "battle of Palmyra." These reports stressed that the VKS, using mainly helicopter assets, was playing a critical role in providing CAS for Syrian Arab Army (SAA) special forces in their operations in Palmyra. Video footage showed VKS Mi-24s in action against strategic targets above that city, while the SAA conducted artillery bombardments lasting several hours—all conducted under the existing ceasefire. Reportedly, these operations involved Hezbollah and Iranian special forces (Rusvesna.su, March 11; Ekspert, March 10).
While such operations were pursued in the aftermath of the ceasefire, the Russian defense ministry began reporting ceasefire violations as though its forces were somehow abstract from the entire situation. The VKS CAS for the SAA and friendly militias continued with the operations in Palmyra even while Putin was making his announcement about the partial withdrawal (Interfax, March 14; Vesti, March 10; Vedomosti, March 8). What was immediately clear, however, is that Russia's military presence in Syria will also persist in the future, most likely maintaining a relatively small footprint. In addition to its airbase in Latakia and naval depot in Tartus—the latter transitioning to a formalized naval logistics base—Moscow will also keep its "naval grouping" operating in the Mediterranean Sea. The Russian Navy recently staged simultaneous naval exercises in the Caspian Sea and Mediterranean Sea to test a range of capabilities; the Caspian Flotilla training exercise involved 1,000 servicemen and 30 vessels, preparing for launch, using air defense systems and responding to emergency situations. According to the press service of the Northern Fleet, the antisubmarine ship Vice Admiral Kulakov trained in the Mediterranean Sea, rehearsing antisubmarine operations. An official statement said that the ship will "monitor the airborne, surface and subsurface situation on the Mediterranean Sea," and train for rescue operations (Interfax, March 11).
The Russian media frequently refers to a "group of 15 ships" deployed to the Mediterranean Sea in support of Moscow's operations in Syria. Some analysts have sought to itemize this deployment, understand its purpose and characterize the overall mission, while noting the strange mixture of naval assets. The bulk of the group, which is somewhat smaller and has functioned in the vicinity since late 2012, is supplied by the Black Sea Fleet (BSF), augmented by assets drawn from other fleets and auxiliary vessels. It seems the naval grouping largely consists of patrol, antisubmarine and amphibious landing ships (empty) in a triangle between Cyprus, Rhodes, and Crete and off the Turkish coast. Its core mission was to facilitate supplies to Syria for the VKS operation. This group includes: Vice Admiral Kulakov (Northern Fleet) off the coast of Syria, the Varyag missile cruiser (Pacific Fleet; overhauled in the spring of 2015, replacing the Moskva in the Mediterranean Sea as the group's flagship), Zeleny Dol Buyan-M class missile corvette (entered service in December 2015, and joined the grouping in February), as well as the Ladnyyi patrol vessel (BSF) near Cyprus. Moreover, at least the following BSF landing ships are also located off the Turkish coast: Azov (refitted engine in January), Yamal, Nikolai Phylchenkov, Saratov (one of the oldest in the Navy) and Novocherkask (entered service in 2007) (Shilipov.com, March 6; Sergiscorp, Livejournal, March 2).
Russia's smaller military footprint in Syria will endure long past the grueling peace process. Putin's decision to deploy and later end the deployment, however, is seen in Moscow as a political-military success. It lays to rest the ghost of Afghanistan and increases the future likelihood that Russian forces will again deploy out-of-area in Russia's national interest. Putin has shown that he not only understands when to use military force, but also when to bring this to an end, which puts his use of hard power closer to the classical thinking of Carl von Clausewitz than any model of "hybrid warfare" would imply.