Turkmenistan Tightens Its Regime Ahead of Difficult Times
Publication: Eurasia Daily Monitor Volume: 13 Issue: 51
By: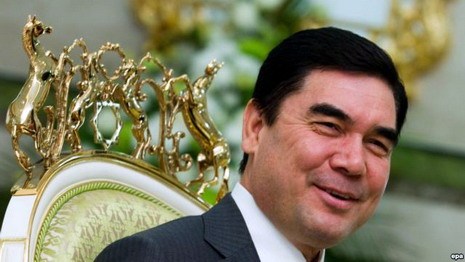 President of Turkmenistan Gurbanguly Berdimuhamedov has repeatedly reshuffled his government over the last several weeks. At a meeting of the State Security Council, in early March, he relieved from their positions the head of the security services, Lieutenant General Guychgeldy Hodzhaberdyev, and the long-serving commander of the state border service, Colonel Dovrangeldi Bayramov (Turkmenistan.ru, March 2). These reshuffles just moved several figures of the security services around, but a preceding inspection by the general attorney of the state agencies led to a dismissal of several second-tier officials (a head of the certification committee, the head of statistics and the head of the hydrometeorology committee). President Berdimuhamedov also decided to merge the state drugs control committee (a committee for securing a healthy society) with the Ministry of Interior. While saying he was generally satisfied with the work of Turkmenistan's security agencies, the president pointedly reprimanded the head of the taxation service and the deputy minister of interior for their inefficient control over the registration of residents of Ashgabat (Chronika Turkmenistana, February 29–March 6).
Although there are concerns about the level of security on the border with Afghanistan, Turkmenistan's security services seem to exhibit more anxiety about the domestic order inside the republic. The security apparatus continues to monitor and react to any public fluctuations, particularly as the economy experiences a slowdown (Uznews.com, March 2). With a drastic reduction in state revenues from the sale of gas, Turkmenistan is tightening the budget and cutting down on generous subsidies (see EDM, September 30, 2015). At the same time, the authorities' grip on society remains severe. Turkmenistan is planning to host the Asian Winter Olympic Games in 2017, and the government announced strict measures to ensure the capital of the country is free of illegal residents, mainly from rural areas. Following the presidential decree, signed in February 2016, on the registration of internal labor migrants who come to work in Ashgabat, the security services have begun inspecting private apartments, deporting hundreds of illegal residents from the capital, as well as freezing construction sites and some foreign companies' activities that employ many of these rural migrants (Chrono-tm.org, February 22).
The ongoing constitutional reform in Turkmenistan (which started back in 2014) also does not imply any coming liberalization. This past February, the state media reported that the president had approved a new draft constitution for "public discussion." Although a published draft envisages a multiparty system, political diversity, the establishment of a human rights institute and the development of civil society (particularly, youth rights), its main proposal is to abolish the previous upper age limit of 70 years for presidential candidates and allow President Berdimuhamedov to remain in office for life (Central Asia News, February 16; Deutsche Welle, March 3). There are already no limitations on how many times the same person may be elected head of state, and the presidential term is now proposed to be extended from five to seven years (Iphronline.org, March 2016).
A recent Chatham House report (Chathamhouse.org, March 2016) concludes that Turkmenistan is less likely to embrace meaningful political, economic and social reforms as long as the authorities are able to meet societal aspirations and control dissent by the centralization of power and control of revenues from hydrocarbons exports. Pervasive security services and patronage networks, as well as domestic and foreign policy–making in Turkmenistan are primarily aimed at regime self-preservation, the report argues. Little or no possibility exists for large-scale popular unrest, as middle class and intellectual elites remain scarce due to the country's overall poor quality of education and low levels of urbanization (Gundogar, March 9).
Although the regime looks strong and confident, with presidential rule being enforced and extended and the security apparatus strictly controlled from above, Turkmenistan's actual domestic stability remains an open question, mainly because of continuing economic challenges. The hydrocarbon sector in Turkmenistan accounts for about 35 percent of the country's GDP, 90 percent of exports, and 80 percent of fiscal revenues. And as the 2015 World Bank report states, a decline in demand for Turkmenistan's hydrocarbon exports is a key risk to this Central Asian republic's growth projections (Worldbank.org, April 2015).
Turkmenistan is short of export options and cash. This year, Russia's Gazprom decreased gas purchases from Turkmenistan from 20 to 4 billion cubic meters. And in mid-March, Gazprom declared it would again suspend its purchases of natural gas from Turkmenistan until a bilateral pricing dispute is settled (Interfax, March 14). Russian Foreign Minister Sergei Lavrov, who visited Ashgabat earlier this year, attempted to address the gas issue. But gas sales remain an unresolved topic, and they could be taken up again in Berdimuhamedov's conversations with President Vladimir Putin when he visits Turkmenistan later this year (Rg.ru, January 28, 2016). Meanwhile, according to experts, Turkmenistan's revenues from gas deliveries to China are used to repay multibillion-dollar debts to Beijing. Even exports to Iran are paid by goods and services, according to an article in Gundogar (Gundogar, February 8, 2016). Turkmenistan has recently completed the East–West gas pipeline, which initially was designed to increase gas deliveries to Russia. The pipeline will mainly be supplied from the Galkynysh Gas Field, the world's second-largest gas deposit. This mega-field can also be used to supply gas to Azerbaijan and further to Europe through the Trans-Caspian Gas Pipeline, if this project ever become a reality. Finally, Galkynysh gas may also fill the planned Turkmenistan–Afghanistan–Pakistan–India (TAPI) pipeline project. But these infrastructure projects, even if they ultimately turn out to be successful, will take a long time to implement and even longer before they become profitable.
With its "neutral" foreign policy and increasing energy competition with Russia and Iran, Turkmenistan's main cushions against hard times are its "pervasive" security agencies and $22 billion in accumulated reserves (Photius.com, accessed March 15). As most international observers conclude, there is a reluctance (and probably a low capacity) to look for more sustainable decisions or to implement market-oriented reforms in this isolated country.