The Second Karabakh War and Georgia's Threatened Transit Role
Publication: Eurasia Daily Monitor Volume: 18 Issue: 26
By: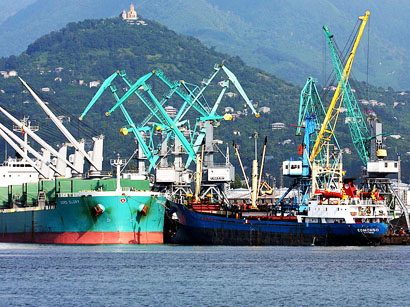 The aftermath of the second Armenian-Azerbaijani war in Karabakh (September 29–November 9, 2020) initiated new geopolitical and geo-economic adjustments for the South Caucasus, including possible competition between existing and prospective transit routes in the region. This competition is expected to be entwined with significant political factors. The Georgian foreign ministry reaffirmed earlier this month (Mfa.gov.ge, February 2) that Tbilisi would not participate in the six-country (Azerbaijan, Armenia, Georgia, Russia, Turkey, Iran) regional "3+3" cooperation platform, proposed by President Recep Tayyip Erdoğan of Turkey (Hurriyet Daily News, December 11, 2020), because of the presence of Russia in this format. The suggested composition most likely aims to supplant the West as a player from the region, so Euro-Atlantic aspirant Georgia's refusal to participate is, thus, quite understandable—despite warnings from some pundits that full a disengagement from the 3+3 grouping might entail political and economic risks (Newspress, December 24, 2020).
The construction of new railway and road transport corridors across the region, combined with the restoration of preexisting routes long abandoned because of the Karabakh conflict (as provided for by the January 11, 2021, trilateral agreement between Russia, Armenia and Azerbaijan—see EDM, January 12) promises a new transit reality for the Caucasus and beyond. Namely, heretofore-isolated Armenia will be able to acquire a transit function, while Azerbaijan will have the opportunity to further diversify its transport connections with global markets (Vzglyad, January 26, 30). But Georgian experts are divided on the extent to which Georgia's regional transit role may be undermined by these anticipated postwar realities.
Some of these analysts believe the concerns have been exaggerated, arguing that the new transit corridors cannot compete with routes already developed across Georgia. They argue, first of all, that a restored Kars–Gyumri–Nakhchivan–Baku transport corridor cannot challenge or replace the Baku–Tbilisi–Kars (BTK) regional rail link, launched and in use for trans-Eurasian trade since 2017. Moreover, they consider groundless the apprehensions that projected new natural gas and oil pipelines from Azerbaijan to Turkey might undermine Georgia's transit function in the energy sphere. The Southern Gas Corridor—whose easternmost link, the South Caucasus Pipeline, crosses via Georgia—remains unchallenged for the foreseeable future and may in fact be expanded over the coming years (see EDM, January 19, 27).
Nonetheless, other Georgian experts contend that their country's continued value as a transit country may become degraded over the longer term if Armenia succeeds in developing reliable railway links with Iran and Turkey and intercepts part of the freight currently traveling across Georgia. Pessimistic local experts also predict that Georgian seaports (especially Batumi and Poti) might lose some of the containerized cargo shipments flowing westward from China if carriers opt to stop at the closer and economically more profitable Bandar Abbas seaport in Iran.
Russia plays one of the key roles in designing the new transit architecture in the region. Almost certainly it was Moscow that prompted the de facto authorities of Georgia's secessionist region of Abkhazia to rekindle the long-dormant issue of reopening the Abkhazian section of the north-south railway line that once connected Russia with Armenia (via Georgia) (see EDM, November 12, 2012). Tbilisi understandably remains skeptical of this offer, not only because of the minimal economic benefit it would bring but also due to the project's potential to spoil relations with Armenia's main regional rival, Azerbaijan (Jam-News, January 14, 2021; Interpressnews, January 13, February 13, 2012).
In the near future, Georgia arguably has little to fear regarding the continuing value of its role as a strategic regional transit state. Georgian seaports, coupled with their smoothly functioning railway links, are still important for Armenia. Moreover, Armenia continues to rely on road freight across Georgia (the Upper Larsi corridor) to connect with Russia, despite congestion occurring in winter months. According to some Armenian experts, in terms of costs, railways transit to and from Russia via Azerbaijan would be nearly commensurate with the currently used transportation methods via Georgia, including further ferry shipments. Thus, the "Azerbaijani route" to Russia should only be considered an alternative to, not a replacement for the trans-Georgian corridor. Nevertheless, Armenia is actively seeking to diversify its transport routes by building up the Tabriz–Yerevan railway section. So although Armenia still considers Georgia a key transit partner for the foreseeable future, it does not exclude utilizing Turkish seaports and heretofore closed railway and automotive connections with Turkey as potential alternatives to Georgian routes (EADaily, January 25; Moderndiplomacy.eu, February 6). Of course, the development of these new transit outlets for Armenia will heavily depend on the pace of rebuilding good relations and closer cooperation between Armenia and Azerbaijan as well as between Armenia and Turkey, which at this stage still looks rather remote. Moreover, the conflicting interests of the stakeholders involved in the Karabakh conflict and beyond could additionally delay or derail the proclaimed new transit projects.
Around 5 percent of Georgia's entire gross domestic product (GDP) comes from transit-related income. But the rise of potentially competing regional transit corridors may prove to be a double-edged sword. On the one hand, the assumed decline of Georgia's transit role will further diminish foreign direct investments in the country and could negatively affect its security and international position. But on the other hand, diversifying economic connectivity and transit routes in the South Caucasus will contribute to lasting peace in the region, which Georgia acutely needs as a transit state (Jam-News, January 14; Ekho Kavkaza, January 21)
The shifting geopolitical and geo-economic realities in the South Caucasus are putting pressure on Georgia to meet this challenge by diversifying and expanding its own transportation infrastructure. But this is actually in harmony with the unequivocal signals it has received from the United States for the last several years to complete a number of strategically important transit projects, including the Anaklia deep-sea port. That ambitious undertaking fell victim to economic and political obstacles and was formally halted in January 2020. Currently, the government is seeking new investors for the project (Civil.ge, June 12, 2019; EurasiaNet, January 9, 2020; Novost.ge, February 10, 2020; Fpri.org, October 2, 2020).
The new regional postwar status quo may prompt the West to pay greater attention to Georgia's role as a "geopolitical fault line." This seems especially relevant amid continuing suggestions domestically that Georgia does not have the luxury to look only to the West or to the East and must be a bridge between the two.