Russia, Azerbaijan and Armenia to Start Regional Interconnectivity Projects
Publication: Eurasia Daily Monitor Volume: 18 Issue: 6
By: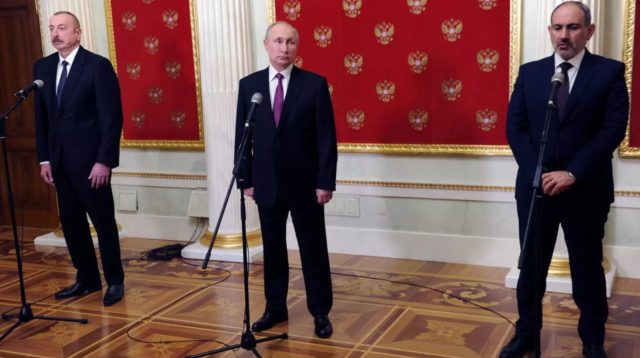 Russian President Vladimir Putin, Azerbaijani President Ilham Aliyev, and Armenian Prime Minister Nikol Pashinian conferred on January 11, in the Kremlin, to assess the implementation of the Putin-brokered armistice that ended the Second Karabakh War on November 10, 2020 (see EDM, November 12, 13, 2020).
Initiated by Russia's leader, this was his first international meeting in 2021—a reflection on the order of his priorities. Kremlin doctors checked Aliyev and Pashinian in Baku and Yerevan, respectively, on the meeting's eve, to ascertain that neither was infected with the coronavirus (Kommersant, January 12, 2021).
Held with only one day of official advance notice, the Kremlin meeting did not dwell on the Karabakh conflict's thorny political and security issues. Instead, it singled out the opening of cross-border transportation routes—a matter presumably of convergent interests among all parties, and included in the armistice declaration.
Article 9 of the November 9/10 armistice declaration (its final clause, hurriedly crafted that night at Baku's insistence) refers to existing routes and potentially new ones:
"All transportation routes in the region shall be unblocked. Armenia shall guarantee the security of traffic between Azerbaijan's western districts and [Azerbaijan's exclave] Nakhchivan for unimpeded movement of citizens, vehicles and cargoes in both directions. The Russian Federal Security Service's border troops shall be in charge of controlling the traffic. New transportation routes to connect Nakhchivan with Azerbaijan's western districts shall be built, subject to agreement between the sides" (Kremlin.ru, November 10, 2020).
That document and the connectivity agenda reflect a new status quo resulting from: a) Azerbaijan's victory over Armenia in the 44-day war; b) Turkey's entry on Azerbaijan's side as a major player in the region; c) Russia's partial accommodation to these changes (now manifested in a Russian-Azerbaijani "strategic partnership" balancing the Russia-Armenia alliance); d) the shift from war to diplomacy in the re-frozen Karabakh conflict; and e) the Western powers' inaction on major connectivity projects in this region, leaving the field to regional players (with Azerbaijan in the lead thus far).
In this new context, Azerbaijan aims to connect with its Nakhchivan exclave via Armenia's Syunik province. Azerbaijan and Turkey perceive a historic opportunity to connect with each other via Nakhchivan and Syunik. All that, however, presupposes that Russia would persuade a reluctant Armenia to allow Azerbaijani and Turkish transit via Syunik without hindrance. This would present the Armenian government with the chance to join regional projects and see its borders with Azerbaijan and Turkey re-open, after 27 years of Armenia's self-isolation. For its part, Armenia seems primarily interested in connecting with Russia by railroad via Azerbaijan. The Kremlin shares that interest, along with the goal to connect Russia with Iran by railroad via Azerbaijan and Armenia.
Russia, however, is well placed to render Azerbaijani and Turkish transit via Syunik dependent on Armenian and Russian goodwill. Russia's state-owned railways company is the owner of railways on Armenia's territory. According to President Aliyev, therefore, Azerbaijan will not work with Armenia, but directly with Russia on this project and has already initiated the discussions (Azertag, January 6, 2021). The armistice declaration, moreover, envisages that Russian border troops shall control the traffic along this route (see above). Thus, Russia can end up in the position of arbitrating between all parties involved.
The meeting in Moscow initiated the process of implementing the armistice declaration's generally worded provisions on transportation routes. The concluding document, signed by the three leaders, envisions the creation of a tripartite working group, co-chaired by three deputy prime ministers, with sectoral expert groups on railroad and on highway transit projects. These would include both upgrading existing routes and building new ones. The working group shall present action plans with implementation schedules to the three heads of state and government by March 1 (Kremlin.ru, January 11, 2021).
Pashinian had attempted to set pre-conditions—namely, the prompt release of all Armenian prisoners of war and other detainees held in Azerbaijan and the intensification of search operations for Armenian soldiers killed or missing in action in Azerbaijani-controlled territories (Russian-mediated search operations are ongoing but far from complete). Armenian public opinion is pressuring the government on this score. Article 8 of the armistice declaration envisages exchanging prisoners and the remains of fallen soldiers. This prompted Pashinian and his spokesperson to warn several times in the immediate run-up to the Moscow meeting that satisfaction on the prisoner exchange and search operations is a prerequisite to moving ahead on the connectivity agenda (Arminfo, Armenpress, January 7, 8, 10, 2021). Putin, however, used the host's prerogative to set the meeting's agenda and ruled this matter out, albeit politely acknowledging Pashinian's concerns (TASS, January 11, 2021).
The Armenian prime minister also conveyed a sense of urgency to reactivate discussions about Upper ("Nagorno") Karabakh's legal-political status via the Organization for Security and Cooperation in Europe's (OSCE) Minsk Group. The Kremlin, however, is in no hurry to do so (whether through the Minsk Group or otherwise). Moscow awaits some clarity about the fate of Pashinian's embattled government. For its part, Baku takes the position (as President Aliyev reaffirmed it at this meeting) that "the [military] conflict is over" and the status of Karabakh shall be an internal Azerbaijani decision (Kremlin.ru, January 11, 2021).
Yerevan finds itself isolated at this time on multiple counts. When the tripartite meeting ended, Pashinian left the Kremlin while Aliyev stayed on for a bilateral meeting with Putin (Kommersant, January 12, 2021).