The Strange Ties between Semion Mogilevich and Vladimir Putin
Publication: Eurasia Daily Monitor Volume: 6 Issue: 57
By: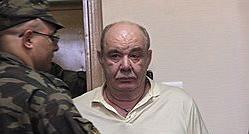 On March 23, 2009 the Moscow City Court ruled that Semion Mogilevich, also known as Sergiy Shneider, will remain in prison until May 23 while investigators continue to examine his case. (Kommersant Daily, March 24). This is the third extension of his detention the court has ordered since Mogilevich was arrested on January 23, 2008 and charged with abetting in a tax evasion scheme. What makes this case highly sensitive is that Mogilevich has been suspected of having close links to Russian Prime Minister Vladimir Putin and the opaque gas trade between Gazprom and Ukraine and RosUkrEnergo.
Mogilevich is a former Ukrainian citizen, now residing in a prison cell in Moscow. He is wanted by the FBI on major fraud charges for his role in what is known as the "YBM Magnex Scam." Numerous police sources claim that he is one of the leaders of the Russian mafia, a charge he denied in an interview with the BBC in 1999 when he was still at liberty living in an exclusive neighborhood in Moscow (BBC, June 12, 1999).
Mogilevich is alleged to be a secret billionaire linked to Vladimir Putin and is reputed to be a hidden business partner of Dmytro Firtash, the 50 percent owner of RosUkrEnergo, the Swiss-based gas trader, 50 percent owned by Gazprom. Firtash has consistently denied any criminal links to Mogilevich, yet he admits knowing him (Vedomosti, 27 June, 2006). Mogilevich has also been described by Leonid Derkach, the former head of the Ukrainian security service, the SBU, as a close friend of Vladimir Putin's during a conversation with former Ukrainian president Leonid Kuchma.
The questions surrounding the Putin-Mogilevich relationship – if indeed there is one – are not simply theoretical; the answers touch on the nature of power in the Kremlin; how it functions and which players serve its purposes. Part of the answer can be found in the Kuchma-Derkach dialogue held in Kuchma's office on February 8, 2000. According to a recording of the conversation made by a member of Kuchma's security detail, Mykola Melnychenko:
Kuchma: "Have you found Mogilevich?"

Derkach: "I found him."

Kuchma: "So, are you two working now?"

Derkach: "We're working. We have another meeting tomorrow. He arrives incognito.

Later in the discussion Derkach revealed a few details about Mogilevich.

Derkach: "He's on good terms with Putin. He and Putin have been in contact since Putin was still in Leningrad."

Kuchma: "I hope we won't have any problems because of this."

Derkach: "They have their own affairs" (The transcript appears in the forthcoming book by J.V. Koshiw, The Politics of Kuchma – the Melnychenko Recordings August 1999 to September 2000).
A second key to the puzzle lies in the alleged relationship between Firtash and Mogilevich in the Eural Trans Gas and RosUkrEnergo, companies involved in the strategically important transit of natural gas from Central Asia to Ukraine which worked closely with Gazprom, the Russian state-owned gas company apparently controlled by Putin.
In December 2005, a confidential Austrian police report noted that:
In August 2005 the FBI gave their Austrian counterparts a confidential report on frauds committed by the SMO (Semion Mogilevich Organization) in connection with gas deliveries from Turkmenistan to the Ukraine and the illegal kickback payments to [a] member of the organization… According to the FBI the actual control of ETG and RUE is held by Ivan Fursin and Oleg Palchikov. Hungarian police reported about an April 2005 meeting in Vienna between Ivan Fursin, Oleg Palchikov and Dmitri Firtash The FBI described Ivan Fursin, Oleg Palchikov and Dmitri Firtash as senior members of the SMO (Austrian Federal Criminal Investigation Agency Report on the Semion Mogilevich Criminal Organization, December 1, 2005).
Another document linking Mogilevich to Andras Knopf, the executive director of Eural Trans Gas, the Hungarian gas intermediary company created by Firtash to act as the middleman in the transit of Turkmen gas to Ukraine, is a letter allegedly written by MVD Major-General Alexander Mordovets on November 14, 1998 to the former first Deputy Head of the Department for the Struggle Against Organized Crime of the Russian Ministry of Internal Affairs, in which Mordovets described the close criminal relationship between Knopf and Mogilevich. However, on September 16, 2004, six years after this letter surfaced, Mordovets suddenly recanted. In an affidavit sent to Mark J. MacDougall, a lawyer working for the law firm Akin Gump in Washington, DC., Mordovets claimed that he never wrote this letter implying that it was a forgery.
Mogilevich was arrested in late January 2008 on charges of abetting a tax evasion scheme by Vladimir Nekrasov, the owner of "Arbat Prestige," a chain of Russian cosmetic stores and has remained in jail while the investigation continues to this day. The Russian police insisted that they had been unable to find and arrest Mogilevich in Moscow earlier – yet his photograph, attending services in a Moscow Synagogue appeared on the front page of Izvestia on December 7, 2004.
The official Kremlin version of Mogilevich's role in tax evasion is difficult to believe and it could well turn out to be that Mogilevich was arrested as part of a cover up operation by the Kremlin designed to distance Putin from Firtash and Mogilevich. Putin has remained silent on his links to Firtash and Mogilevich and this might prove to be an opportune moment for western intelligence agencies to shed some light on this murky and far reaching affair.