Ahmet Davutoglu: The Man behind Turkey's Assertive Foreign Policy
Publication: Eurasia Daily Monitor Volume: 6 Issue: 57
By: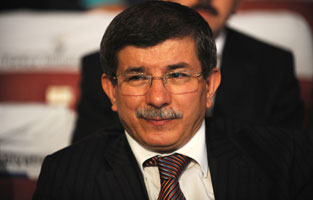 Ambassador Ahmet Davutoglu, the chief foreign policy advisor to Turkish Prime Minister Recep Tayyip ErdoÄŸan, visited Washington, March 17-21, to discuss critical developments in the Middle East before President Obama's visit to Turkey on April 6-7. During his visit Davutoglu stated that "The U.S. and Turkey is at the historical moment that both countries have similar views at almost all issues." Davutoglu underlined that Turkey is becoming a strategic location for regional energy infrastructure and further suggested "from now on, everyone sees the strategic importance of Turkey that increases as the days pass" (Anadolu Ajansi, March 19)
Since Davutoglu is a key policy maker, though he avoids the limelight, it is important to know how Davutoglu sees Turkey's foreign policy developing especially in the Middle East and in the South Caucasus region. Davutoglu's influence on the Justice and Development Party (AKP)'s foreign policy priorities can be readily identified in the similarities between his speech at the Brookings Institution on October 28, 2008 and Prime Minister Erdogan's speech there on November 14 2008. Both Davutoglu and Erdogan used identical themes and maximized Turkey's regional importance, as well as using the phrase "zero-problem policy" to characterize the country's relations with the Muslim world and the West (Anadolu Ajansi, October 28, November 14, 2008).
It appears that Erdogan's foreign policy statements are strongly influenced by Davutoglu. Davutoglu's major academic work, "Strategic Depth," which advocates a foreign policy that would put Turkey's Ottoman past in its rightful place, outlines his way of thinking about Turkey's foreign policy issues. In fact, this academic work also reflects his personal world view. When answering personal questions, Davutoglu indicates how he sees the world:
The feeling of flow in history is what excites him most and accordingly losing that feeling is what he fears most. An innate ability to stop warring parties is what he desires in a super power. There is no virtue without modesty, no honor without self-confidence and greatness. If we have the ability to realize a problem, we have the ability to solve it as well (Hurriyet Daily News, March 18).
In his recent visit to the U.S. Davutoglu stated that Turkey's foreign policy principles are based on the self-confidence that will ultimately allow Turkey to play a more active role in the region (Turkey Foreign Policy Conference, Princeton University, March 21). In a previous public event in Washington, Davutolgu underscored his vision for Turkey's assertive foreign policy agenda. Turkey is now moving from a "zero-problem" policy with its neighbors to a new phase denoted by "maximum cooperation." (Today's Zaman, October 30, 2008). Turkey was long perceived, in his view, as having "strong muscles, a weak stomach, a troubled heart, and a mediocre brain." In order to get away from this image, Turkey needs to create strong economic ties beyond its borders. With such policies Davutoglu aims at transforming Turkey into a key strategic actor within the region, and this lies at the heart of his political vision. In his Princeton speech, Davutoglu again pointed to the main motivation for Turkey's new "maximum cooperation" approach with its neighbors, calibrated to bring economic benefits from regional peace. It seems that Davutoglu and the AKP leadership consider Turkey's economic infrastructure to be the strongest in the region. Therefore, peace within the region would benefit the Turkish economy (Turkey Foreign Policy Conference, Princeton University, March 21).
When it comes to the question of whether Turkey's rapprochement with its Middle Eastern courtiers means distancing itself from the West, Davutoglu flatly rejects such criticism. For instance, he is a strong advocate of Turkey's future membership in the EU and insists that "Turkey can be European in Europe and eastern in the East, because we are both." (The Economist, December 15, 2007).
Yet the real reason why Davutoglu wants to deepen Turkey's relations with the Middle East is linked to a shared disappointment alongside the leadership of the AKP with the EU's decision to accept Cyprus into membership in 2004. Davutoglu and Prime Minister Erdogan continue to criticize the EU on the basis of that decision (Anadolu Ajansi, November 14, 2008; Turkey Foreign Policy Conference, Princeton University, March 21), and they are frustrated that despite Turkey's active efforts Brussels has used the Cyprus issue to slow membership negotiations with Turkey. Within Turkish foreign policy circles, it is believed that this obstacle is used by EU leaders that are reluctant to accept Turkey as a member.
Turkey's policy makers are trying to increase Turkey's strategic importance, based on this perspective, by its proactive diplomacy within the context of accessing energy markets in the Middle East and in the South Caucasus. Davutoglu and his circle hope by stressing Turkey's strategic importance, they will overcome the reluctance of EU leaders and clear a path towards membership. The argument seems convincing however, Davutoglu and his colleagues fail to appreciate that in emphasizing Turkey's strategic importance at the expense of core democratic EU values, it could end up more exposed to Western criticism.