The Top Trends in China's Military Diplomacy
Publication: China Brief Volume: 15 Issue: 9
By: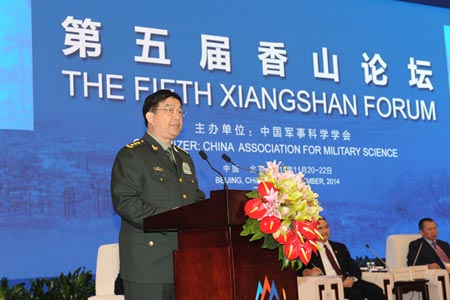 Global outreach is the inevitable course for China's forces to deal with various threats and to fulfill multiple tasks in the process of realizing the "Chinese Dream" and a strong military. China's armed forces accelerated their global interactions in 2013. Chinese forces have appeared in many corners of the world, including North America and Oceana, the Pacific and the Atlantic. China has deployed more than 10,000 personnel—an unprecedented number—to participate in combined drills, international peacekeeping, naval escorts, humanitarian aid and other non-war operations. Media from home and abroad have commented that 2013 was the Chinese military's most active year ever in the world arena. China's forces went further and more frequently into the world and engaged in international affairs more thoroughly, demonstrating their increasing maturity and confidence. China wants to show the world its tremendous achievements in national defense modernization, its sincere wish to develop friendship and deepen cooperation with forces around the world, and its determination to maintain its national interests and world peace.
—China Armed Forces [1]
Introduction
This article identifies the top trends and events concerning China's People's Liberation Army's (PLA) military diplomacy. [2]
The PLA has clearly expanded its involvement in international humanitarian assistance and disaster relief (HA/DR) and military operations other than war (MOOTW) activities, such as the search for the missing Malaysian airliner (MH370) and deployment of the Peace Ark hospital ship, which are linked to Chinese President Xi Jinping's "China Dream" concept that includes making China the "world's dominant power" and "a stronger nation with a strong military." As such, the PLA Navy (PLAN) is spending longer and more complex deployments at sea, including port calls by the antipiracy escort task forces and other task forces around the world, while the Army, Navy and Air Force are definitely learning more about every aspect of engaging in warfare from their interaction with foreign militaries. This includes more realistic bilateral and multilateral combined exercises and competitions with less scripted scenarios. One of the most significant PLAN events involved deploying a Type-039 (Song-class) conventional submarine to the Gulf of Aden in September 2014 to support the 18th escort task force and to visit Sri Lanka, which represented the first port call abroad by a Chinese submarine.
In addition to combined exercises and training events, the PLA Army (PLAA) (ground forces) and PLA Air Force (PLAAF) participated in separate multilateral tank and aircraft competitions in Russia in 2014.
The PLA is also continuing its involvement in United Nations Peacekeeping Operations (UNPKOs), including leading training in China and attending training in other countries. During 2014, these activities involved sending medical personnel to countries affected by Ebola and deploying the first infantry unit abroad (South Sudan).
In addition, the PLA has definitely increased its transparency, even though there are still several opaque areas, especially concerning weapon systems and equipment research, development and acquisition (RD&A). One of the common PLA themes in 2014 concerning transparency was that the Chinese military was becoming more open and confident as a result of engaging in more combined-arms, joint and combined exercises, which has not helped enhance China's deterrence capabilities.
In October 2014, the General Staff Department (GSD) issued a document detailing 40 problems with current exercises, based on an assessment of performance in routine exercises and combined drills with foreign militaries (Xinhua, October 12, 2014). The challenges include personnel problems, as well as current training methods and standards. The report states that, if the problems are not rectified, the PLA's ability to fight and win will surely be hindered.
Looking forward, the PLA will likely continue to expand the scope of its global involvement under President Xi, thereby slowly becoming more confident and preparing for future conflict at or beyond its borders.
Trends in Senior PLA Leader Visits Abroad and Hosted Visits in China
The following bullets identify the key themes concerning travel abroad by senior PLA leaders and their hosted visits in Beijing; however, there are always exceptions.
Other than the defense minister and the Chief of the General Staff (COGS), all other senior PLA leaders are limited by regulation to one trip abroad per year; however, not every leader takes advantage of the opportunity
Senior PLA leaders rarely, if ever, visit the same country twice, except to attend conferences
Senior PLA leaders rarely, if ever, host the same foreign military leader twice
The defense minister does not necessarily host or meet with all of his counterparts, who are often hosted by one of the Central Military Commission (CMC) vice chairmen
There are clear time patterns for PLA leader visits abroad and hosted visits.
Strategic Relations
In the early 1990s, China began establishing a three-tiered structure for strategic relations—strategic partnerships, strategic dialogues and strategic consultations—with certain countries or regions to discuss key issues such as non-proliferation, counter-terrorism and bilateral military and security cooperation (PRC 2010 Defense White Paper, 2010). Today, China has strategic relations with 50 countries. Several of the current strategic relationships have evolved over a period of years from lower-level relationships to strategic relationships. As a general rule, the President normally attends the opening meeting, but the Premier, one of the vice premiers or a senior military leader represents China at the remaining meetings.
Military Operations other than War
Since the 18th Party Congress, the PLA has been involved in three specific types of Military Operations Other Than War (MOOTW) abroad, including PLAN anti-piracy operations in the Gulf of Aden, helping escort chemical weapons out of Syria and searching for the missing Malaysian Airlines Flight MH370.
PLA Navy Anti-Piracy Escort Operations in the Gulf of Aden
One of the most visible MOOTW activities began in December 2008, when the PLAN deployed its first of 19 three-vessel escort task forces (ETF) to date to the Gulf of Aden. [3] Altogether, 30 different vessels from all three fleets (North Sea, East Sea and South Sea) have been involved, including destroyers, frigates and comprehensive supply ships, along with helicopters, medical personnel and a growing number of PLAN special forces (China News, February 5, 2010; Sina News, January 31, 2010; China Daily, April 3, 2009). [4]
Non-ETF Naval Port Calls
As of May 2014, guided missile destroyers had paid more than 50 port calls to over 30 countries (PLA Daily, June 7, 2014). Furthermore, from 2005 through October 2013, PLAN vessels visited more than 50 countries (PLA Daily, October 25, 2013). Over the past few years, in addition to port calls by 18 ETFs, the PLAN has conducted several task force port calls, which can be organized into the following three categories: task force port calls; Zhenghe training vessel port calls; and Peace Ark hospital ship port calls.
Foreign Naval Task Force Visits to China
Since China began to open up to foreign naval vessel visits in 2002, about 25 different countries, led by the United States, have conducted about 100 port calls in either Shanghai, Qingdao or Zhanjiang. The most visits in any single year occured in2009, when the PLAN celebrated its 60th anniversary in April. At that time, 21 vessels from 14 countries visited Qingdao to celebrate the anniversary and participate in the fleet review (Xinhua, April 23, 2009). [5]
Western Pacific Naval Symposium (WPNS) 2014
During 2014, the PLAN hosted the WPNS-2014, which was organized into two parts (China Military Online, January 17, 2014; China Military Online, April 23, 2014; China Military Online, April 15, 2014; China Military Online, April 15, 2014). The first was a workshop at the Naval Command College in Nanjing, which included 60 representatives from 20 member countries. The second part was the two-day 14th biennial symposium held in Qingdao. Naval leaders and representatives from 25 countries attended the closing ceremony. The symposium was held in conjunction with a multinational maritime exercise (MMEx) to commemorate the PLAN's 65th anniversary. [6]
Bilateral and Multilateral Combined Exercises
In 2002, the PLA began conducting bilateral and multilateral combined (joint) exercises with other countries. From 2002 through the end of 2012, it held 28 combined exercises and 34 combined training events with 31 countries (PRC 2012 Defense White Paper, 2010). Since the 18th Party Congress, the PLA has significantly increased the number of combined events each year. For example, during 2014, it conducted 31 bilateral or multilateral combined exercises or training events, including RIMPAC-2014 (China Military Online, December 17, 2014).
Besides multi-service combined exercises within the Shanghai Cooperation Organization (SCO), the PLAA, PLAN and PLAAF have been expanding to individual service training events and exercises outside the SCO. The most significant multilateral events included the PLAAF's and PLAA's participation in Russia's Aviadarts-2014 and Tank Biathlon-2014 competitions, respectively. Note that the PLA's Second Artillery Force has never been involved in any combined exercises.
Education and Academic Exchanges
The PLA's education and academic exchanges basically fall into the following categories: academic institution leader visits; cadet and professional military education student delegation visits; hosting foreign military personnel for courses individually, in groups from a single country or from multiple countries; and individual PLA officers studying abroad. Although the PLA has published some data in its biennial Defense White Paper, finding specifics on the exchanges is difficult.
The PLA's National Defense University (NDU) has a robust exchange program with multiple countries (PLA Daily, May 12, 2014). To date, NDU has a program of continuing formal international relations with seven countries, including the United States, Australia and South Korea. Each year, NDU hosts about 100 foreign groups and organizes visits abroad to attend international conferences. In September 2014, NDU's College of Defense Studies awarded the first Master's in Military Science degrees to 61 foreign military students (China Military Online, September 9, 2014). The two-year program was initiated in 2012.
In addition, various PLA academic institutions have begun holding "cadet week" events involving cadets from multiple countries.
Xiangshan Forum
In 2006, the China Association of Military Science (CAMS), which is subordinate to the PLA Academy of Military Science (AMS), held the first biennial Xiangshan Forum in Beijing (China Military Online, November 21, 2014). [7] The fifth forum, which was held in November 2014 and was raised from a Track 2.0 to a Track 1.5 event, included representatives from 57 countries, including more than 20 government officials at or above deputy defense minister level. Several of the foreign leaders held separate meetings with Defense Minister Chang Wanquan and other PLA leaders in conjunction with the forum. The upgrade was apparently intended to compete with the annual Shangri-la Dialogue in Singapore and will also be held annually.
Exchanges with the Foreign Military Attaché Corps and Observers
Since 1988, the Beijing Military Attaché Corps (BMAC) has grown from 44 to 108 countries. [8] As the PLA becomes more transparent, it has gradually increased BMAC access to units and exercises. For example, in November 2013, MND hosted a total of 65 military attachés from 52 countries together with the military observers from six countries to observe the "Queshan Vanguard-2013" exercise (China Military Online, November 6, 2013). In addition, about 270 foreign officer students/cadets from three military academic institutions attended as observers.
Comparison to U.S. Military
Undoubtedly, the PLA has expanded its foreign relations program across the board and is clearly learning how to improve its capabilities; however, the PLA's program pales in comparison to the U.S. military's foreign relations program and should be kept in perspective. For example, each year, U.S. Pacific Command participates in more than 1,500 exercises and other engagement activities with foreign military forces (Global Security). The U.S. Navy component is involved in 700 training events and 170 exercises each year in the Asia-Pacific region (U.S. Navy, May 19, 2014).
Policy Implications for China
As China expands its military diplomacy around the world, it is learning how to deploy and support its forces for longer periods and to conduct multiple tasks at the same time. It is definitely becoming more adept at HA/DR activities, but still has several shortfalls. For example, the PLA does not yet have enough strategic airlift to move large amounts of its forces around or to help evacuate Chinese from areas of conflict, such as in Libya or Yemen. As the PLA grows in its strength, confidence and capabilities, the Chinese public will also expect more from it, especially in areas such as Africa and the Middle East. Should there be civil unrest in countries where an increasingly large number of Chinese are living and working, the PLA will most likely become more actively involved in helping to evacuate them to safety.
Notes
Luo Zheng, "Highlights of China's Military Diplomacy," China Armed Forces, No. 25, Vol. 1, 28 February 2014, p. 16.
For more details, see Ken Allen and Philip Saunders, PLA Foreign Relations under Xi Jinping: Continuity and/or Change? (National Defense University, upcoming spring 2015).
Whereas Western English-language articles use "escort task force," China's English-language articles from sources such as Xinhua, China Armed Forces and China Military Online use "escort taskforce." An official brochure published by the PRC's International Communication Bureau of the Ministry of National Defense (????????) entitled Escort Operations of the Chinese PLA Navy use "convoy task force" and the acronym CTF. For purposes of this paper, "escort task force" and ETF will be used.
These special forces are organized into regiment-level dadui (??) and are separate from the PLAN's Marine Corps.
The 14 countries included Australia, Bangladesh, Brazil, Canada, France, India, Mexico, New Zealand, Pakistan, Russia, Singapore, South Korea, Thailand and the United States.
Wang Jingguo, "Maritime Cooperation 2014" (????-2014), China Armed Forces, No. 27, Vol. 3, 2014, p. 60-65.
As noted on the screen in the photo, the English name during the 5th Xiangshan Forum was identified as the China Association for Military Science and the acronym was identified as CAMS; however, various official Chinese English-language articles from Xinhua and China Military Online identified it as the China Military Sciences Society, China Military Science Society (CMSS) and the China Society of Military Science (CSMS). No official website was found for the organization.
Information about the number of attaché offices in 1988 comes from the files of Ken Allen, who was assigned to the U.S. Defense Attaché office in Beijing at the time. The current number is based on correspondence with the Beijing Military Attaché Corps (BMAC).