The Uphill Job of Mending Fences with the Kremlin
Publication: Eurasia Daily Monitor Volume: 10 Issue: 83
By: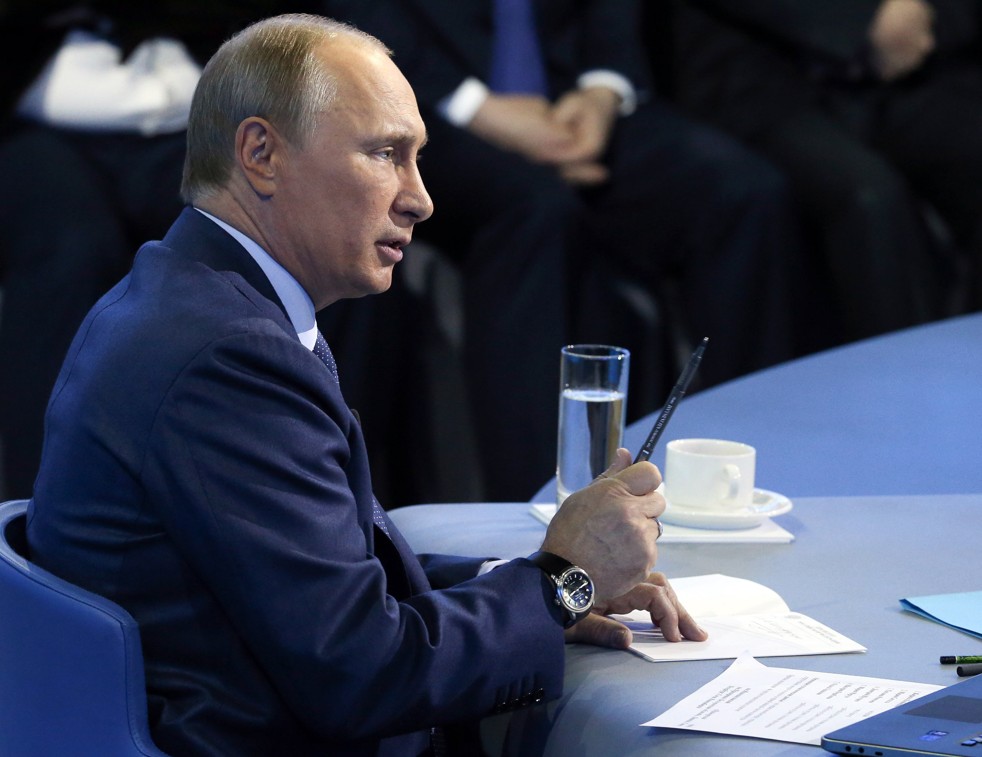 Speaking to reporters after last week's (April 25) lengthy, televised, national question-and-answer (Q & A) session, President Vladimir Putin declared he "was optimistic this tragedy [the April 15 Boston Marathon bombing] will facilitate greater security cooperation, benefiting both America and Russia" (Interfax, April 25). This week the Kremlin announced that President Barack Obama had phoned Putin and thanked him for providing "helpful information, concerning the Boston Marathon bombing" and that "practical agreements have been reached" about further "active contacts" between the intelligence services from the United States and Russia, including top-level contacts. The two presidents are reported to have discussed the security of the upcoming Winter Olympics in Sochi in 2014 and the situation in Syria and confirmed two personal meetings later this year: In London in June, on the sidelines of the G8 summit, and next September in the run-up to the G20 summit in St. Petersburg. Last month, the White House National Security Advisor Tom Donilon came to Moscow and handed Putin a personal letter from Obama, reportedly containing a road map for improving bilateral relations. Putin promised Obama to pen a reply that will be personally delivered to Washington by Security Council Secretary Nikolai Patrushev (https://news.kremlin.ru/news/18003).
After the September 11, 2011 terrorist attacks on New York and Washington, DC, Putin phoned then-President George W. Bush to express his condolences and offer to cooperate on fighting international terrorism. Moscow and Washington became much closer partners after 9/11, with Russia providing logistical support and weapons to the anti-Taliban Northern Alliance forces in Afghanistan, while the US and its allies helped to fundamentally curtail the flow of funds from pro-jihadist sources to the Salafist rebels in the North Caucasus. In December 2002, Army General Yuri Baluyevsky, chief of the general staff until 2008, told Jamestown that Moscow's partnership with Washington will be reinforced to the level close to an alliance, since the US will be the world's dominant military power for the coming decades that Russia must befriend. Of course, this never happened. During the televised April 25 Q & A, Putin recalled that tensions with Washington appeared when Moscow opposed the US-led invasion of Iraq in 2003, and after that things went from bad to worse with the US promoting "chaos in Libya and worldwide" (https://www.kremlin.ru/news/17976).
Putin believes it is important to improve relations, but the West must "respect Russia" and not impose its will or values. After 9/11, Moscow expected—as a basis for a flourishing partnership—Washington to accept Russian veto power through the United Nations Security Council on any future US-led military action; to recognize as legitimate and not oppose a reintegration of the post-Soviet landmass under Moscow's leadership; as well as for the United States to treat any dissidents inside Russia as terrorist cells, denying them any financial, political or moral support. The same conditions stand today. During the televised national Q & A, Putin angrily and at length denounced the US Magnitsky Act, adopted last December, as arrogant "imperialism." The Magnitsky Act denies US entry to those Russian officials accused of involvement in the death in custody of anti-corruption lawyer Sergei Magnitsky and other alleged rights abuses (https://www.kremlin.ru/news/17976).
Using the Boston Marathon bombing aftermath to promote a lasting détente with Moscow may be difficult. Russia is fighting a low-level war of attrition with a well-established Islamist insurgency in the North Caucasus, which seems to be supported by many in the local population (see EDM, May 1). The US can do little to help Russian authorities: The North Caucasian insurgency, though having ideological and other links to the international Jihadist movement, is mostly localized, deriving its manpower and logistical support from internal sources and grievances. A credible connections between the Tsarnaev brothers accused of the Boston Marathon bombing and the North Caucasian rebels has not been established. Any increased cooperation between US and Russian security services would hardly be full-hearted or effective in preventing any future terrorist attacks, since the Russian authorities tend to paint all their political opponents and dissidents as terrorists or foreign agents, or both.
Speaking this week in London, Deputy Prime Minister and former First Deputy Chief of the Presidential Administration in charge of internal politics and ideology Vladislav Surkov announced: "The system of power I helped to build has defeated the opposition that emerged during the protest rallies in December 2011—the system demonstrated muscle by severely punishing extremists, who attacked the police" (RIA Novosti, May 1). Surkov was referring to the ongoing investigation of the violent dispersal of a peaceful opposition rally on May 6, 2012, by riot police, which the authorities have declared to have been "mass riots" financed from abroad, aimed at regime change. Twenty-seven demonstrators have been indicted, and most are behind bars in pre-trial custody; while political show trials are being prepared (Vedomosti, April 29).
Up to a hundred activists may eventually be charged under the pretext of instigating violence on May 6, and handed sentences of up to ten years in prison by Russia's notoriously corrupt legal system. The prominent pro-democracy and anti-corruption activist Alexei Navalny is currently on trial on trumped up charges in Kirov and later may be indicted and given additional time for instigating violence in Moscow, or something else (Vedomosti, April 24). Last week, the Russian branch of the anti-corruption organization Transparency International has been accused by the Moscow prosecutor's office of being a "foreign agent" and threatened with closure (Interfax, April 26). An advocacy group, Agora, which provides pro bono legal help to arrested and prosecuted activists in Russia, has also been declared a "foreign agent" and threatened with closure. Any organization receiving any money from abroad today falls under official scrutiny and is under threat in Russia—including, reportedly, a hunting society in Kirov Oblast that received money for organizing hunting expeditions for foreigners (Kommersant, April 30). The prosecutor general, Yuri Chayka, declared: "Lots of non-commercial organizations are receiving lots of money from abroad, and we must investigate them all—the state must defend itself" (Interfax, April 27).
The Kremlin is intent on decisively stamping out any opposition or foreign influence in Russia by terrorizing civil society and imprisoning pro-democracy activists. If Washington is serious about cooperating with the Kremlin on anything, it must learn to live with that and keep silent. Indeed, Putin insisted Obama must use his power to control the US Congress and stop claiming he cannot do so (https://www.kremlin.ru/news/17976).