The Uphill Task of Rearming the Russian Military
Publication: Eurasia Daily Monitor Volume: 8 Issue: 160
By: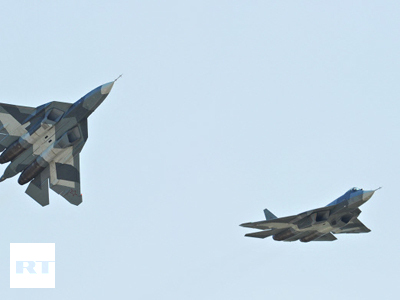 This week a major air show, MAKS-2011, opened near Moscow. The first MAKS air show was in 1993, and has since been held biannually, primarily to demonstrate Russia's capability to build modern civilian and military aircraft, anti-aircraft and space missiles. The production of Russian civilian aircraft has been faltering for some years, while old Soviet planes are replaced with Western ones. All major world civilian aircraft producers are represented at MAKS-2011. The Russian military is also becoming a buyer of foreign military hardware, including Israeli-made unmanned aerial vehicles (UAV). At present the US defense industry does not seem to be planning to take part in rearming the Russian military, but the US Air Force sent a sizable array of military, transport and intelligence-gathering aircraft to MAKS-2011, apparently as a gesture of good will. The US Air Force did not attend the MAKS-2009 air show in August 2009, one year after the Russian invasion of Georgia, but today bygones are bygones – they are back and welcome (Interfax, August 16).
During the last three days of MAKS-2011(August 19 to August 21), hundreds of thousands of Muscovites will see the planes fly and picnic on the lawn near the tarmac with beer and shashlik barbeques – the ticket sales being the major source of income for the show organizers. The main event of MAKS-2011 occurred on August 17, when Russia's de facto ruler, Prime Minister Vladimir Putin, visited to see two prototype stealth Sukhoi T-50 PAK-FA jets fly – Russia's newest so-called "fifth-generation fighters" – claimed to be on par with the US F-22 Raptor. Putin spent more than 90 minutes observing the stands and ate ice cream in the simmering August heat with his two old-time KGB buddies that are now in charge of Russia's defense industry and arms trade: Deputy Prime Minister Sergei Ivanov and the Chairman of the mammoth state-owned defense corporation Rostekhnologii Sergei Chemezov (Kommersant, August 18).
Putin announced that the Russian aerospace industry is being well financed and is progressing on all fronts, while Zhukovsky, where the MAKS shows are staged, will be transformed by 2013 into the national center of aircraft development. The headquarters of the state-owned Joint Aircraft Building Corporation must be moved to Zhukovsky (Vesti, August 17).
This week both Putin and the increasingly lame duck President Dmitry Medvedev were in the Astrakhan region fishing in a public display of tandem unity. Putin left to attend the grand stand event at the air show to salute the stealth fighters, while Medvedev remained in Astrakhan with the fish and did not attend MAKS-2011 at all (RIA Novosti, August 17).
The main attraction of MAKS-2011 – the T-50 PAK-FA – is still a mystery aircraft, as its real capabilities are unknown and the pace of development is unclear. It may turn out to be no more than a modified version of the old Su-27 with some added stealth features – on a par with the US F-15SE Silent Eagle. It was previously announced that air force pilots will begin to train to fly T-50 PAK-FA in 2013, and the jet will be fully operational by 2015 (Interfax, March 14). At MAKS-2011, Ivanov told reporters the T-50 PAK-FA will go into serial production in 2017 (Kommersant, August 18).
The confrontation between the defense industry and the defense ministry continued during MAKS-2011. Two large defense contracts to procure 24 MiG-29KUB jets for Russia's only aircraft carrier, Admiral Kuznetsov, and 60 Yak-130 trainer jets ($3 billion in total) were to be signed at MAKS-2011 in Putin's presence, but were postponed tentatively until the end of 2011. The postponement is reportedly the result of price haggling between the defense ministry and defense industry (Vedomosti, August 17).
The head of Russia's arms trading monopoly Rosoboronexport, Anatoliy Isaykin, told journalists during MAKS-2011 that there is high demand for air defense systems and their share in Russian arms exports is growing. At the same time the former chief (retired last February) of the leading air defense development bureau Almaz-Antey, Igor Ashurbeyli, disclosed that production of S-300 anti-aircraft missiles has been terminated. According to Ashurbeyli, since 1994, all S-300s were made only for export and now the last export contracts are ending, while there are no new export contracts to sell the newest S-400 anti-aircraft missiles (RIA Novosti, August 15).
According to the Commander of the Air Force, Colonel-General Alexander Zelin, at present two S-400 regiments have been deployed near Moscow and two more will be added before the end of 2011. Zelin said that the production of the S-400 is lagging behind schedule and there are "problems with its planned long-range missile," while the Air Force is demanding that the Almaz-Antey corporation builds a new factory to speed up anti-aircraft production (RIA Novosti, August 9).
The S-400 was designed to be armed with three types of anti-aircraft missiles: shorter range 150 kilometers (km); medium range 250 km and the main novelty – a 400 km long-range missile. The management of the Avangard factory in Moscow, which is the sole producer of S-300 and S-400 missiles within the Almaz-Antey Corporation, told reporters the short-range missile is produced adequately, the medium-range missile sometimes fails tests and the long-range missile is a sham – there are no electronic components for its guidance system. The S-400 launchers demonstrated during a military parade on Red Square last May 9, were a display of deception – they were old S-300 launchers made in the 1980s with empty rocket tubes. According to the Avangard management, the S-500 Russia is touting as a future ballistic missile defense (BMD) system that may be part of a joint BMD with NATO is a total fake – there is no missile to fit the system. The management of the Almaz-Antey Corporation wants to close down the Avangard factory in Moscow and use its territory for highly profitable real estate development, while moving missile production elsewhere. The Avangard leadership believes the management of their parent Almaz-Antey Corporation is a bunch of carpetbaggers simply lining their pockets with budget funds earmarked for defense industry modernization (Moskovsky Komsomolets, August 9).
The rapid growth of defense procurement budget allocations and Putin's promises to provide more (EDM, July 28) are stoking tension within the defense industry and between industry and the defense ministry – an increasingly daily dogfight for big money, which the MAKS-2011 aerospace festival did not abate.