The West Attempts to Shift Russia on Syria
Publication: Eurasia Daily Monitor Volume: 9 Issue: 127
By: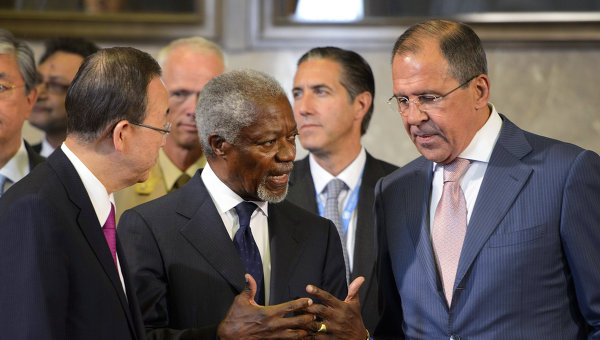 During weekend talks in Geneva about Syria, Western diplomats made an effort once again to enlist Moscow's help in removing President Bashar al-Assad. Western attempts to shift Russia on Syria have been encouraged by statements from Russian officials that Moscow is not backing the Assad regime per se. Moscow has called on the Syrian opposition to unite to enter negotiations "with the government," and Russia will continue to maintain its contacts with opposition factions. According to Russian Foreign Minister Sergei Lavrov, while the opposition is divided, the Assad government is confused about who to talk to (RIA Novosti, June 30). This week, Russian media outlets reported that the United States and other Western nations are pressing Russia to encourage Assad to resign and leave Syria by offering him safe haven in Moscow. Unnamed Kremlin sources have been quoted as saying "we do not defend Assad." Russia is "not against the Syrian opposition, but against foreign military intervention" (Kommersant, July 4).
The official Russian position of being largely neutral toward the Syrian government and the opposition amid the continuing carnage in the country does not stand up to scrutiny. In Geneva, Moscow pushed a number of points: there must be no mention of the removal of Assad, no calls for sanctions against Syria, no call for the withdrawal of government troops from Syrian cities prior to a ceasefire, and a demand that "all illegal arms shipments to all sides of the conflict stop immediately." The "illegal arms" embargo would have allowed the Assad regime to get all the weapons and munitions it needs to continue the savage suppression of the opposition since there is no legally binding UN arms embargo in place due to Russia and China's UN Security Council vetoes. The opposition, however, would be completely unable to defend itself under such an embargo. Russian diplomats considered it a victory that all demands except the "illegal arms" embargo were accepted by the West (Kommersant, July 2).
Lavrov insisted that the Geneva declaration "absolutely does not envisage the removal of Assad," since this would constitute intervention in internal Syrian affairs (RIA Novosti, June 30). Lavrov announced that Russia will ignore the meeting this week in Paris of the "Group of Friends of Syria," which in Moscow's eyes has been replaced by the "Action Group on Syria," formed in Geneva on June 30. Lavrov accused the "Group of Friends" of promoting confrontation in Syria and of not actually being friends of Syria, "but something else." Lavrov also accused Western nations "of publicly misinterpreting the results of the Geneva meeting" (Interfax, July 3). Russia proposed to call another meeting of the "Action Group," to be held in Moscow, and inviting "Iran, Saudi Arabia and various Syrian opposition representatives" (Kommersant, July 2).
Deputy Foreign Minister Sergei Ryabkov denied that Moscow is in negotiations with Washington about "the future of Assad" and giving him refuge (Interfax, June 4). An unnamed "military-diplomatic source" in Moscow has accused Turkey of being responsible for "provoking the Syrian air defenses" to attack the Turkish air force jet, downed in the Mediterranean near Syria on June 22. According to the source, "the Turkish jet was testing the Syrian air defenses and got what it was asking for" (Interfax, July 4). Moscow has announced it has "independent confirmation the Turkish jet violated Syrian air space." Russia has been supplying Syria with its newest air defense systems and radars, including the Pantsir-S1 combined missile/artillery system to help the Syrians repel a possible Western-led aid offensive (Interfax, July 2). Russian instructors are training the Syrian military to use the Russian-made weapons, and there is an unspecified number of Russian military advisers attached to al-Assad's forces. It is possible that Russian military personnel or arms instructors were directly involved in the downing of the Turkish jet on June 22, or observed the event firsthand, which may be the source of the "independent information about the incident" that Lavrov has been boasting about (Interfax, July 2).
Turkish Prime Minister Recep Tayyip Erdogan had phoned the Russian President, Vladimir Putin, to discuss the downing of the Turkish jet and, according to Erdogan's office, "Putin expressed his deep sorrow over the incident" (see EDM, June 29). If indeed Russian military personnel were directly involved in the incident from the Syrian side, Putin's "sorrow" could be appropriate.
Russian rhetoric about "not supporting Assad" has up to now been a smokescreen to fully support, defend and arm the regime. This policy is an integral part of the Kremlin's internal and external political efforts to push back an alleged global conspiracy against Putin and his kleptocratic regime. The growing pressure to oust Assad is seen as the first stage of a plan to oust Putin himself. Last week, it was officially announced that Uzbekistan has decided "to suspend" membership in the Collective Security Treaty Organization (CSTO) – a Russian-led military bloc of several post-Soviet authoritarian states that Moscow has been promoting as a counterweight to NATO. Russian experts and officials immediately accused Washington of being the culprit that bribed the Uzbek leader Islam Karimov into abandoning the CSTO to undermine Putin's efforts to reintegrate the post-Soviet space (Kommersant, June 29). Talks with Tajikistan to prolong the lease of a Russian military base have been deadlocked – Deputy Prime Minister Dmitry Rogozin has accused NATO of blocking a deal (RIA Novosti, July 4).
In Moscow, the ruling United Russia party is rushing through the Duma legislation that would force any nongovernmental human rights organization "involved in political activities" (say, criticizing government actions) and receiving any donations from foreign-based organizations or individuals to be listed as a "foreign [government] agent." Failure to list as a "foreign agent" will be a felony, punishable with hefty fines and imprisonment. The "foreign agent" organizations will be forced to supply the authorities with regular additional, cumbersome and costly reports about their activities and brand all its publications and public announcements as "coming from a foreign government agent." Leading human rights and civil society organizations, including the Gorbachev Foundation, according to United Russia, may be declared "foreign agents" (Izvestia, July 3). The Russian Public Chamber has issued a report branding the "foreign agent" legislation as unconstitutional and illegal, but it has been scheduled for a Duma vote on July 6 and may become law in a week or two (Interfax, July 5).
Putin and his cohorts from United Russia seem to believe that the massive public prodemocracy protest movement that emerged in Russia last December is organized and financed from Washington, with essentially the same strategic agenda as in Syria. By exposing the "foreign agents" in Syria, Central Asia and in Russia, the Kremlin hopes to change Russian public opinion that has been increasingly turning away from Putin in support of the protest movement. Latest polls show the Russian public split evenly: 43 percent support the protest movement and 43 percent oppose it (Vedomosti, July 5). In a situation where a revolution that could oust Putin may be imminent, it is impractical for the West, seen by the Kremlin as the ultimate culprit in a vast conspiracy, to expect any favors from Moscow in Syria or elsewhere.