The West's Arctic Forge 23 Drills Unsettle Russian Military
Publication: Eurasia Daily Monitor Volume: 20 Issue: 51
By: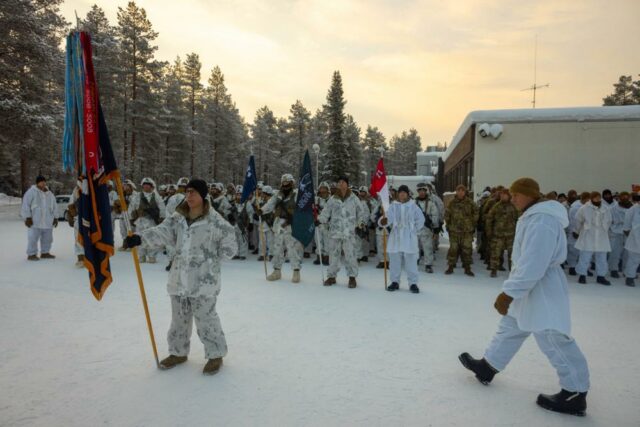 As Russia's assault on Ukraine gradually descends into a stalemate, the Russian government is increasingly concerned about Western responses to its aggression, particularly military exercises in formerly quiet and largely neutralist Scandinavia. Arctic Forge 23, a joint month-long Western military exercise in Finland and Norway, which began on February 16 and concluded on March 17, has been reported with concern by the Russian media, with particular condemnation of a flyover by an American B-52H Stratofortress over North Atlantic Treaty Organization (NATO) members Estonia, Latvia and Lithuania (Izvestiya, March 13).
According to the United States Army Europe and Africa, Arctic Forge 23 was a US-led "umbrella exercise" for US contributions to exercises in Finland and Norway, "focused on building Arctic military capabilities and cooperation" (Europeafrica.army.mil, accessed March 27). The scale of the exercise was not insignificant, as it involved troops from 16 of NATO's 30 member states.
Sweden's and Finland's intentions to join NATO represent an extraordinary departure from their traditional historical neutrality. In Sweden's case, this dates back to the Napoleonic wars. Finland, which only achieved independence from the Russian Empire in the wake of the 1917 revolution, subsequently endured a troubled history with its giant hostile neighbor, intensified first by the 1939–1940 Russo-Finnish "Winter War" (Talvisota) and followed by Finland's measured participation in Hitler's Operation Barbarossa against the Soviet Union, referred to as the "Continuation War" (Jatkosota). Both instances imposed harsh territorial losses and heavy reparations on Finland, which led to a postwar policy of strict neutrality. More than three decades after the Soviet Union's collapse, the abandonment of traditional diplomatic neutrality by these two Nordic nations is a direct consequence of the stark aggression embodied in Russian President Vladimir Putin's "special military operation" against Ukraine, which began in February 2022.
Beyond Arctic Forge 23, other joint exercises under NATO's auspices occurred simultaneously; Norway's Joint Viking exercise, the British-led Joint Warrior naval exercise and Finland's Defense Exercise North. Joint Viking and Joint Warrior included some 20,000 soldiers from seven NATO members, plus Sweden and Finland (Forsvaret.no, March 6; Royalnavy.mod.uk, accessed March 27). Joint Viking hosted 700 marines from the II Marine Expeditionary Force and 200 soldiers from US Army Europe and Africa, alongside troops from Denmark, Germany, the Netherlands, Norway and the United Kingdom.
Finland's Defense Exercise North had units from the US Army's 10th Mountain Division, 11th Airborne Division and the Virginia Army National Guard that participated in intensive Arctic training, as well as a multi-day field training exercise with the Finnish Army (Europeafrica.army.mil, February 13). In an extraordinary display of the US military's global logistical capabilities, participating troops from the 11th Airborne Division were airlifted across the North Pole in transit from Alaska to Finland.
While the Russian media closely covers all NATO military exercises, in this instance, outlets were particularly focused on the March 11 flight over Estonia, Latvia and Lithuania of a US B-52H Stratofortress nuclear-armed strategic bomber, call sign NOBLE61—the first appearance of a B-52H in the region since March 2018. In Russian media, the NOBLE61 flight was portrayed as a dry run on St. Petersburg in the Gulf of Finland, Russia's second-largest city (Nezavisimaya gazeta, March 12).
As the Turkish parliament has approved Finland joining the Alliance, and assuming that objections to Sweden's membership can be overcome, NATO's commitments in Scandinavia will expand beyond Norway and Denmark (Aa.com.tr, March 24). With Finnish membership, NATO's frontier with Russia will more than double, from 745 miles (1,200 kilometers) to almost 1,600 miles (2,575 kilometers).
Beyond NATO's increased tempo of military exercises near Russia's borders, other unforeseen and ominous military consequences of Putin's rash attack on Ukraine have cropped up. On March 16, at Ramstein Air Base in Germany, the air force commanders from Sweden, Norway, Finland and Denmark announced that they had signed a joint declaration of intent to create a unified Nordic air defense system to counter the rising threat from Russia, with the entity's functionality based on NATO operational procedures (Dn.se, March 25). The leaders of the quartet's air forces now intend to conduct an amalgamation of their capabilities to be able to act as a single unified force, including joint exercises reinforced by a common support system, logistics and planning. This combined force will eventually be able to field roughly 250 modern combat aircraft, allowing them to project force at a level roughly on par with other NATO members, such as France and the UK (Aftenposten.no, March 23). While discussions about creating a joint Nordic air force had been discussed periodically by the Scandinavian governments since the mid-1990s, Sweden's and Finland's unaligned status had impeded movement on joint initiatives until Russia's unprovoked attack on Ukraine.
Arctic Forge 23 and its attendant Scandinavian multinational military exercises are clearly designed to prepare the way for Finland's and Sweden's eventual integration into NATO while reminding the Russian government of the Alliance's capabilities along an expanded Russia-NATO frontier. These are unwelcome developments as Putin continues his all-out aggression against Ukraine, which has now seen the International Criminal Court issue indictments against him. If history is any guide, given NATO's confrontational 73-year-old relationship first with the Soviet Union and subsequently with the Russian Federation, perhaps the greatest consideration from Arctic Forge 23 is that, sooner or later, Russia will likely launch a symmetrical response. And the form that such a response will take remains a question up for discussion.