The Xinjiang Crisis: A Test for Beijing's Carrot-and-Stick Strategy
Publication: China Brief Volume: 9 Issue: 15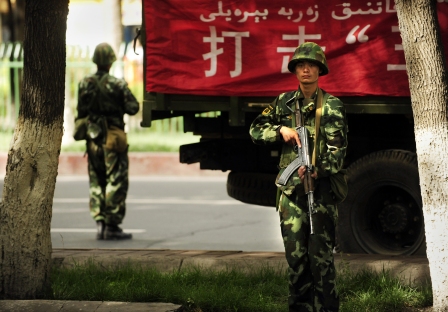 Calm has been superficially restored to the Xinjiang Autonomous Region (XAR), where an outbreak of ethnic violence on July 5 led to the death of more than 197 Han Chinese and Uighurs, according to an official count (Xinhua News Agency, July 18). Chinese Communist Party (CCP) authorities have allowed domestic tourist groups to return to Urumqi and other cities in the XAR. Yet President and Commander-in-Chief Hu Jintao, who was forced to drop out of a G-8 Meeting in Italy to return to China to handle the crisis, has readied a redoubled version of carrot-and-stick tactics to tame the restive region for the past decade.
Firstly, the strength of the People's Armed Police (PAP)—a sister unit of the People's Liberation Army (PLA) that is responsible for upholding domestic stability—and ordinary police in the XAR has been bolstered considerably. Soon after his return to China on July 9, Hu, who chairs the CCP Central Military Commission, authorized an unprecedented airlift of PAP and allied security personnel to the strife-torn region. For about a week, civilian aviation traffic in cities including Shanghai and Guangzhou was disrupted due to the large number of chartered flights taking PAP officers to the XAR, many of whose 9 million Uighur residents live in fear of reprisals from the majority Han Chinese. Estimates of PAP and police reinforcements have run into more than 50,000. Beijing authorities have admitted that 31 special public-security squads had newly arrived in Xinjiang "to render support to the work of safeguarding stability" (Xinhua News Agency, July 13; Ming Pao [Hong Kong], July 11; Apple Daily [Hong Kong], July 12).
While the July 5 riots started as a protest by Urumqi's college students and other activists against the death of two Uighur workers in a toy factory located in Shaoguan, Guangdong Province, the casualty count made this the worst case of ethnic violence since the end of the Cultural Revolution. The CCP authorities appear determined to deal a body blow to the so-called "three evil forces" of separatism, terrorism and extremism, which allegedly enjoy the backing of "anti-China forces abroad," such as the U.S.-based World Uighur Congress (WUC). That Beijing means business this time is evident from harsh remarks made in Xinjiang by the Politburo Standing Committee member Zhou Yongkang, who is in charge of law and order nationwide. Zhou characterized the crusade against the "three forces" as a "severe political struggle related to upholding national unity, maintaining the interests of the masses, and consolidating the CCP's ruling-party status." XAR Governor Nur Bekri, the highest-ranked Uighur official in China, added: "The [battle] between separatists and counter-separatists is a merciless life-and-death struggle" (China News Service, July 19; Xinhua News Agency, July 13).
Reports in the Hong Kong media say crack PAP squads are swooping down on underground groups, particularly in thinly populated towns and villages in western and southern Xinjiang, which are home to the majority of Uighurs that comprise of 45 percent of the XAR's population. This crack down was initiated in the wake of statements by Beijing authorities that unnamed quasi-terrorist Uighur units from southern and western Xinjiang had "infiltrated" Urumqi shortly before the July 5 melee. Long-time Uighur residents in Urumqi have also complained that police are indiscriminately locking up young men in the XAR capital. Activist Han Chinese lawyers who had provided free legal advice to ethnic-minority communities have been put under 24-hour police surveillance and warned not to take up their cases. Police and state-security personnel are also picking up alleged sympathizers of Xinjiang separatism all over the country. On July 6, security agents in Beijing kidnapped Yili Hamu (aka Ilham Tohti), a highly-regarded Uighur economics professor at the Minzu University of China. So far, 158 Han Chinese academics have signed a petition asking the CCP authorities to release Yili, who founded a website dedicated to promoting Han-Uighur dialogue (New York Times, July 20; The Associated Press, July 14; AFP, July 9; Apple Daily, July 17; Ming Pao, July 15).
While brandishing the proverbial big stick, the authorities are boosting economic and other aid to the restive region. The central government has played up its own role in developing the XAR—and indicated that more investments and "preferential policies" are in the pipeline. For example, Urumqi's GDP grew by 15 percent last year, much of it due to infrastructure spending by the central and regional governments. City residents' average annual disposable income reached a record 12,328 yuan ($1,813) in 2008. After the July 5 mishap, senior cadres have pledged more financial assistance, particularly to the XAR's impoverished rural areas. Speaking in a public function one week after the riots, State Councilor and Minister of Public Security Meng Jianzhu said he had asked different central ministries to make available additional personnel, materials and funding so as to "enthusiastically help Xinjiang do well its task of safeguarding stability." While officiating at a national conference on the development of areas with concentrations of ethnic minorities, Vice-Premier Hui Liangyu promised more government outlays to support agriculture, irrigation and township enterprises in Xinjiang and other western provinces (Reuters, July 10; People's Daily, July 14; Qinghai Daily [Qinghai], July 11).
Overseas-based Uighur organizations, however, have charged that Beijing has never given Uighurs any share of the vast profits from the exploitation of the XAR's rich resources. While Xinjiang boasts one of China's largest oil-and-gas reserves, exploration and related businesses are controlled by the country's national petroleum monopolies such as Sinopec and China National Petroluem Corporation. Moreover, much of the benefits of progress have been taken up by Han Chinese businessmen and workers based in Urumqi and other urban areas. The annual per capita income in rural areas, where most Uighurs live, is a mere 3,503 yuan (US$515). In the wake of the Shaoguan-riots, Uighurs interviewed by Western journalists have complained that thousands of inhabitants of western and southern Xinjiang are obliged to work in coastal factories like the Shaoguan toy factory due to harsh conditions, such as unemployment in their home villages (Washington Post, July 15; Bloomberg, July 9; The Associated Press, July 9).

Moreover, many Uighurs view investment and other economic activities by the government and Han-Chinese companies with suspicion. XAR Governor Bekri has cited Xinjiang authorities' 3 billion yuan (US$441.18 million) redevelopment of the old sector of the famous city of Kashgar as an example of "urban renewal [of a magnitude] that is rarely seen in the rest of the world." The governor said that newly-constructed apartment blocs for Uighurs will have much better protections against fire and earthquake. Yet, according to Nicholas Bequelin, a respected Xinjiang expert at the New York-based Human Rights Watch, many in the Uighur community are unhappy with the sudden razing of Kashgar, a centuries-old cultural center of Uighur civilization and one of the few remaining examples of traditional Central Asian architecture. Bequelin also points out that XAR authorities have promoted the use of Mandarin Chinese in Xinjiang schools, while the Uighur language has been marginalized. In a speech last month on the introduction of "bilingual education" in the XAR, Bekri raised eyebrows when he claimed that teaching Mandarin Chinese to Uighur children could "help fight terrorism." He asserted that "terrorists from neighboring countries mainly target Uighurs who are relatively isolated from mainstream society as they cannot speak Mandarin" (New York Times, July 10; Xinhua News Agency, July 19; China Daily, June 5).
Yet the efficacy of Beijing's efforts at either full-throttled eradication or half-hearted pacification could be undermined by the dubious qualities of XAR cadres. Xinjiang-based officials, PAP and police units have had a track record of faulty intelligence and bungled operations. For example, Beijing and Xinjiang security officers have claimed that they had in late June and early July intercepted messages sent by the WUC to underground XAR groups with the purpose of instigating them to engineer "something really big" on July 5. And in a press conference last weekend, Bekri admitted that the authorities were aware of "relevant information" about the protests. Bekri also disclosed that on the fateful day, government officials were on hand to dissuade college students from holding demonstrations. Yet despite the formidable military and police presence in the XAR capital, the authorities were unable to prevent the political rally from degenerating into a bloody, no-holds-barred slugfest (China News Service, July 19; Xinhua News Agency, July 6; Apple Daily, July 17).
Partly due to the fact that he had served as Tibet party secretary from 1988 to 1992, President Hu has since the late 1990s been personally involved with Beijing's policy toward ethnic minorities. And the majority of senior cadres in both Tibet and Xinjiang, including their party bosses—Zhang Qingli and Wang Lequan, respectively—are senior members of the president's so-called Communist Youth League (CYL) Faction. These Hu protégés, however, are also hardliners known to have neither sympathy for local culture nor sensitivity toward their charges' sentiments. Zhang, for example, publicly labeled the Dalai Lama—the revered leader of the exiled Tibetan movement—a "wolf in sheep's clothing." Wang once opined that the Turkic-like Uighur language was "out of step with the 21st century" (See China Brief, "Beijing's Post Olympic Shakedown in Xinjiang and Tibet," September 3, 2008). Since being posted to Xinjiang in 1991, Wang has relentlessly promoted a Sinicization policy aimed at making Uighurs "more like ordinary Chinese." Wang's performance so impressed the CCP leadership that this former head of the Shandong Branch of the CYL was awarded Politburo status in 2002. That Wang has stayed in Xinjiang for 18 years, however, goes against the time-honored CCP personnel policy of not allowing a local chieftain to remain in the same jurisdiction for more than five to six years (New York Times, July 11; Ming Pao, July 8).
Given the immense resources that are available to the central party-and-state apparatus, few doubt the ability of the Hu Jintao administration to impose ironclad control over Xinjiang through the sheer presence of troops and security personnel. As a result of the official media's largely emotive if not biased portrayal of "indiscriminate Uighur violence" against Han Chinese, however, popular Internet chatrooms have been choc-a-bloc with hate messages about the imperative of "punishing the ungrateful and unpatriotic Uighurs" (Christian Science Monitor, July 9). The tenuous inter-racial fabric that has enabled the two ethnic groups to coexist—albeit under stressful conditions—for more than five decades is close to being undone. Should the leadership under President Hu and his underlings in the XAR continue to opt for the iron fist, the majority of Uighurs—who favor non-violent means to attain a higher degree of autonomy, not independence—might be turned into implacable foes of what they will see as chauvinistic Han-Chinese colonizers.