Time For Kyiv to Choose Between East and West
Publication: Eurasia Daily Monitor Volume: 8 Issue: 141
By: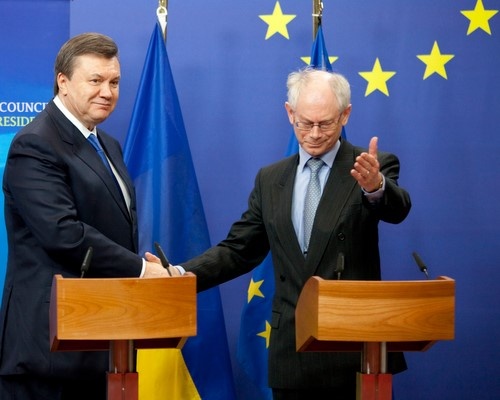 Although Ukraine has mended fences with Russia and made progress in the political association and free trade talks with the EU since Viktor Yanukovych's election as president in February 2010, additional movement in both directions simultaneously is hardly possible. The multivector policy, which was chosen by President Leonid Kuchma (1994-2004) and resumed by Yanukovych, has exhausted its potential. The time has come for Yanukovych to choose between Russia and the EU. While more progress in the Russian direction is apparently impossible without accepting Russia's economic domination in the form of the Customs Union, integration with the EU requires adopting Western democratic standards. This is a tough choice for Yanukovych, who tends to favor the free market, but is in essence a post-Soviet authoritarian leader.
Formally, Ukraine has made its choice. Although Yanukovych abandoned his predecessors' NATO membership plans, Ukraine closely cooperates with NATO, and the European choice is embedded in Ukrainian legislation. Last May, parliament instructed the government to prioritize the association and free trade talks with the EU over relations with the Customs Union (see EDM, May 25). At the same time, Ukraine continues to view Russia as its priority economic partner, and Yanukovych said during a recent press conference that the Customs Union (Russia, Belarus and Kazakhstan) should give some special status to Ukraine under a three plus one formula (Channel 5, July 8).
This hardly satisfies Moscow, which had hoped for much more, offering Ukraine full mergers of such key sectors as oil and gas, nuclear energy and aerospace immediately after Yanukovych's election, taking Ukraine's membership of the Customs Union for granted. Russia has made it clear in the difficult gas price talks, which resumed this past spring, that if Ukraine wants cheaper gas, it will have to either join the Customs Union, abandoning its EU integration plans, or agree to the oil and gas industry's takeover by Gazprom (Kommersant-Ukraine, Interfax, June 7). Russian Prime Minister Vladimir Putin told his visiting Ukrainian counterpart Mykola Azarov that the Customs Union would erect barriers against Ukrainian imports if Moscow's conditions are not accepted (Interfax, June 7).
Moscow moved from words to actions in July. Russia reintroduced restrictions on meat and dairy imports from Ukraine (Interfax-Ukraine, July 13). This is viewed in Kyiv as a symbolic step. Russia restricted meat and dairy imports from Ukraine for the first time in early 2006, when bilateral relations were at their nadir under the then pro-Western President Viktor Yushchenko. Putin on his recent visit to the Magnitogorsk steel plant reiterated that the Customs Union would protect its market from Ukraine if it refused to join. He threatened Ukrainian steel makers with anti-dumping investigations (www.premier.gov.ru, July 15). Such measures would be a serious blow to Ukraine, as metallurgy is the country's key industry, accounting for more than one third of its national exports.
EU markets could provide alternatives to Russia for Ukraine's steel, meat, dairy and other producers, if the political association and free trade talks with the EU – which Kyiv hopes to complete this year – prove to be successful. Ukraine and the EU have solved almost all the difficult economic issues, so the free trade talks should be completed this year, Ukrainian First Deputy Prime Minister, Andry Klyuyev, told visiting Polish Foreign Minister, Radoslaw Sikorski, last month (UNIAN, June 23). However, there are signs that Ukraine's failure to adopt EU democratic standards will slow the whole process – if not derail it.
The EU, along with the US, is concerned about a lack of democratic progress in Ukraine, in particular the ongoing trials of former Prime Minister Yulia Tymoshenko and former Interior Minister Yury Lutsenko. There are also suspicions in the West that the changes to electoral legislation, which have been drafted by the government, are aimed at diminishing the role of the opposition in society. US Deputy Assistant Secretary of State, Thomas Melia, warned in a recent interview that the discussion of a new draft election law does not correspond to democratic norms as the government did not involve the opposition in the process from the start (www.zn.ua, July 15). The Parliamentary Assembly of the Council of Europe rapporteurs voiced similar concerns earlier (www.pravda.com.ua, June 2).
European Parliament President Jerzy Buzek, commenting on the Ukraine-EU association talks recently, said that although stability in Ukraine under Yanukovych was a positive factor, the EU leadership had doubts about Kyiv's adherence to democratic principles, in particular as far as the court system and media freedoms are concerned (Ukrainska Pravda quoting Deutsche Welle, June 28). Sikorski, speaking after his visit to Ukraine, admitted that the domestic situation in Ukraine could affect Kyiv's EU prospects (Interfax-Ukraine, July 1).
More recently, European Commission spokesman Michael Karnitschnig said that as the free trade talks were part of the wider association talks, the EU wanted to see more progress in political reforms in Ukraine (UNIAN, July 12). The daily newspaper Kommersant-Ukraine on July 14 quoted unnamed diplomats from EU countries as saying that even if the talks were completed successfully, there would be problems with ratification of political association with Ukraine in national parliaments if democratic standards were violated in Ukraine.