Time Running Out to Achieve New Arms Control Treaty
Publication: Eurasia Daily Monitor Volume: 6 Issue: 214
By: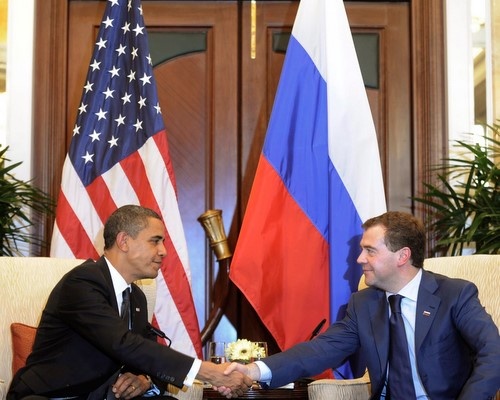 The Barack Obama administration began nuclear arms control negotiations with Moscow this year, eager for swift progress to help "reset" bilateral relations and achieve progress on more sensitive issues such as Iran and Afghanistan. The expiry date of the 1991 Strategic Arms Reduction Treaty or START 1 is December 5, but in the spring it seemed a replacement could be speedily assembled in time. Today, the major Cold War issue of nuclear arms control has lost most of its genuine urgency. The nuclear arms race is essentially dead with or without a treaty. The crippled Russian defense industry is physically unable to recommence a Cold War style nuclear arms race, while the U.S. does not see any need to deploy additional strategic nuclear weapons. Recently, President Dmitry Medvedev and Prime Minister Vladimir Putin demanded that the Russian defense industry begin producing modern weapons instead of squandering money (EDM, October 29; www.premier.gov.ru, November 18).
A follow-on START arms control treaty could codify this basic strategic status quo, while granting the Kremlin a satisfying feeling of equality with the mighty U.S. The December 5 deadline is nearing, but the small print related to a new treaty has still not been agreed. The Russian press quoted Kremlin sources as saying that it is the Americans that are more interested in securing a new treaty in time for Obama to boast as he receives the Nobel Peace prize next month, and thus, they must give more in concessions (Kommersant, November 12; Nezavisimaya Gazeta, November16).
Medvedev and Obama had a short meeting in Singapore on November 15 on the sidelines of the APEC summit. Both leaders told journalists about the good progress in their relations, but acknowledged that there are some unresolved "complicated technical issues" (www.kremlin.ru, November 15). Both sides promised to "work hard" to prepare the text of a treaty for signing before December 5 and pledged to find easier and cheaper compliance and verification procedures than in the original START 1. However, it remains unclear if this can be achieved as well as ratification possibly dragging on for a long time.
After the summit, the Special Assistant to the President and Senior Director for Russian and Eurasian Affairs Michael McFaul told journalists in Singapore that an interim "bridging agreement" has been proposed to keep in place verification procedures and other essential parts of the old START 1, while the new treaty is being prepared and ratified. McFaul acknowledged that there is no such "bridging agreement" yet (Interfax, November 15). The Russian Foreign Minister Sergei Lavrov, in turn, did not express any appetite to have a "bridging agreement." Lavrov insisted that the new treaty would function tentatively after its signing and then go fully into force after ratification (www.mid.ru, November 17).
Moscow does not want to continue START 1 under any pretext after December 5. The Russian military in fact, wants to remove some of the verification procedures of START, making McFaul's "bridging agreement" seemingly a nonstarter. Moscow also wants the U.S. military control mission to be removed from the Votkinsk missile factory in Udmurtia in the Urals. The Votkinsk mission allows the U.S. to inspect all newly made Russian solid fuel ballistic missiles, both strategic and shorter range. Together with the Votkinsk mission, the Russian military seeks to terminate the exchange of telemetric data on intercontinental ballistic missile (ICBM) test launches which are obligatory under START 1 (Nezavisimaya Gazeta, November 16).
The Russian military plans to begin deployment next month of multi-warhead modernized Topol-M ICBM's also known as RS-24 (RIA Novosti, November 16). Under START 1, Topol-M may have only one warhead and a prolongation of the treaty under any guise could render the deployment of the RS-24 illegal. Negotiating a "bridging agreement" that would satisfy both sides, could itself take months or possibly years. Both sides basically agree that each will be allocated some 1,500 deployed strategic warheads under the new treaty, but there are disagreements as to how many long-range delivery systems might be allowed. Moscow, which is struggling to keep operational its Cold War arsenal, wants the number of delivery systems reduced to 500, while the U.S. military would like to maintain up to 1,100 (Kommersant, November 16).
The new treaty that was designed to be a "reset" driver, may instead become a detractor and sour relations. Of course, since nuclear arms issues do not appear as important today as during the Cold War, the Obama administration may make greater concessions than first envisaged, to clinch a quick deal. But this may open Obama to domestic accusations of being too soft on national security issues. A treaty that seems to be tilted in Moscow's favor may become stuck during its ratification process in the Senate.
In Singapore Obama announced: "The reset button has worked," but did not offer much concrete evidence. Concerning international efforts to press Iran to stop its clandestine nuclear program, Medvedev announced: "If the results are not forthcoming we still have at our disposal the various instruments mentioned earlier, in order to move the process forward by other means" (www.kremlin.ru, November 15). This might be interpreted as a promise to agree to punitive sanctions, or not. In any case, Tehran does not appear to be impressed or moved to make serious compromises. Even the agreement reached last July, during Obama's visit to Moscow, to allow U.S. military air transit over Russian territory into Afghanistan is still not working.
It is impossible to remove the underlying basic disagreements between Moscow and Washington by merely pressing a toy "reset" button. It is even worse to pretend that fundamental disagreements do not exist.