Ukraine Relying on IMF Payments for Russian Gas Purchase
Publication: Eurasia Daily Monitor Volume: 6 Issue: 213
By: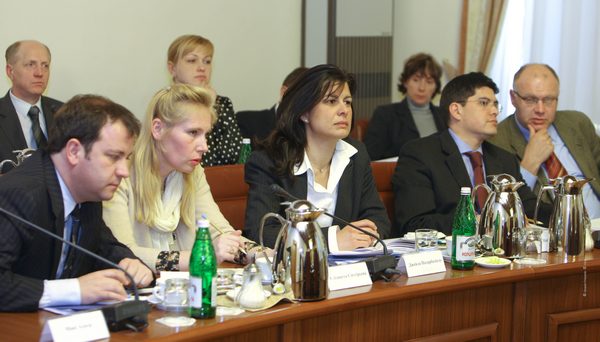 Ukraine finds it increasingly difficult to survive without money from the International Monetary Fund (IMF). The country paid Russia for October's gas deliveries with IMF funds and the same means will be used for November's gas deliveries. However, the IMF did not disburse the fourth $3.8-billion tranche of its $16.4-billion loan to Ukraine in mid-November because of the government's populist policies (EDM, November 4). This means that Ukraine may not receive more IMF money until after the presidential elections in January and February, and consequently it is unclear where it will find the money to pay for Russian gas in early 2010. The debt-ridden Naftohaz Ukrainy state-run oil and gas behemoth ran out of money long ago. There are fears that the situation in early 2009, when gas deliveries to Europe via Ukraine were stopped for two weeks over a pricing dispute between Russia and Ukraine, may be repeated.
It was feared that Ukraine would be unable to pay even for October and the head of the European Commission (E.C.) –the European Union's executive arm– Jose Barroso telephoned President Viktor Yushchenko and urged him to pay for the gas. Fearing that Ukraine's failure to pay for the gas could affect gas transit to the E.U., Barroso said in clear terms that European consumers should not suffer because of Ukraine. Yushchenko assured Barroso that Ukraine would pay from the $2 billion that it received in accordance with its share in the IMF in August and September as a result of a one-off distribution of the IMF's funds (UNIAN, November 5). Ukraine transferred to Gazprom $480 million from the IMF money on November 6, several hours before the deadline for payment (Channel 5, November 6).
Ukrainian Deputy Prime Minister Hryhory Nemyrya admitted in his November 9 interview to Channel 5 that Ukraine may find it difficult to pay for December's Russian gas deliveries in early January 2010 if the IMF does not release the fourth tranche in 2009. Nemyrya said he feared a repetition of the January 2009 crisis. He stated that Kyiv will most likely use the IMF's funds received in September in early December to pay for November deliveries, but he admitted that it is uncertain how Ukraine would pay in January. President Yushchenko's aide Oleksandr Shlapak shared Nemyrya's view point. Also speaking to Channel 5, he said that Ukraine cannot pay for gas in December and January without the IMF's assistance.
While admitting that the payment to Gazprom due in early January may be delayed, Yushchenko's administration pretends that it does not see any link between this and transit to Europe. This means that Ukraine will blame Russia for any transit disruptions again, like in January 2009 when gas bound for transit was used by Ukrainian consumers after Russian deliveries were halted. Yushchenko's energy aide Bohdan Sokolovsky dismissed Moscow's warnings that transit to the E.U. may be disrupted because Ukraine has no funds to pay for gas. He said Ukraine had accumulated enough gas in underground storage facilities to last over winter and its gas transit network is fully operational. He also warned that Naftohaz faces fines of up to $8 billion for buying less gas in 2009 than stipulated by contracts with Gazprom (Interfax-Ukraine, November 9).
The fines, added to a $4-billion hole in Naftohaz's 2009 budget according to Yushchenko's estimates (Ukrainska Pravda, November 12), would bankrupt Naftohaz. However, Yushchenko may be exaggerating Naftohaz's problems as Kommersant-Ukraine reported on November 11, citing documents of the Ukraine-Russia commission for fuel and energy, that the fines should not exceed $1.8 billion. Prime Minister Yulia Tymoshenko flatly dismissed Yushchenko's warnings about such fines. She reiterated that Russia would not fine Naftohaz and she recalled that Russian Prime Minister Vladimir Putin had "firmly promised" this. Putin has "not once let us down whenever we agreed on something," she noted (Interfax-Ukraine, November 14). Gazprom Deputy CEO Aleksandr Medvedev confirmed that Gazprom would not fine Naftohaz because of the difficult financial situation in Ukraine. Nonetheless, he noted that Gazprom formally retains the right to fine Naftohaz (UNIAN, November 15).
Naftohaz may face fines not only from Gazprom, but also from RosUkrEnergo, a joint venture between Gazprom and businessman Dmytro Fitash which was banished from the Ukrainian market in January 2009. RosUkrEnergo's 11 billion cubic meters of gas, which had been kept in Ukraine's underground storage, became Ukrainian property in early 2009 according to agreements between Gazprom and Naftohaz. RosUkrEnergo sued Naftohaz for $8.26 billion in damages (Vedomosti, November 16).
Tymoshenko will discuss gas issues with Putin at the CIS summit in Crimea on November 19. Irrespective of the outcome of their talks, it is clear that only the continuation of cooperation with the IMF will enable Ukraine to pay for gas. "But without fruitful cooperation between Ukraine and the IMF, it would have been impossible to live through this year," Tymoshenko admitted in her recent meeting with foreign ambassadors (Ukrainska Pravda, November 11). In order to receive the fourth tranche, the cabinet will have to revise its unrealistic 2010 budget bill, and increase domestic gas prices to ease pressure on Naftohaz's budget while parliament and Yushchenko avoid increasing wages and pensions beyond the limits agreed with the IMF.