Time Runs out for Ukraine to Free Tymoshenko
Publication: Eurasia Daily Monitor Volume: 10 Issue: 203
By: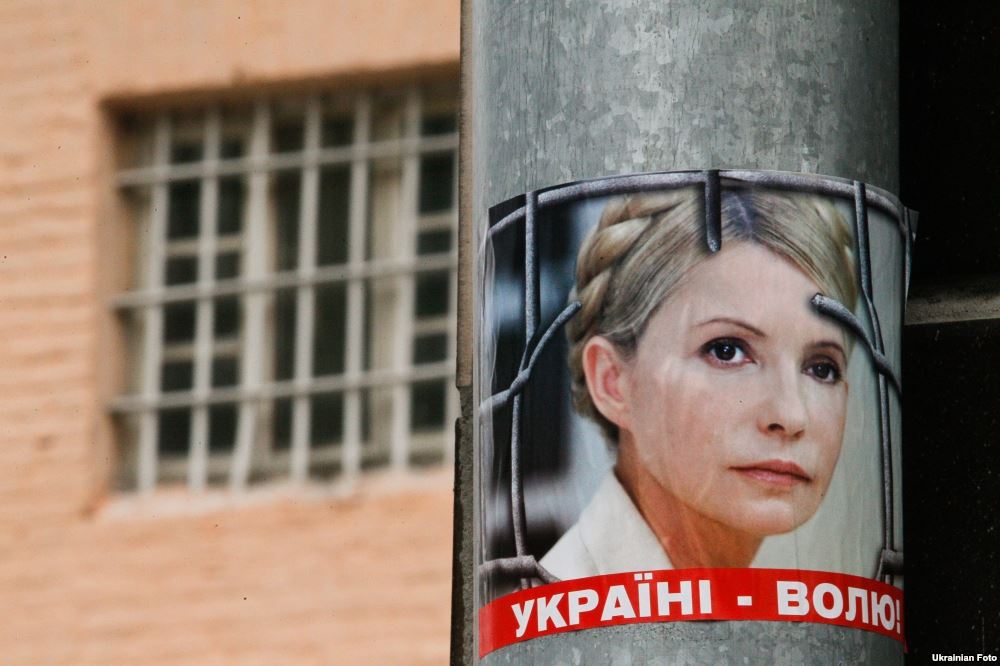 Ukraine's parliament has made two steps towards the signing of an association and free trade agreement with the European Union, scheduled for November 28–29 in Vilnius. On November 8, it gave preliminary approval to amendments to the parliamentary election law and to a new law on prosecutors as required by the EU. However the most difficult step is yet to be taken. The European Parliament, on October 23, said that Ukraine had to complete prosecutorial reform, improve the election law as well as solve the problem of selective justice in order to qualify for the signing (Interfax-Ukraine, October 23). Former Prime Minister Yulia Tymoshenko, who epitomizes the problem of selective justice in Ukraine, remains in jail, however. President Viktor Yanukovych is very reluctant to free her. His reluctance may cost Ukraine a chance to integrate more fully with Europe.
Tymoshenko was sentenced to seven years in prison in October 2011 for abuse of office for having prepared a controversial ten-year gas contract with Russia's Gazprom. If she serves her term to the end, she will not be able to challenge Yanukovych in the upcoming presidential election scheduled for 2015. She had narrowly lost to him in the 2010 presidential election. For Yanukovych, she is first and foremost his most dangerous political opponent who might be able to defeat him if given a second chance (see EDM, October 17, 2012; February 25, 2013). Ukrainian popular opinion on Tymoshenko is mixed. But for the EU, she is a victim of selective justice. So, from the EU's point of view, Ukraine has to solve the Tymoshenko problem if it wants to sign the Association Agreement, which may be the first step toward full EU membership in the future (European Parliament press release, May 24, 2012; RFE/RL, October 21).
Ever since Tymoshenko's imprisonment, the EU has insisted that she should be freed. Yanukovych has never said a resolute "no." At first, he hinted that the articles under which she was convicted could be decriminalized. However, Yanukovych's Party of Regions (PRU), which controls the majority in parliament, rejected this. Later on, the interested parties expected that Yanukovych would pardon her. However, last month, Yanukovych left it to parliament to decide Tymoshenko's fate, saying that he would sign into law any bill passed by parliament on this issue (Interfax-Ukraine, October 17).
As the most influential EU nation, Germany, has invited Tymoshenko to treat her spinal disorder (TVi, October 10). Tymoshenko, the Ukrainian opposition, and European Parliament negotiators Pat Cox and Aleksander Kwasniewski (a former president of Poland) grasped at this opportunity. Several bills have been drafted by Ukraine's deputies to allow Tymoshenko to go to Germany for medical treatment. Tymoshenko and the Cox-Kwasniewski mission chose the one drafted by Anzhelyka Labunska, an independent deputy, which provides for allowing prison inmates with health problems to apply for assistance abroad if treatment in Ukraine does not bring any results. However, the PRU rejected the bill, arguing that it could wreak havoc with the justice system as any criminal rich enough to pay foreign doctors would be able to escape punishment (Interfax-Ukraine, October 31, November 1).
Eventually, on November 8, the parliament set up a commission whose goal is to come up with a bill to solve the Tymoshenko problem that would suit all parties, possibly based on Labunska's draft. Cox and Kwasniewski made it clear that the parliament should pass the bill by November 14, when they are scheduled to come up with a report on their mission in Ukraine. The EU Foreign Affairs Council, which is set to meet on November 18, will—based on the content of the Cox-Kwasniewski report—recommend the EU whether to sign the Association Agreement with Ukraine in Vilnius (Ukrainska Pravda, November 8). Ukraine's parliament will most probably vote on November 12–13 if a compromise bill is drafted by then.
There is no unity in the EU about what to do with Ukraine if Tymoshenko is not freed. Polish Foreign Minister Radoslaw Sikorski listed the United Kingdom, the Netherlands and Sweden among the nations that were not inclined to sign the agreement if Tymoshenko stayed in prison (Interfax-Ukraine, October 21). But the Polish newspaper Rzeczpospolita reported on November 8, citing EU sources, that the UK, Poland and other former Soviet Bloc countries believed the agreement should be signed in any case; while Germany, the Netherlands and Sweden insist that Tymoshenko be freed first.
Russia, which wants Ukraine to prefer its Customs Union with Belarus and Kazakhstan to integration into the EU, may benefit from Yanukovych's fear of Tymoshenko and the lack of unity in the EU, using both carrots and sticks (see EDM, August 15, September 3, October 10, 16). In particular, Russian Prime Minister Dmitry Medvedev hinted that Russia could offer Ukraine much-needed loans as the latter is close to fiscal default—its serious current-account and budget deficits are growing and the economy is in recession (Ukrainian media citing Reuters, November 1).
At the same time, Russia is increasing the economic pressure, using its position as the main export destination for several key Ukrainian industries. Due to Russia's customs controls on Ukrainian confectioneries, deliveries to Russia fell by 50–60 percent (RIA Novosti, November 5). Moreover, Russia stopped Ukrainian freight car imports (Forbes.ua, October 29). In this situation, as PRU parliamentary caucus leader Oleksandr Yefremov put it, "discussions of European integration in the caucus have become more complicated" as "we are losing many jobs in the regions because of this pressure."