Tiraspol's Tail Wagging Moscow's Dog, Blocks Negotiations on Transnistria
Publication: Eurasia Daily Monitor Volume: 8 Issue: 69
By: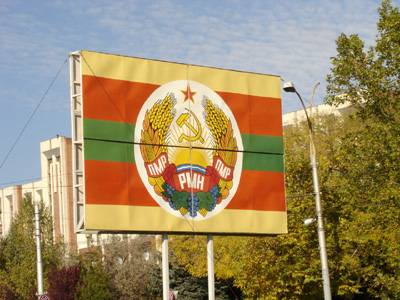 Expectations raised by Russia's Foreign Affairs Minister, Sergei Lavrov, about re-starting negotiations to resolve the Transnistria conflict, have shattered on both counts: process and substance. Transnistria's Moscow-installed authorities have defiantly contradicted Lavrov, with apparent impunity. Moscow has quickly backtracked, and Tiraspol has aborted the attempt to re-start the 5+2 negotiations (Russia, Ukraine, OSCE, EU, USA, Chisinau, Tiraspol) on April 4-5 in Vienna.
Ahead of the Vienna meeting, Lavrov had offered unusually encouraging signals for European and German (more than Moldovan) consumption. Moscow is almost certainly interested in activating the Meseberg process with Germany, whereby Russia seeks a special voice in EU security decision-making in return for cooperating on Transnistria. Receiving Moldova's Foreign Affairs Minister, Iurie Leanca, on March 29 in Moscow, Lavrov recognized "Moldova's territorial integrity" (which Moscow recognizes exceedingly rarely, and only at interlocutors' insistence, which is also rare). Calling for a "special status to Transnistria in the framework of a united Moldovan state," Lavrov endorsed the soonest resumption of the 5+2 negotiations. He even hinted that Moscow would press Tiraspol to follow suit: "We will do everything to persuade the parties to adopt this position" [Chisinau of course needs no persuading] (Interfax, March 29; EDM, March 31).
In a similar vein, Lavrov assured the OSCE's Chairman-in-Office, Lithuanian Minister of Foreign Affairs Audronius Azubalis, by telephone on March 31 that Russia supports the resumption of 5+2 negotiations, suggesting that the Vienna meeting could mark a re-start of the process (Interfax, March 31).
Tiraspol rejected Lavrov's position instantly and polemically. Transnistria's "ministry of foreign affairs" declared: "We underline that none of the documents adopted during the negotiating process ever stipulated a resolution within a 'united Moldovan state' or 'Moldova's territorial integrity' … Any attempt from outside to impose a resolution model that ignores the existing realities [i.e., Transnistria's secession] will be rejected by the people of Transnistria, and will cast doubt on the need to negotiate in any formats." Having thus threatened to block the negotiations indefinitely, the declaration invoked Transnistria's 2006 referendum, whereby its "multinational people" had voted for "independence" and subsequent integration with Russia (Olvia Press [Tiraspol], March 30; Interfax, March 31).
Transnistria's leader, Igor Smirnov, responded to Lavrov by stating that "Transnistria links its fate with Russia" and cannot reunite with Moldova, which is headed for the European Union (Nezavisimaya Gazeta, March 31). On the eve of the Vienna meeting, Smirnov announced that he was giving "precise instructions" to his chief negotiator, Vladimir Yastrebchak, to adhere to those positions (Olvia Press, April 3; Interfax, April 4). Yastrebchak had been responsible as "foreign affairs minister" for issuing that declaration in the first place.
The net result seems to be that Tiraspol has overruled Lavrov for the time being. Yastrebchak stuck to those positions at the April 4-5 Vienna meeting. The Russian delegation abandoned the positions that Lavrov had so recently expressed. Instead, it went along with Tiraspol's views tacitly on most issues, and explicitly on issues related to Russia's "peacekeeping" operation.
Tiraspol's delegation also set its traditional pre-conditions to resuming negotiations. Those pre-conditions entail discussions in multiple, expert-level "working groups," as well as socio-economic "confidence-building measures" (a term borrowed from the security area, but unrelated to it in this case). These involve a myriad issues unrelated to a political or security settlement. Tiraspol also seeks high-level meetings with Chisinau officials that would implicitly recognize Transnistria's status as co-equal with Moldova's status. Moscow and Tiraspol jointly claim, as they did again at the Vienna meeting, that "working groups" and other types of bilateral meetings must first produce results that would subsequently enable the official 5+2 negotiations to resume (Moldpres, Olvia Pres, Apri 5).
Meanwhile, the working groups' status and regulations have been a subject of discussion for at least two years. Moscow and Tiraspol have demonstrated their ability to stretch out this process indefinitely. These have become pre-conditions to pre-conditions to negotiations. The working groups' modus operandi would have to be agreed upon to enable them to function. The groups and the confidence-building measures would then have to show results to Tiraspol's and Moscow's satisfaction. And only then could the negotiations start toward a political and security settlement – again as an open-ended process, not necessarily result-oriented.
The April 4-5 Vienna meeting turned out to be just another of the many "unofficial consultations," held in the 5+2 format, since Moscow and Tiraspol scuttled the official negotiations in March 2006. Unlike the official negotiations, the unofficial consultations do not involve issues related to Transnistria's political status or the Russian troops on Moldova's territory. The unofficial consultations are not intended to produce documents within a negotiating process, let alone decisions.
Russia proposes to host the next round of unofficial 5+2 consultations in Moscow in June. Unless Smirnov "overrules" Lavrov again, Moscow will probably use that meeting to demonstrate to Europeans and Germans that Russia alone can re-start the official negotiations, and in parallel the Meseberg channel with Berlin, whose first anniversary will coincide with the Moscow meeting in June. However, Russia will almost certainly try to offer another negotiating process on Transnistria, rather than results.
For almost two decades, Moscow has hidden behind Smirnov in Tiraspol to stall the negotiations. Transnistria is scheduled to hold a "presidential" election in December of this year. By the time of the Moscow meeting and until the year's end, Russia can either stop the charade of Lavrov being overruled by Smirnov, or alternatively groom Smirnov's successor to play the same role.