Transfer of Polish Fighter Jets to Ukraine: An Attempt to Internationalize the War? (Part One)
Publication: Eurasia Daily Monitor Volume: 19 Issue: 35
By: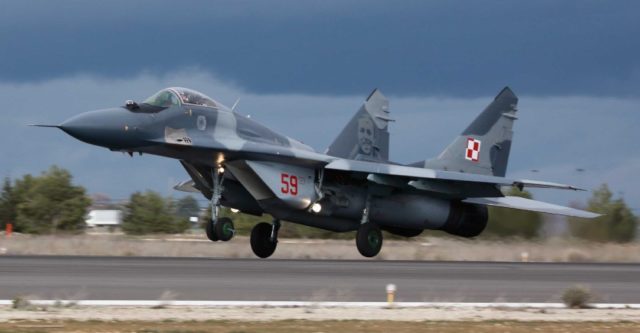 Since the start of Russia's massive re-invasion of Ukraine, Kyiv has made repeated pleas to its Western partners for stepped-up military assistance. As a result, many have been sending weaponry, including lethal armaments, to Ukraine. Such support significantly boosts the capabilities of the Ukrainian Armed Forces but is also of great political significance. It is no secret that Kyiv seeks further internationalization of its war against Russia. These efforts culminated with President Volodymyr Zelenskyy pleading with the North Atlantic Treaty Organization (NATO) to impose a no-fly zone over Ukraine (Twitter.com/ZelenskyyUa, February 24). That request, however, was almost immediately rejected by both the United States and the Alliance's senior officials (Kyiv Independent, February 28).
But while the West has categorically ruled out any NATO air operations in Ukraine's contested airspace, Ukraine continues to suffer from serious shortcomings in its air-defense capabilities, and so rapid advancement in this field is of top priority. Over the last two weeks, international debate has mounted over the potential transfer to Ukraine of fighter jets of Soviet production from certain NATO members, where these aircraft are still operational (Rzeczpospolita, Ine.org.pl, March 9). The entire initiative, however, seems to have been driven by Ukraine's deliberate efforts to internationalize the conflict by publicizing a "deal" that, at best, may have been in the earliest stages of discussion at that time. At this point, the proposed transfer of eastern NATO members' Soviet-era jets to Ukraine looks exceedingly unlikely.
The issue appeared on the international agenda in late evening, on February 27, during High Representative of the European Union for Foreign Affairs and Security Policy Josep Borell's press conference summarizing the EU Council's extraordinary meeting regarding the war in Ukraine. In the question-and-answer session, Borell stated, "We are going to supply arms and even fighter jets" as a response to Ukrainian Foreign Minister Dmytro Kuleba's request, who "has been asking us [Europe] that they need the type of fighter jets that the Ukrainian army is able to operate." Borell concluded, "Some Member States have these kinds of planes" (Rzeczpospolita, Twitter.com, February 27). The EU official's enigmatic statement almost immediately triggered wide speculation on the future deployment of those seemingly announced military jets, these assets' countries of origin, and what specific types would supposedly be included (Defence24.pl, February 28).
The conjectures intensified and gained credibility after the topic appeared on social media accounts owned by various Ukrainian institutions (Twitter.com/verkhovna_rada, Facebook.com/UkrainianLandForces, February 28; Facebook.com/kpszsu, March 1) and members of the Ukrainian parliament (Facebook.com/alexeygoncharenko, February 28). All of them claimed that Bulgaria, Poland and Slovakia would pass along to Ukraine a total of 70 fighter jets, including 14 Su-25s and 56 Mig-29s. Moreover, these posts declared that Ukrainian pilots would be able to carry out their combat missions from Polish airfields, if necessary. On February 28, one Ukrainian parliamentary deputy, Galina Tretyakova, even claimed that Ukrainian pilots had already arrived in Poland to receive the MiG-29 aircraft (her Facebook post was later apparently deleted).
It seems that when this story first came to light, the Polish authorities, unlike their counterparts in Bulgaria and Slovakia (EurActiv, Twitter.com/JaroNad, March 1), did not deny the revelations vigorously enough—whether deliberately or not. And so the information continued spreading in the media. Finally, on March 1, at a press briefing with visiting NATO Secretary General Jens Stoltenberg, President Andrzej Duda stated that NATO "is not sending its fighter jets" over Ukraine, because the Alliance "is not a party to the conflict." Yet his words completely ignored or misinterpreted the true sense of the journalist's original question, including its second part about granting access to Polish airfields for Ukrainian pilots (Prezydent.pl, March 1). Nonetheless, the Polish Ministry of National Defense quickly asserted that President Duda's answer represented a clear denial (Twitter.com/MON_GOV_PL, March 2).
A harsh and decisive reaction by Polish officials finally came on March 3, with governmental spokesperson Piotr Müller's statement that Poland would neither send its fighter jets to Ukraine nor allow the use of its airfields (Twitter.com/PremierRP_en, March 3). It is worth noting that this statement was specifically made in reaction to former Ukrainian president Petro Poroshenko's expressed gratitude for Poland's alleged transfer of the fighter jets. In any case, the Polish government's denial was additionally echoed by the Armed Forces General Command (Twitter.com/DGeneralneRSZ, March 3).
The debate on supplying fighter jets from some NATO allies to Ukraine definitively crossed the Atlantic following President Zelenskyy's virtual speech to the US Congress on March 5. The Ukrainian leader apparently called on Washington to support and facilitate the idea of donating the Soviet-made aircraft to his country, including by, apparently, compensating the eastern NATO members for this transfer with functionally equivalent equipment—so-called "backfill" (Wirtualna Polska, Twitter.com/ChrisVanHollen, Twitter.com/BradSherman, March 5).
The issue was always going to be politically sensitive, and thus it should have been discussed behind closed doors if anyone was seriously thinking about the transfer of NATO jets to Ukraine. Due to the logistical problems involved, the idea always seemed rather unlikely, but it cannot be ruled out that perhaps some initial talks on the subject had begun. That said, detailed process tracing of the initial phase of the public debate over the issue reveals that it was most likely Ukraine—understandably seeking to further internationalize its war against Russia—that sparked and fueled the debate in the first place.
Ukraine's Foreign Minister Dmytro Kuleba had apparently requested additional military supplies from the European Union when speaking with Josep Borell (Anadolu Agency, February 27); but after the latter let slip to the media that such aid might purportedly even include military aircraft, it was Ukrainian members of parliament who spread the news about the "ongoing" shipment, going so far as to provide exact numbers and alleged countries of origin. Then, official Ukrainian social media accounts "legitimized" this information. And finally, it was President Zelenskyy who spread the debate to the United States. In this context, it is worth to noting that, on March 9, Ukrainian Defense Minister Oleksiy Reznikov publicly urged his countrymen "not to share information, concerning weapons procurements, provided to our country by the other states," because, Reznikov continued, "sometimes it may create an informational front, which has [a] negative impact on the outcomes" (Facebook.com/MinistryofDefence.UA, March 9). It is unclear where the inspiration for this appeal specifically came from. But it cannot be excluded that the cautionary statement may have been compelled by Ukraine's allies, who perhaps quietly but surely categorically signaled to Kyiv that its public diplomacy efforts were causing more harm than good.